You are here
IT Tools for Researchers
Wednesday, September 22, 2021 - 14:59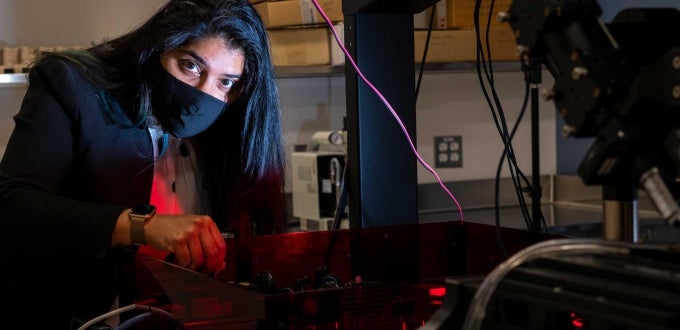 Pitt researchers use their extensive knowledge, boundless curiosity, and innovative techniques to bring new ideas to life. It takes robust technology tools to help investigators collect, store, and analyze the data; document their processes and results; and share and work with collaborators and lab personnel. Pitt IT supports the work of researchers, so they can focus on doing what they do best: making the University of Pittsburgh one of the top research institutions in the world!
Pitt IT tools and services run the gamut. OneDrive helps researchers collaborate with colleagues on joint papers and presentations. The Software Download Service and Computing Labs include specialized research software, such as R Stat, NVivo, and IBM SPSS. Grants Management fiscal tools (Fiscal Panther [Tableau] and Grants Forecasting [Oracle Cloud Solution​ or Oracle PBCS] are available for grants administrators, financial approvers, department admins, and RC business managers. Here are the top six Pitt IT tools researchers can start using today.
1. Collect: Online Survey System (Qualtrics)
When research involves self-reporting or feedback from participating subjects, you need a robust survey tool that is easy to program and easy to use. The University's Online Survey System (Qualtrics) allows you to create and distribute surveys for everything from collecting basic demographic info or tracking daily activity, to monitoring symptoms or exploring participant beliefs. The system requires minimal experience and training and is extremely user-friendly regardless of a participant's comfort with technology.
What sets Qualtrics apart from other simple survey tools is that it not only securely gathers and stores survey data, it also allows for complex decision trees based on previous responses, provides easy access to raw data, compiles and analyzes results, and creates high-quality charts and graphs to visually present the data.
2. Store: Enterprise Cloud Computing
Enterprise Cloud Computing (ECC) gives researchers access to virtual computing resources in a safe and reliable way via the internet. The most widely used ECC platform for large-scale storage and robust compute power is Microsoft Azure.
Azure provides resources to tailor specific solutions to your data storage needs, without the extra time or cost of purchasing, setting up and maintaining a server. Azure lets you archive data inexpensively, provide shared file storage, and store and compute data in an environment with HIPAA-compliant protections for data privacy.
3. Transfer: Research Data Management (Globus)
Research often generates very large data sets, which presents challenges when transferring and the data with collaborators. Pitt's Research Data Management (Globus) subscription helps to eliminate barriers to data management and keeps your data secure.
Globus lets users transfer and share files with ease, no matter the location of you or your collaborators. Users can also develop applications and access gateways by leveraging Globus's advanced identity management, single sign-on, search, authorization, and automation capabilities. Pitt IT subsidizes the annual the cost of a Globus subscription for all Pitt researchers.
4. Document: Electronic Research Notebooks
Pitt offers Electronic Research Notebooks (LabArchives) to all faculty, researchers, staff, and students at no charge. LabArchives helps you keep track of all your notes, data, and findings in one place. Notebooks can be used to organize and manage all aspects of lab activity, from study protocols and testing progress to documenting results.
Notebooks can include any kind of input, including text, tables, images, and sketches. It can be accessed safely using a wide variety of devices. You can also share and collaborate on notebooks with research partners, lab staff, student researchers, and classmates, as well as monitor and communicate with one another about the data and assignments at hand.
5. Visualize: BioRender New!
BioRender is used to create and edit scientific diagrams and illustrations for use in posters, papers, presentations, and publications. The web-based app has over 40,000 icons and a large stock image collection that spans subjects such as neuroscience, immunology, microbiology, and more. The app makes it easy to create sophisticated figures by using an intuitive interface with drag and drop tools—no artistic skills needed. (Think Canva, but for scientific figures.) BioRender also lets you work collaboratively on figures, which is ideal for group labs and assignments.
Through Pitt IT, faculty and staff receive BioRender at a significantly discounted price (just $100/year for each user). Students have free access to help them learn how to visually present scientific concepts and data in their projects and papers. BioRender is a new addition to Pitt IT's roster of software, so free webinars on how to use the service are being offered throughout the fall. See the schedule of topics and register for the webinars on Pitt IT's calendar page.
6. Explore: ARCS Coming Soon!
Watch for an Advanced Research Computing Services (ARCS) website later this fall. Currently under development, the new site will showcase technology resources, services, and support options available to the Pitt research community from various units across the University—including computing, data services and storage, information security, software, on-demand training resources, and more.
ARCS is a collaboration between Pitt Information Technology and Pitt Research, in partnership with the Center for Research Computing (CRC), Clinical and Translational Science Institute (CTSI), Health Sciences Library System (HSLS), University Library System (ULS), and the Pittsburgh Supercomputing Center (PSC).
Get Started and Get Help
Learn more about the IT resources for researchers on the Pitt IT website, including what each app can do and how to access each service. If you need help with any of the resources or need advice about addressing a technical issue your research project is facing, contact Pitt IT's 24/7 IT Help Desk.
Happy researching!