Office of the CIO
Jinx P. Walton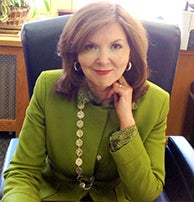 University of Pittsburgh
728 Cathedral of Learning
412-624-6114
As Chief Information Officer, Jinx Walton is responsible for the development, implementation, and delivery of technology services that support the academic, business, and research missions of the University of Pittsburgh across its five campuses.
Walton became the Director of Computing Services and Systems Development (CSSD) in October 2000. Since then, she has focused on the strategic implementation of technology to further the goals of the institution and to support the efforts of more than 35,000 students and more than 13,000 faculty and staff. This includes:
Pitt's secure and reliable network infrastructure
A state-of-the-art Network Operations Center that maintains 24/7 monitoring for central and departmental servers
A University Data Warehouse that enables administrators to access a consistent set of key data points for strategic assessment and planning
Campus-wide wireless service that provides coverage in all of Pitt's classrooms, as well as other common areas
Software licensing and software packages made available to students, faculty, staff, and departments at little to no cost
The My Pitt website used by students, faculty, and staff for single sign-on delivery of a broad range of web-based University applications and services
Projects developed by Pitt's Computing Services have been recognized with awards from InfoWorld and Computerworld.
In 2007, Jinx Walton received the Pittsburgh CIO of the Year award; in 2010, she was named one of Computerworld's Premier 100 IT leaders. She serves as chair of the Keystone Initiative for Network Based Education and Research (KINBER) and is on the governing body of the Pittsburgh CIO Executive Summit.
Related Links