Online Survey System (Qualtrics)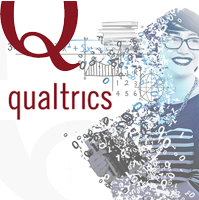 The Online Survey System (Qualtrics) is a web-based service that allows you to easily create a survey, collect and store data securely, analyze responses, and present results using professional-quality graphs. The University of Pittsburgh has a site license for the Qualtrics. It is available to Pitt students, faculty, and staff at all campuses, at no cost. The service can be used to support teaching, academic research, and institutional business.
Log in to Qualtrics
Log in to My Pitt (my.pitt.edu).
Click My Resources and select Qualtrics Survey System.
Click the Qualtrics login link in the right-hand column.
If you are a first time user, you will see the following login window. Choose I don't have a Qualtrics account.

Why Qualtrics?
User friendly; surveys can be created in minutes without prior training
Graphics, video, or audio clips can be easily embedded into a survey
More than 200 templates are available from the Qualtrics Library
Personalized email invitations and reminders can be generated
Robust system; easy to customize all aspects of the survey
Qualtrics University provides user resources and support
Qualtrics and research with human subjects
The University of Pittsburgh Institutional Review Board (Pitt IRB) requires that with few exceptions, investigators use Qualtrics for all web-based surveys. Maintaining the security of research subjects' data is of paramount importance to the Pitt IRB, and the Pitt Information Technology Security Office has determined that the Qualtrics System meets University Data Security standards. The use of other web-based survey programs may be approved by the Pitt IRB, but only after additional institutional review has been completed.
Collaboration with colleagues
Sharing is a feature in Qualtrics that allows you to give others access to your surveys and data. This will be especially useful for collaborating with colleagues outside of the University of Pittsburgh that do not have Qualtrics accounts. Please see the Qualtrics Insight Support page> for a complete guide to using this feature.
Access to Qualtrics
All students, faculty, and staff may log in to Qualtrics and create, activate, and publish surveys. It is important to remember that the use of Qualtrics is restricted to University-related work and is not for personal use. Depending on the nature of the survey, a determination should be made as to whether it should be branded with the University logo.
Accessing Qualtrics if you already have a Qualtrics account
If you already have a Qualtrics account, you will need to complete a few brief steps the first time you log in to map your existing account to your University account. An automated wizard will walk you through these steps.
Additional Help and Support
The following links can help you get started using the Qualtrics Survey System:
Creating a project>
Changing the look and feel>
Applying skip logic>
Applying display logic>
Distributing a survey>
Contacts and mailing lists>
Sharing a survey>
Survey results and reporting>
Additional help creating your survey and utilizing the many features of Qualtrics is available from several sources:
If you need assistance logging in or help with your Qualtrics divisions/groups, please contact your divisional administrator or the 24/7 Help Desk at 412-624-HELP (4357). You may also submit a request online.