You are here
Cloud Collaboration (OneDrive)
---
IMPORTANT: The University ended its enterprise license with Box in August 2022. Microsoft OneDrive is the preferred cloud storage and collaboration solution. Pitt Information Technology migrated Box data to Microsoft OneDrive.
---
Quick Links: Key Benefits I Getting Started I More How-to
With cloud storage, you can store, access, edit, comment, and share files in real time, from any device–including your smartphone. Microsoft OneDrive is configured as the default save destination for all of your Office 365 applications and provides online storage as well as web-based collaboration. Cloud storage is a more secure way to store your valuable files when compared to using flash drives or depending on the hard drive of a dedicated laptop or PC.
Note: After you leave the University, you will you will no longer have access to your cloud account at Pitt. Please see instructions for transferring ownership of your files.
OneDrive Overview
Microsoft OneDrive for Business is a cloud storage solution where you can update, store, share, and sync your files from anywhere. These files are backed up regularly to the Microsoft cloud and your file space is conveniently configured as the default save destination for all of your Office 365 applications, including Word and Excel. You can delegate access to other users for seemless collaboration. All students, faculty, and staff have a quota of 5 terabytes of online storage available through OneDrive, for files up to 250 gigabytes.
There is no cost for student, faculty, and staff to use OneDrive. However, you need an Office 365 subscription to use any web-based Office 365 applications with the OneDrive space. By default, all students have access to the standard "Office" suite of web applications (Word, Excel, PowerPoint) via their Office 365 subscription. These applications are available for download and installation to all teaching faculty free of charge. Non-teaching faculty and staff can download these applications if they are members of a department that has purchased the Microsoft Campus Agreement.
Note: Sponsored accounts do have access to OneDrive by default. Alumni are not eligible for Pitt OneDrive accounts
> Take a quick tour to see how OneDrive works ...
Easy Steps to Get Started with OneDrive
You can access OneDrive from a smartphone or tablet using a web browser. The OneDrive app is available for iOS, Android, and Windows devices.
Use a web browser to log into portal.office.com with your Pitt Email address and password.
Click the Office 365 app launcher icon.

Other Cloud Options (Box, Dropbox, Google Drive)
Box and Dropbox
Box and Dropbox are other cloud collaboration solutions used by some students, faculty, and staff. Before considering the use of Dropbox or Box, please keep in mind that they are not an enterprise service offered through or supported by the University of Pittsburgh. Box and Dropbox offer similar features to OneDrive, but OneDrive offers several advantages for University use.
Feature

OneDrive

Box Managed
Box Unmanaged

Dropbox

Anytime, anywhere access to cloud files

Yes

Yes
Yes

Yes

Simple sharing and collaboration features

Yes

Yes
Yes

Yes

File versioning

Yes

Yes
Yes

Yes

Integrates seamlessly with other Office 365
collaboration tools like Teams and SharePoint

Yes

No

No

Yes

Automatically integrates with the University's Multifactor Authentication (Duo) service for enhanced security

Yes

Yes

No

No

Can be used as a storage solution for public (i.e., non-restricted) University data
Yes
Yes

No

No

Can be approved as storage solution for certain
classes of restricted data after consultation with Pitt IT

Yes

Yes

No

No

Fully supported by Pitt Information Technology

Yes

No

No

No

Cost
Included in Microsoft Campus Agreement
Purchased separately
by users/departments
Purchased separately
by users/departments
Purchased separately
by users/departments
Because Dropbox is not supported by Pitt Information Technology, data stored on Dropbox is not eligible for a managed migration to OneDrive. If you would like to move data from Dropbox to OneDrive, you can do so by completing the following steps:
Log in to your Dropbox account and download individual folders and files to your local device.
Upload individual folders and files from your local device to your Pitt OneDrive account.
Google Drive
Pitt IT strongly discourages the use of Google Drive for several reasons:
It is not permissible to store Protected Health Information (see the University's Data Risk Classification and Compliance matrix).
Google is making changes that will eliminate options for storing flexible, large volumes of data.
Free Google Drive accounts include only 15 GB of free storage.
Due to these and other limitations, we do not believe Google Drive is a viable, long-term solution for most University users.
View Google Drive Security Guide ...
More ways to get the most from Cloud Storage:
Best Practices for Storing Data in the Cloud
Both OneDrive and Box use state-of-the-art technology and industry best practices for data encryption during transit to and from the cloud, as well as while stored within each app. However, some types of data should not be stored on OneDrive and Box at all; refer to information specific to permissible data by type. For this reason, we recommend you use only the web interface (http://portal.office.com or http://pitt.box.com) or official apps to transfer data securely. If you use an app for Box or OneDrive that has been developed by a third party, you should take steps to ensure that the app transfers data using a secure method.
OneDrive and Box provide robust security for the data you store. However, due to federal ,state, and local laws and university policies and standards, please consult the University's data classification and compliance site to determine the appropriate storage locations for different data types.
Moving Files
To and From OneDrive
If you are working from a PC or laptop, then you can use the Upload and Download links to move files to and from your computer. The Upload link appears at the top of the OneDrive webpage that displays your cloud file directory. In order to download a file that is on the shared drive, click once on the file name, Then right click to bring up a secondary menu. For macOS clients, this may require you to hold down the Command key first if you only have one button on your mouse. Select the Download option that should appear.
If you will be moving files to and from OneDrive and have admin rights on your system, consider downloading and installing the OneDrive for Business application. This application will create a local copy of your OneDrive cloud folder and then sync the files with the cloud when the system is connected to the network. You can work directly with these local copies of the files and the OneDrive for Business application will make sure that they are stored on the cloud. Macintosh and Windows versions of the OneDrive for Business application are available for download at https://onedrive.live.com/about/en-us/download.
Between Cloud Services (Box and OneDrive)
The easiest way to move files between the cloud services is to use a PC or laptop that has both the Box Sync and OneDrive for Business applications installed. Open both from the system tray to create windows for both. From the windows you can move files using cut/copy and paste. If you are on a system where both utilities are not available, you will have to open up the web interfaces for both OneDrive and Box and use the upload/download functions using the PC's drive as an intermediary.
Moving files back and forth from a mobile/tablet platform is possible. It requires that both mobile app versions of Box Sync and OneDrive for Business are installed and running and configured to save files locally, in a location that both apps can access. In a case like this, it may be more efficient to use a PC system instead. Student Computing Lab PCs are accessible to anyone with a Pitt student, faculty, or staff account and have both apps installed.
Using FTP (Box)
The following is a summary of the steps to establish a secure connection to Pitt Box using an FTP client.
These instructions use FileZilla software as an example. All FTP clients will use the same server and port configurations.
Step One - Set up an External Box Password for Your Pitt Box Account
Single sign-on (SSO) using Pitt Passport is not supported, so you will not be able to log in to the FTP client with Active Directory or LDAP credentials.
Before using FTP with Box, you need to set up an external Box password for your Pitt Box Account. Take the following steps:
Log in to Box via My Pitt (my.pitt.edu) using your University Computing account username and password.
Click your initials in the top right corner, then choose Account Settings.
On the Account tab, scroll down to the 'Authentication' section. Click Change Password.
Type the new password twice, then click Save.
Step Two - Download An FTP Client
Any FTP client can connect to Box's FTP server. The Box Team suggests using the FileZilla client>.
Note: There is no need to try to use the Pitt Box App link (via My Pitt > Box > Your Name in the top right > Apps) to download 'Box FTP Server' because it says "Install the FTP client of your choice."
Step Three - Configure Your FTP Client to Use Box
To establish a secure connection to Box with your FTP client use the following settings:
File protocol: FTP
Host name: ftp.box.com
Encryption: TLS/SSL implicit encryption
Port number: Port 990 is for secure SSL connection.
User name: Your University of Pittsburgh Computing Account Username
Password: the External Password that you created via Box to use with your FTP client.
Here is what the FileZilla Quickconnect window looks like:




Note: You can make a one-time connection to FileZilla.
Here is what the FileZilla window with a saved connection looks like: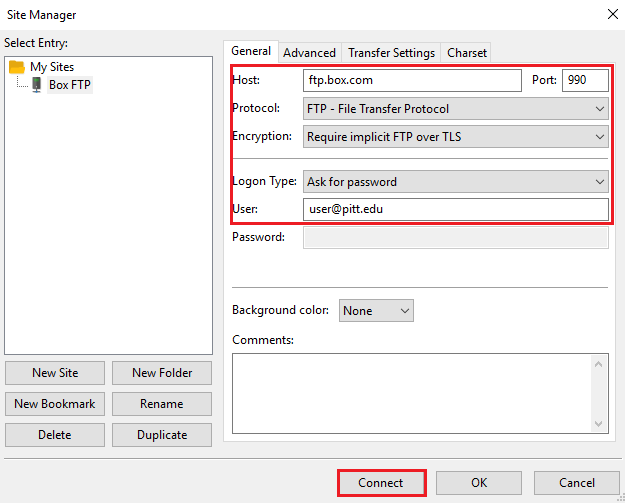 Note: Most settings are saved. You will have to provide your password before you can connect
Recommendations & Tips
FTP is a great option if you need to do a one-time migration of data into Box.
Box does not recommend using FTP as a two-way sync mechanism. You should use the Box Sync feature to sync files. Use the following method>.
Box recommends that no more than 150,000 files or 250GB of total data should be included in each FTP batch.
Based on Pitt IT's Customer and Application Support experience, sending smaller batches of files (approximately 50 GB) overnight provides an effective way for file transfers to be completed.
More OneDrive Resources
General
Add and Manage Files
Share and Collaborate
Sync
Mobile Devices
More Box Resources
Get Started
Managing Your Content
Share and Collaborate
Organize and Search Your Files
Sync Files Between Box and Your Computer
Adjust Your Preferences
Use Box with Mobile Devices
Useful Apps Developed by Box