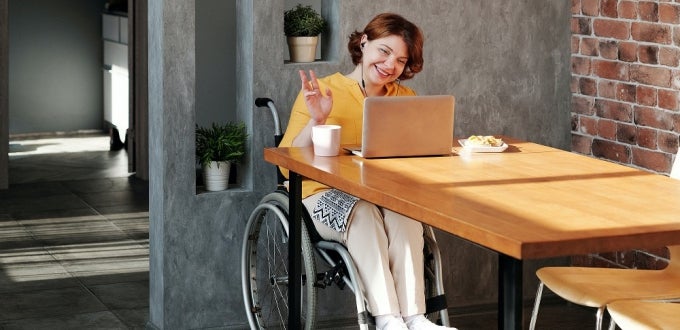 Just as the current academic year began, continuing to adapt to the pandemic remains a necessity for the start of the new calendar year too. Fortunately, Pitt Information Technology has quite a few resources to help students, faculty, and staff stay engaged and productive while remaining physically distant. Though not all are new, with so many changes taking place in 2020, there may be some you haven't heard about. So, we've compiled a summary of tech tools—from obtaining a device and getting connected, to utilizing videoconferencing and cloud-based productivity apps—to help you thrive until we can finally put social distancing behind us.
Getting Started: Have Laptop, Will Travel
Given changing Postures and the uncertainty of when in-person vs. remote classes and work can take place, Pitt IT strongly recommends a laptop for mobility and versatility. Need to buy a one? Don't have the budget? Have a tablet instead? Pitt IT can help in all these scenarios.
If you have the budget and are ready to purchase a new device, discounted Dell laptops and recommended specifications for personal purchases are available through the Dell Member Purchase Program. For departments buying devices for their faculty or staff, the University offers specially-negotiated pricing on pre-configured laptops through the Computer Purchasing and Standardization Program.
Perhaps you have a tablet or are borrowing a friend's computer and don't want to install software? If your device does not have the hard drive space or compute power to download and efficiently run the software you need, use the Virtual Computing Lab (students and faculty) or Virtual Desktops for Remote Work (staff) to access a remote workspace in the cloud. Students, faculty, and staff without access to a computing device may request a loaner Chromebook through the 24/7 IT Help Desk.
Getting Connected: High-Speed Internet
Since having a device for online collaboration and productivity also requires adequate internet connection, Pitt IT provides guidance for selecting residential Wi-Fi service off campus. Those living in remote areas without suitable broadband may request a loaner hotspot through the 24/7 IT Help Desk.
On campus, you'll find PittNet Wi-Fi in all academic and administrative buildings, along with MyResNet in Pittsburgh residence halls. Of course, if you experience any problems with Wi-Fi on campus, be sure to report it right away so the issue can be investigated.
Getting Involved: Videoconferencing and Classroom Tech
In the fall, Pitt IT installed Zoom Room technology in Flex@Pitt classrooms on the Pittsburgh campus to enable students to see their instructor and class presentation—whether they or the professor are in a classroom or at home. This term, Pitt IT is adding student-facing cameras to 50 of those learning spaces, allowing instructors teaching remotely to see students in the classroom. In addition, audiovisual displays are being installed in 30 non-traditional classrooms to support in-person teaching.
While Zoom is the preferred videoconferencing system for classes, Microsoft Teams is recommended for administrative collaboration. View a comparison to learn how the two platforms differ. If you want to learn how to use various features, check out the Zoom Training and Teams Resources pages, as well as Pitt IT-curated course collections on LinkedIn Learning.
In addition to Pitt IT Training, the University Center for Teaching and Learning provides resources and live training on the Learning Management System (Canvas) and Flex@Pitt classroom technology, as well as best practices for remote teaching and online courses. They have also created an Online Student Toolkit course in Canvas, which covers: how to use myPitt for email and software; navigating and using Canvas; tutorials for Zoom, Microsoft 365, Teams, Panopto, Gradescope, Top Hat, mobile and web apps, and the virtual computer lab; and strategies for online student success.
Getting Productive: Touchless Technology
From touchless temperature scanners to electronic signatures and document management, Pitt IT services enable faculty, staff, and students to work without physical contact.
The eSignature Service (DocuSign) lets you complete and sign documents online, and then route them appropriately. New to DocuSign? A 37-minute Learning DocuSign course is available on demand through the University's subscription to LinkedIn Learning.
Pitt Print Stations are in the process of implementing Touchless Print throughout the Pittsburgh campus. Just download the Pharos Print app from Google Play or the Apple App Store. Each printer will have a QR code posted. Just use the app to scan the code, review or change the details for each job you've sent to be printed, and then release your print-outs. Don't have the app? Just scan the QR code with your camera to release jobs from the My Print Center website. However, you can't change any print job settings and must release all of the jobs in the print queue when using the website.
Getting More: Cloud-Based Web Apps
From Office 365 Plus to LastPass Password Manager, there are more than a dozen additional cloud-based resources available to the University community. Bookmark technology.pitt.edu/remote to find them all in one place and have a safe and enjoyable spring term!
-- By Karen Beaudway, Pitt IT Blogger