You are here
5 Steps to Prepare for Working from Home
Wednesday, March 11, 2020 - 08:05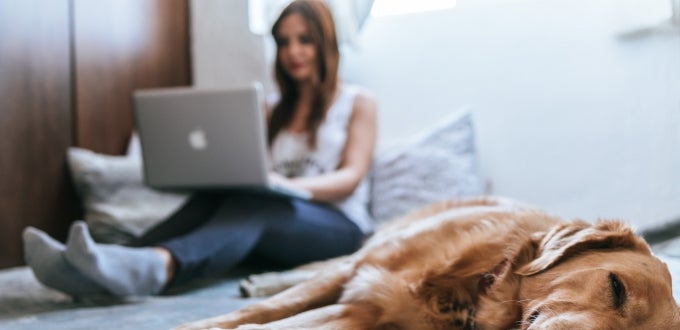 During HR's recent Shaping the Workplace sessions, alternative work arrangements and working remotely were identified as significant areas of interest. The first thing many people think about is getting a computer to work on. But there's a lot more to consider when working remotely than just having a machine in your den.
Whether there is a temporary need that necessitates your working off campus, or you are considering a permanent change to your work arrangements, here are some steps that need to be taken so you can effectively work from your home office.
1.Move your files to the cloud.
When you're switching between the office and home, it's vital that you can access your most current files from any location, on any device. Transfer your files to Pitt's Microsoft OneDrive cloud service so that you can access files conveniently.
One of the more challenging aspects of working remotely, particularly if you work partly from campus and partly from home, is making sure your files are synced between devices—so you are always working on the most recent copy. Working on files that are saved in the cloud eliminates that concern. In addition, if you sign into Microsoft 365/Office cloud apps with your University account, it will automatically sync the files that you're working on to your OneDrive account.
2.Save your Pitt passwords in a password manager.
Working from home means you'll have to sign into the resources you need from a new computer. Because your devices are not confined to a locked University office, it is recommended that you do not allow Google to save your passwords.
To make sure that you can access all of the web- and server-based services that are critical for your work, use Pitt Password Manager (LastPass) to save your passwords. This way, you only have to remember one master key for easy and safe logins.
3.Install needed software.
Equip your work from home devices with the programs needed to keep your work and information secure. Install Anti-malware (Malwarebytes) and Antivirus software for free to maintain University IT security.
You can use Microsoft 365/Office Online by connecting to the Office 365 portal with your University credentials. From there, you can download them onto your machine, if your department participates in the Microsoft Campus Agreement.
You should speak with your IT and administration groups about any other software or local clients that you use that should be loaded onto the machine that you will be using from home.
4.Use the PittNet VPN.
A Virtual Private Network, or VPN, creates a secure and encrypted pathway from your devices to an internet server. You will need to use the PittNet VPN (Pulse Secure) to access restricted University resources while off campus. Some departmental resources have additional firewall protections that may require Network Connect roles to access them through PittNet VPN. These roles need to be requested and approved in advance. If you aren't sure whether a program you use requires extra permissions, contact your departmental IT support or contact the 24/7 IT Help Desk. They will let you know how to request access.
5.Configure your phones.
To keep open lines of communication while working remotely, forward your office phone to your cell or home phone when you aren't on campus. If your Multifactor Authentication (Duo) currently calls your office phone for logging in, change your settings so that it contacts another device, such as your cell phone. If your cell phone does not have the Duo app installed, download and configure it onto your device.
-- By Karen Beaudway, Pitt IT Blogger