You are here
Get a Lab Machine, Virtually
Friday, March 27, 2020 - 14:57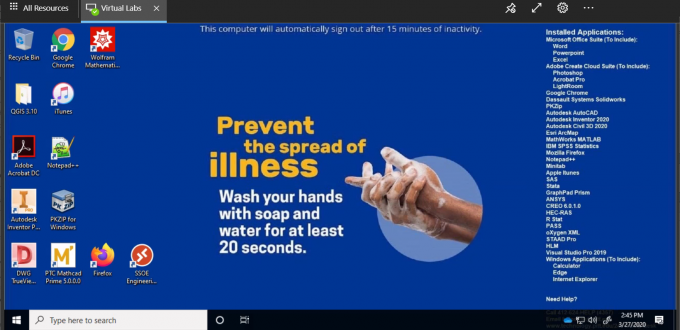 The Pitt community is now spread far and wide—with technology playing a central role in keeping us all connected. If the device you're using doesn't have the software you need or your bandwidth or compute power is limited, then doing your work can be a challenge. So Pitt IT has introduced Virtual Labs and Virtual Desktops. Here's how they can give you the computing resources you need, regardless of your device capacity.
Not All Devices Are Created Equal
It'd be great if we all lived in our own Wi-Fi hot spot and had the latest computer with a lightning-fast processor and a huge hard drive. But here in the real world, circumstances are different.
Some people have an older or borrowed computer or are sharing a family computer. Others are using a Chromebook, iPad or other tablet. Those folks may have limited storage space, and they will not want to (or be able to) use precious GB to download the software they need onto their hard drive. Even if they can, their machines may not be capable of running them effectively.
Using cloud-based apps solves the dilemma for many people. But, while Office 365 is available online, many other apps are not. Plus, those with limited bandwidth or compute power may not be able to reliably use cloud software, either.
Virtual Machines to the Rescue
A virtual machine is a desktop environment (the apps, icons, wallpaper, folders, toolbars) that is stored remotely on a server, rather than on the local PC or other client device. It can be used with minimal computing power, so long as the device has the app and the ability to connect to the remote server. The rest of the power, performance, and storage occurs on the remote server.
Pitt IT has spun up remote servers to host virtual machines for students, faculty, and staff. The Virtual Lab replicates the Student Computing Lab experience, with all of the same software; Virtual Desktops are an option for staff working remotely.
Virtual Lab for students and faculty: looks and functions like Student Computing Lab machines, with all the same software programs, including Microsoft Office and Adobe Creative Suite, plus titles for engineering, mathematics, statistics, and more.
Virtual Desktops for Remote Work: provides staff with office productivity software, including Microsoft Office, Adobe Creative Suite, and more remote work apps coming soon.
Reap the Virtual Benefits
The convenience of the Virtual Lab and Virtual Desktops is that you can access them from any location, using almost any device, at any time. It's your personal, 24/7, on-the-go solution.
Connect from a web browser or app on nearly any Windows, MacOS, Android or iOS device
Use less bandwidth and compute resources than cloud-based or locally-saved software
Access the most popular software, without having to save it on your devices
Save files to your OneDrive cloud storage to sync files to any device you use
Secure your work using Pitt Passport and Duo multifactor authentication, with no need to use PittNet VPN
Connect and Go
Accessing the Virtual Lab or Virtual Desktops is easy. You have two options:
Use the web client at https://rdweb.wvd.microsoft.com/arm/webclient (saves all files to OneDrive)
Download the client from https://docs.microsoft.com/en-us/azure/virtual-desktop and subscribe to the https://rdweb.wvd.microsoft.com/api/arm/feeddiscovery feed (allows local printing and saving)
Once you launch the client, you'll need to log in with your Pitt username and password, and click on the Pitt IT - Virtual Lab or Pitt IT – Remote Work icon.
Your screen will mimic the lab desktop and work in the same way. Files saved to the Desktop, or to the Documents or Pictures folders, will automatically save to your OneDrive account, in the Desktop folder.
With Virtual Desktops, no software is no problem. Just use Pitt IT's remote desktops – they're virtually perfect.
-- By Karen Beaudway, Pitt IT Blogger