You are here
Getting Together While Being Apart: Online Meetings with Microsoft Teams
Wednesday, March 4, 2020 - 00:00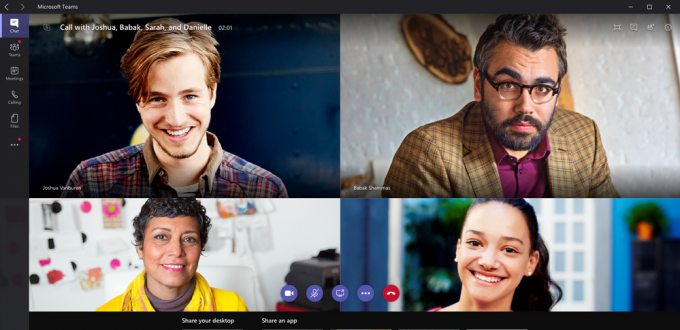 Teleconferences have come a long way from the days of speakerphones and "dialing in" with a toll-free number, followed by an impossible-to-remember meeting code. Today's online meetings can be conducted through smartphone, tablet, or laptop apps—or any device with a web browser, really—leaving phones themselves an option rather than a necessity. Plus, they have great features for presenting video or online whiteboards, group chat, file sharing, and more.
Pitt students, faculty, and staff from departments participating the in the Microsoft Campus Agreement are able to use the Microsoft Teams app, which is not only free, but integrated with the entire suite of Office 365 apps.
Microsoft Teams offers a platform that synchronizes teleconferencing and remote collaboration. It makes connecting participants easy, while offering a wide array of integrated features. Here are some ways that you can make the most of your online meeting, using Teams.
Scheduling and Pre-Meeting Prep
Schedule your meeting as usual from Outlook. In the desktop app, select your calendar and choose New Teams Meeting from the home toolbar. When scheduling your event in Outlook online, select Add Online Meeting and then Teams Meeting.
Great meetings can happen completely online, but you can also go hybrid if some people are available on site. When deciding on a physical space, make sure to choose one with the audio and video capabilities you need. Consider scheduling the room for an extra 15 minutes before the meeting start time to give you some time to resolve any tech issues. If this is your first online meeting, do a test run—practice makes perfect! If you aren't sure how to use the equipment or what adapters you'll need, ask the tech person in your department or contact the 24/7 IT Help Desk.
Joining the Meeting
It's go time! Start the meeting by connecting via the link in the Outlook event. Make sure that Teams has access to your microphone and, if applicable, camera, before logging in. Here are some teleconferencing tips for you and your attendees:
Speak clearly, and mute your microphone when not talking
Call in from a small, carpeted room for less echo and better sound quality
Use the meeting chat to ask a question while someone else is speaking
Turn on Live Captions from the Call toolbar if the audio isn't great
Create a timed meeting agenda, so the call recording is easier to sift through later
Navigating Features on Teams
Recording the Meeting
Recording the meeting is a great way to document what was discussed, and it can be viewed by those who couldn't make it. Be sure to let participants know before you begin the recording. Then click Start Recording from the three-dot icon. It automatically stops when the meeting admin leaves via the red hang up button, or you can click Stop Recording at any time. Record up to four hours of content; afterward, your file will appear in the Team's general conversation channel, and it can also be accessed on Microsoft Stream.
Screen Sharing
To share your screen during the meeting, click on the rectangle with an arrow in the center of your toolbar. If you have a presentation, image, or other document prepared that you want others to be able to view independently, choose Upload. Participants can flip through your shared presentation or document at their own pace, so make sure to announce when you are switching slides.
Other participants can request to present at any time; when they do, you will get a notification giving you the options to Give Control and Take Back Control. When screen sharing on Teams, you can choose to share your system's audio, as well. This makes sharing video and sound bites easy.
Collaboration Tools
Choose Whiteboard from the Screen Sharing menu to write or draw out things for your attendees to visualize. When using this feature, team members can write on the board simultaneously for a unique collaborative experience. Whiteboard is ideal for brainstorming and collaborating.
Microsoft Forms is also integrated into the Meeting Chat function, so you can send out quick polls during the call. This feature is great when you want to garner attendee feedback and make decisions instantaneously. To create a poll, choose Forms from the three-dot menu.

Want to learn more? Check out LinkedIn Learning for free video courses on Microsoft Teams. Faculty and Staff can also sign up for instructor-led Teams training through the Faculty & Staff Development Program!
—Tabitha Barnes, Pitt IT Blogger