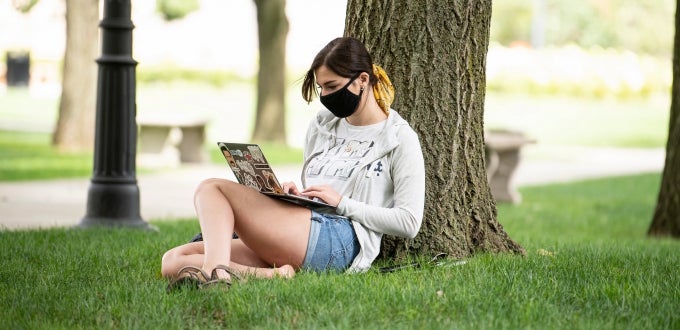 The start of a new term is a great time to reassess whether you have all the technology resources you need to be successful. It's even more important when virtual teaching, learning, and working is the norm due to the pandemic. Here are some tips for starting the semester strong.
Start with a Suitable Device
Save on a New Tablet or Laptop – Pitt IT has negotiated with Dell's Member Purchase Program (MPP) to offer student discounts on select models that meet criteria for use in the University of Pittsburgh computing environment. Recommended options include a $375 Dell Chromebook, $800 laptop, and a $1,280 2-in-1 convertible.
Give Your Tablet Superpowers – While tablets are great for affordability and portability, due to limited drive space and processing speeds, they've traditionally been used more for consuming content than producing it. Thanks to Pitt IT's Virtual Lab, all you need is a high-speed internet connection to virtually upgrade your inexpensive tablet to do anything a laptop can. Leverage the cloud for computing power and access to dozens of apps found in physical lab locations via your web browser—no app installations required.
Borrow a Tablet or Hotspot – If you don't have a device and budget restraints prevent you from purchasing one, request a loaner Chromebook through the 24/7 IT Help Desk. If you live in an area that doesn't have adequate internet service, you may also inquire about borrowing a Wi-Fi hotspot.
Ensure Adequate Internet Access
Register Devices with MyResNet – If you're living in a Pittsburgh residence hall, be sure to register any new devices for MyResNet so that you're all set to connect when it's time to return to campus. Of course, all students have access to PittNet Wi-Fi in academic and administrative buildings, as well as residence halls on regional campuses, and in several high-traffic outdoor areas on the Pittsburgh campus.
Calculate Needed Bandwidth – Off campus, most residential ISPs provide bandwidth for the premises, which is divided among all users and devices. If you're living in a home or apartment with several individuals, you'll want at least 25Mbps for each person working or learning remotely.
Install All the Apps
Access 70+ Free Software Titles – From specialized software to security tools, you can access dozens of free or discounted Windows, Mac, and Linux software titles via Software Download Service.
Browse Pitt-Related Mobile Apps – Find dozens of free Apple and Android smartphone apps—in one convenient location—that allow you to use touchless printers across campus, add classes, view grades, check your schedule, collaborate in the cloud, use Microsoft Office, and much more.
Download Microsoft Office at No Cost – As a Pitt student, you get free access to the world's most powerful suite of PC productivity applications that includes Word, Excel, Access, and PowerPoint. Install Office for Windows or Mac at no cost on up to five devices—including Office Mobile for Android and iPhone.
Get Help and Stay Informed
Contact the 24/7 IT Help Desk – Need help with any of the above? Get fast and friendly technical support how and when you want it—including holidays—via phone, live chat, online form, or email. For "hands-on" help with your device during regular business hours, you may also schedule a Drop-In Support appointment or a Virtual Support visit via Zoom.
Sign Up for Pitt IT's Newsletter and Alerts – Be among the first to know about new services, feature upgrades, and IT events on campus by opting in to Pitt IT's monthly student newsletter. Also consider subscribing to text alerts to stay informed about the latest security vulnerabilities, phishing scams, and system outages.
-- By Brady Lutsko, Pitt IT Guest Blogger