You are here
Protect Your Tech, Protect Yourself: Safe Computing at Pitt
Wednesday, September 6, 2023 - 10:31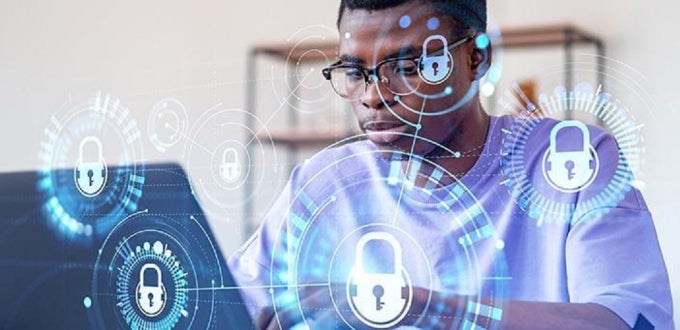 A new semester brings many things: new friends, classmates, instructors colleagues; a new schedule; and a new year of working on your device. Unfortunately, it also brings new cybersecurity threats, with hackers hoping to wreak havoc with your online identity. But you can stop them in their tracks. Here are some tips for keeping your information, your devices, and yourself safe and secure.
Protect Your Passwords
The first cybersecurity must is to set passwords on all of your devices and accounts. You can't just set a password and expect everything to be Gucci—it's not that simple. The key is to have strong and unique passwords for each account.
A strong password is long (at least 8 characters) and consists of letters, numbers, and special characters. The longer and more random, the better. Passphrases (such as IL0veMy3Cats!) are complex and easier to remember. Wondering if your password is any good? Use my1login's password strength detector to see how long it would take a hacker to crack it.
It's important to use different passwords for every account and service you use. Otherwise, if a hacker gets one set of login credentials, they will have the password to your other accounts too! You'll never remember every unique password, but not to worry—Pitt Password Manager (LastPass) remembers all of them, so you don't have to. Just memorize one master password and store all your passwords and payment methods in a secure vault. LastPass also generates crazy strong passwords, auto-fills logins, and can identify weak, old, or reused passwords.
Double Up with Duo
Ideally, a password is something only you know. But the next level of security combines that with something that only you have access to, like your phone. That's what multi-factor authentication is all about. Turn it on for any online services that support it. Sure, it can be annoying to have to type in a code or push an extra button to log into your accounts, but having that extra layer of security can make a world of difference. Pitt Passport integrates Duo for multi-factor authentication to access many University services. You can avoid the Duo push for every login by clicking the button on the Pitt Passport login screen that tells it to remember you.
Just remember: if you get a Duo prompt when you weren't actively logging in, REJECT it! That's a sign that someone get hold of your password and is trying to log into one of your accounts. So deny the request and immediate go to accounts.pitt.edu/Password to change your password.
Get a Private Pulse
Last year, many members of the Pitt community became experts at remotely accessing the University's network. Most Pitt services can be accessed by simply logging in through Pitt Passport, the single sign-on service. But if you're trying to access a restricted service, or you're providing sensitive information while using public wi-fi, you can still connect safely through PittNet VPN (Global Connect). A VPN, aka Virtual Private Network, protects your privacy online by encrypting your connection. Pulse Secure makes it look as if you are on the University's network, whether you are in Oakland or all the way across the country. (Note: no need to use it if you are logged into PittNet or MyResNet.)
Secure Your Laptop
All of the tips listed above are geared toward protecting your online activity, but don't overlook the physical safety of your device as well. According to a Kensington survey, laptops have a 1-in-10 chance of being stolen, and nearly half of all laptop thefts occur in offices or classrooms.
Avoid leaving your laptop unattended, especially in public places like Hillman Library or a coffee shop where dozens of people are coming in and out at a time. You can also stop someone from getting into your laptop with these precautions:
Turn off Bluetooth and don't set it to "discoverable" unless necessary.
Make sure you have passwords set up on your laptop and other devices.
Consider a Find My Device app to help track down your device if it goes missing.
If your device does end up being stolen or getting lost, contact Pitt Police for assistance.
Protect Yourself
Protecting your tech matters, but protecting yourself is the most important thing! The Rave Guardian app gives you immediate access to Pitt Police or 911 with just a tap, plus connects you to a variety of other health and safety resources. The Safety Timer lets you inform a friend that you are on the move and when you expect to arrive. Your guardian can track your progress and contact you if you don't indicate that you have arrived … and contact the police if they are worried for your safety.
Help is Here!
Last but not least, don't be afraid to ask for help when it comes to cybersecurity. It's tricky and Pitt IT is ready to assist you with any cyber threat you encounter. If you receive a phishy email asking for sensitive information, forward the email as an attachment to phish@pitt.edu. If you think you may have accidentally fallen for a phishing scam or downloaded malware, contact the 24/7 IT Help Desk or bring your device to the Drop-In Service at the University Store on Fifth!
Now that you have some security basics, get out there and compute safely. Keep your eyes open for some Cybersecurity Awareness Month fun this October!