You are here
5 Pro Tips for Teams Meetings
Wednesday, September 23, 2020 - 09:38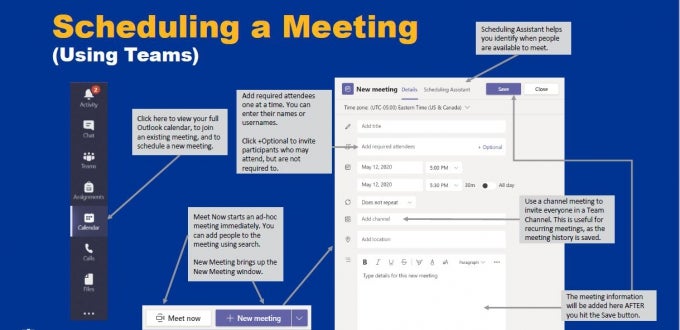 In July, I wrote a blog comparing Skype and Teams for chatting, calling, and meetings. That was just a taste. Now that Microsoft is getting ready to retire Skype for Business, it's time for a whole serving of Teams hacks. Here are my top tips for going from basic to pro with Teams meetings.
1. Blur Your Background
Fancy background images inevitably end up being distracting, or cutting off half my hair. That said, I don't feel the need to show everyone my housekeeping or my cats grooming themselves. Blurring your background is the perfect compromise. You'll appear nice and clear, while everything behind you is subtly concealed. And if Teams has a hard time distinguishing your hair from your credenza, the blur makes it much less obvious.
When you join the meeting, click Background Effects

—it's just to the right of the mic—and choose the Blur option. If you're already in the meeting, just click the More Actions ellipses (…) from the control toolbar, and select Show background effects.
2. Show and Save Participants
It can be hard to see everyone in a large meeting. Some people are in the meeting window, others are in the thumbnails row, and others you can't see at all unless you scroll. That makes it difficult to see who's there, mute/unmute someone, notice a raised hand, or make someone a presenter.
Click the Show Participants icon

to view an alphabetical list of all attendees. A little hand will appear by someone's name if they raise their hand, and you can access participant options for each attendee. Also if you are the scheduler of the meeting, at the top of the list, there is a button for Download attendee list. That is helpful for future reference, especially for meetings or trainings with mandatory attendance.
3. Add the Channel
The whole point of Teams is that it facilitates collaboration by keeping everything related to a group or project together in one place. If you schedule one-off meetings, it can't do that. Schedule meetings associated with a particular team from within that channel.
Click Teams from the left navigation and select the relevant team and channel. Click the Meet drop-down in the top right of the screen, and select Schedule a meeting. The team will be added to the channel, and everyone in that channel should receive an invite. You can still invite specific people to the meeting, too. But by adding the channel, everyone in the team can see and join the meeting, and access any notes, chats, or files associated with it. Note: you need to add the channel when creating the meeting—it can't be added later.
4. Use Meeting Notes and Share Your Presentation
Related to adding a channel, it's important to keep notes and presentations with the meeting itself. Meeting notes can be added before, during, and after a meeting, and are a great way to record decisions, action items, and open questions. Just click the More Actions ellipses, and select Show meeting notes. Anyone invited to the meeting (even those who didn't attend) will be able to see, take, and respond to notes. If you added a channel, anyone in the team can access the meeting notes, too.
If you are sharing a PowerPoint presentation, don't just share your screen—share the file. Click Share Content > PowerPoint. The file will be uploaded to the meeting (if you added a channel, it will be added to the team's Files tab). This makes the presentation available after the meeting (no videoconference Bingo hit for "Can you send this presentation to the group?"). Also, attendees can look through the slides during the meeting without disrupting the main presentation (another Bingo no-go for "Can you go back to the previous slide for a sec?").
5. Use Required/Optional Participants for Scheduling
Designating invited participants as Required or Optional is polite—you're letting people know what their role in the meeting is. But I use it for a more practical reason: easy scheduling.
Finding a time that works for everyone is hard enough without figuring out which conflicts are a deal-breaker and which you can ignore. The Scheduling Assistant groups Required and Optional participants together, with Required listed at the top. You can collapse either group to hide it, to make seeing the schedules even easier.
I first identify 2-3 times that work for all Required participants. Then, I pick the time with the fewest conflicts for Optional attendees.
BONUS TIP:
Use the New Meeting Experience Large Gallery View
Microsoft is testing out new meeting options, which are available for most Pitt users. New features include meetings popping out into a separate window and meeting controls being permanently displayed at the top of the screen. Both are super useful. But the feature I appreciate most is the Large Gallery View, which displays up to a 7 x 7 grid of participants, instead of the traditional 3 x 3 grid. This is ideal for larger meetings.
To enable the new features, click your profile icon in the top-right corner of the desktop app, select Settings > General > Turn on new meeting experience. You will need to restart Teams for the changes to be applied. Use the Large Gallery View by clicking on the More Actions ellipses. If you don't see these options yet, don't worry—Microsoft will make them available to everyone at Pitt in time.
You're all set to start using Teams like a pro. For more help using Teams, check out all the resources at pi.tt/teams-training.
-- By Karen Beaudway, Pitt IT Blogger
Microsoft is retiring Skype for Business and moving all users to Teams as the default chat, meeting, and calling app in Office 365. To support the transition to Teams, Pitt IT is migrating Skype users without a Skype phone account to Teams on October 17. Don't wait until next month to start using Teams—Pitt IT encourages you to begin using it now.