You are here
Tech After Graduation
Wednesday, April 14, 2021 - 09:17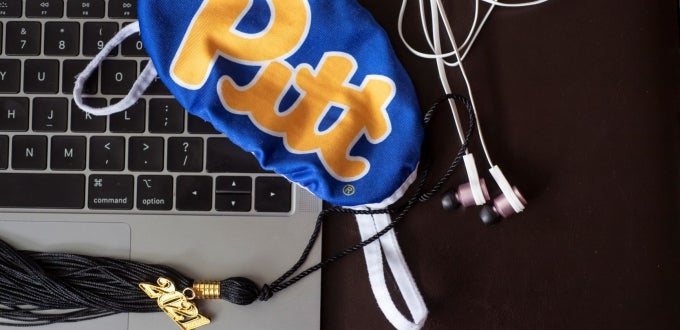 In the past year, Pitt students have showed tremendous resilience. Now, the Class of 2021 is ready to don their caps and gowns! Between finding a job or preparing to start graduate school, to saying goodbye to college friends and moving into a new place, what happens to the tech services you were using probably isn't your top concern. But before you Ctrl-Alt-Shift from student to alumni, here are some tech considerations you need to know.
Preparing for Change
Upon graduation, many of the services provided by Pitt will end. Alumni have different resources than active students. It is really inconvenient to lose access to your own data. It doesn't take a lot of time or effort to transition your tech—but you need to take care of it before your access ends, which happens in the few weeks after the term ends.
Grab Your Files in the Cloud
According to Jeff Rhoades, help desk manager, the biggest snag students run into is losing access to their Pitt OneDrive and Box and Electronic Lab Notebook (LabArchives) cloud accounts.
"Every year, the Help Desk gets calls from recent graduates who can't log into their Pitt cloud accounts to download files they wanted to keep. Not only do they lose personal pictures and memories, but many students belatedly realize that their papers, projects, and research notes are important for their personal portfolio when applying for jobs or graduate school," explains Rhoades.
You should save any files you want to keep on a personal storage drive or cloud account:
Copy your files into another cloud service, such as a personal OneDrive, Box, or Google account.
Download your files onto a storage drive, e.g. a USB or an external or computer hard drive.
Most Software Will Expire
Most of the software you had access to as a student, both online and downloaded to your machine, will expire once you leave Pitt. That includes Office 365, Adobe titles, and most academic software and services. There are a few notable exceptions (see below), but you will need to purchase a personal license for most software that you want to continue using. In addition, you will lose access to Pitt's institutional Zoom account. You can sign up for a free Basic account directly from Zoom.
Access LinkedIn Learning While You Can
Your education doesn't end just because you leave Pitt, but your LinkedIn Learning account does. Pitt IT has negotiated a LinkedIn Learning extension through the summer for recent graduates, so use it while you still can! Take one of 16,000+ free courses or add a certification to your LinkedIn profile to boost your resume. Get a head start on GRE or LSAT test prep. Brush up on job search and interviewing skills. If you connect your profiles, your learning history will remain in your LinkedIn profile after your access ends. If you regain access to LinkedIn Learning through another employer or with your Carnegie Library card, you can pick up right where you left off.
Appreciating What You Still Have
Software That's Here to Stay
Although access to Office 365 Online will end after you graduate, you can download a personal copy of Office 2019 for free from pitt.onthehub.com, and use it for as long as you like. The key here is that you must download it before you graduate, because you also lose access to the OnTheHub store after you graduate! (Be sure to also save the product key in case you have technical issues with the program.) Some other programs and services may still be valid or can be transitioned to a private account—visit the Software page for specific details on each app.
Stay Safe, Panthers
Good cybersecurity habits are important wherever you go, so download your copies of Antivirus and Anti-Malware (Malwarebytes) Protection. The software won't expire after graduation, but note that they will not receive new updates unless you subscribe to the service on your own.
As for all those super secure, impossible to guess (and sometimes impossible to remember) passwords you've stored in Pitt Password Manager (LastPass)—no worries. Your master password will not change and you will be able to access all saved passwords and data.
Your Pitt Account Is Yours to Keep
Pitt will always be your academic home. When you leave Pitt, you'll keep your University computing account, which will transition to Alumni status. Your username/password can be used to access PittNet Wi-Fi when on campus, request a transcript or enrollment verification through the Office of the Registrar, access grades or class information from PeopleSoft/HighPoint CX or Canvas, make payments through PittPay.
Your Pitt email address is yours for life. Use it to stay in touch with classmates and professors and to receive alumni emails. In addition, you'll retain access to myPitt, which will showcase alumni resources by default. We also hope you will continue to Like/Follow all your favorite Pitt social media accounts, including @UPittIT! Use these resources to keep #H2P-ing!
Pitt IT Support Isn't Going Anywhere
Have questions about these or other technology services? Ask the 24/7 Help Desk. You'll always be part of the Pitt community, and the Help Desk will be there to answer your questions about your Pitt IT resources, whether you need help now or 10 years from now!
Congratulations to the University of Pittsburgh Class of 2021!
-- Karen Beaudway, Pitt IT Blogger