You are here
Printing to Perfection
Wednesday, January 26, 2022 - 16:31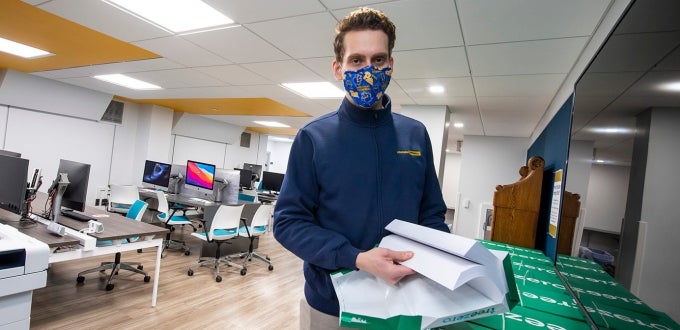 People are printing far less than they used to. That's a good thing—it saves money, trees, and waste. Plus, the convenience of going digital just can't be beat. That said, printers aren't going anywhere. There are still times when you will want or need to print something out.
That's what Pitt Print is for! You can submit print jobs via the Pitt Print Client on your computer, using the Pharos Print app on a mobile device, upload it to print.pitt.edu, or via email. Then, go to any Pitt Print Station; swipe your ID, scan the QR code, or type in your Pitt username/password; and print it out.
It's all pretty easy, but there are a couple things you need to know to avoid the most common complications students encounter when printing on campus.
Pick the Proper Paper
Pitt Print Stations come equipped with letter (8 ½ x 11 inch) paper. Color printers can also accommodate double-wide landscape (11 x 17 inch) paper. If you submit a job that was saved in a different paper size, you will get an error saying that the printer does not allow your print job's attributes. To avoid this error, you need to select an appropriate paper size when you submit your print job (aka – tell it to print on a letter or tabloid sheet, regardless of the original document size).
Unfortunately, mobile print does not allow you to change the paper size. If you're sending a document saved in an unsupported paper size, print the document from your device using the Pitt Print Client and select letter or tabloid paper. (Note: you can also connect to the Virtual Computing Lab at pi.tt/virtuallab to submit the job using the Pitt Print Client on the virtual machine.) Alternatively, you can save a document to PDF using an accepted paper size.
Know Where to Go
There are dozens of black and white Pitt Print Stations all over campus. They are located in all Student Computing Labs, most residence halls, and most academic and student buildings. Color and multifunction printers, however, are only located in select locations.
To find the location nearest you, see the Pitt Print Stations map at pi.tt/print. Scroll down to see a complete listing of black-and-white, color, and multifunction printers. If you want to print on 11 x 17 paper, be sure to find a color printer location where that paper is loaded.
Consider the Cost
Students are allotted $63 per term for printing. At just 7¢ per sheet printed on a black-and-white printer, that's 900 double-sided sheets per semester! Note that I said black-and-white printer! Black-and-white sheets printed on a color printer cost 21¢ per sheet, while color sheets are 49¢ per sheet.
Use black-and-white printers when color isn't needed. If a large document only includes a few color images, consider printing only the needed pages in color and the rest on a black-and-white printer in the same location. Pitt Print defaults to double-sided to help your quota go twice as far. To conserve your quota, don't change this setting unless you explicitly need a single-sided document.
Log into My Print Center at print.pitt.edu to view your current balance. If you exhaust your quota, you can buy more at the Drop-In Support Desk at the University Store on Fifth (via Panther Funds, credit card, or cash) or by using the Pharos Pay Stations in the David Lawrence Hall and Cathedral of Learning Student Computing Labs (cash up to $10 bills or coins higher than pennies).
Print Wisely, Friends
With these tips, you can print successfully, conveniently, and economically whenever you need to. Pitt IT uses special paper that reduces the environmental impact of printing, but you can go further to support the University's goal of becoming carbon-neutral by printing only when needed.
Pitt IT has tools that can help. With DocuSign, you can sign and route documents electronically. OneDrive lets you access files from any device in any location, and share and collaborate in the cloud. The Virtual Computing Lab gives you access your lab desktop from anywhere, in or out of a Student Computing Lab. Acrobat Reader, Word, OneNote, Teams, and other apps let you mark up and write notes on digital files.
-- By Karen Beaudway, Pitt IT Blogger