You are here
Law School and the Video Revolution
Tuesday, November 26, 2019 - 10:05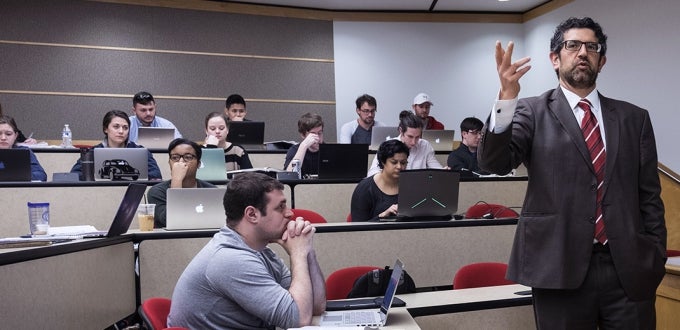 When it comes to diversity and inclusion, the use of technology may not be the first thing that comes to mind. However, with the help of their Director of Information Technology and Networking Kim Getz, Pitt's School of Law found an innovative way to leverage Pitt Information Technology's Lecture Capture (Panopto) service to meet the needs of their students and faculty.
New Year, Same Challenge
As the academic year begins, the new year approaches ... the Jewish New Year. That means, many Jewish students take off two or more days in observance of Rosh Hashanah and Yom Kippur. While missing class is a challenge in any academic program, it's especially concerning for Pitt Law, which has a strict minimum attendance policy.
The solution? Recording the lecture for impacted students. Seems simple enough, but during the Jewish High Holy Days, Getz needs to record a lot of classes on the same day. In the past, that meant running from classroom to classroom, setting up recorders, helping instructors, and posting recordings—and then doing it all again just nine days later.
Finding a Better Way
Getz was familiar with using Panopto for recording, live streaming, managing, and sharing videos across the University. So she called up Mike Casella, Pitt IT's Lecture Capture service owner for advice, saying, "Mike, I think you might be able to help me with a really big challenge."
Casella told her about Remote Recorder, which allows an IT administrator to set up classrooms for Lecture Capture and then schedule recordings in advance. All the instructor needs to do is log into the computer, put on the microphone, and start teaching. Afterwards, the recording is automatically saved in a predetermined folder.
Success in Barco
Casella and Getz set up Remote Recorder for all 12 Pitt Law classrooms in just one week, in time for Rosh Hashanah. "Instructors let me know what classes to record, and I scheduled them. They knew where to find the files to post on their course website and used the viewer data to give students attendance credit," Getz explained. "It was really convenient for the faculty and students—they loved it."
Leveraging Lecture Capture
Getz is finding other uses for Remote Recorder. When a student informs the Dean's office they need to miss class due to a medical situation, she can tell the instructor the lecture needs to be recorded—without divulging the student's name or confidential medical information. Faculty members also contact her to record a make-up lecture when they are going to be absent.
Casella enjoys helping departments across campus use Lecture Capture creatively. Some professors record every class for their students. Others deliver Flipped Classes: they pre-record a lecture for students to watch in advance, and work through problems or explore discussion questions during class. "It makes the class interactive, with immediate feedback," Casella said.
Casella notes that Lecture Capture is also a great tool for departmental trainings and presentations, to make it easier for everyone to participate. It can even incorporate a quiz if necessary for certification.
Get Started with Lecture Capture
If you are interested in seeing Remote Recorder in your department, tell your IT administrator! IT personnel are encouraged to contact Mike Casella to discuss what is needed to get started. Training for Panopto is also available upon request for groups of 10 or more.
-- By Karen Beaudway, Pit IT Blogger