Technology Training for University Departments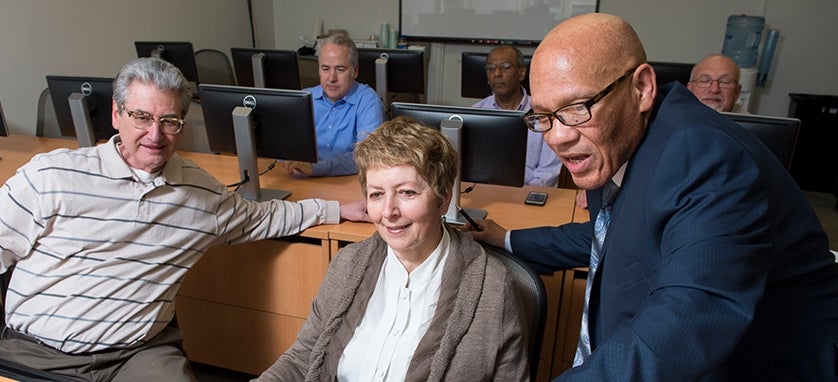 Set up your team for success with customized training. Get everyone on the same page, brush up outdated skills, and give your staff added knowledge to do their best work. Contact Pitt Information Technology today to create your fully tailored learning program led by our expert trainers.
Sharpen skills
Build confidence by honing existing skills and developing new ones. You don't need to pay outside vendors or wait for hard-to-schedule classes. Our experts are here and ready to give you sessions tailored for your department, at a time that fits your schedule.
Improve efficiency
Pick up new ideas and perspectives as class participants share experiences. Learn from our experts and the people you work with every day. We create an open and interactive environment for asking questions and finding better ways to do your work—that you simply can't replicate online.
Save time
Invest an hour now to learn the techniques that will save you more time later. Now is the perfect time to schedule one or more classes with our experts. We'll make sure you know everything you need to make the upcoming year your smoothest yet.
---

---
Customize your curriculum
Your team performs specific jobs, so we know your people require specific tools and processes. Request customized classes now that meet your staff's specific needs.

---
Schedule an existing class
Our experts have a deep library of ready-to-present workshops exclusively for Pitt staff. You can quickly request or join existing classes that cover everything from organizing your inbox to mastering PivotTables in Excel. Take a look at a few of our popular classes below. Plus, remember that we can customize these classes to your team's needs.
Create Your Own Online Surveys (Qualtrics)
Qualtrics allows you to easily create a survey, collect data, analyze responses, and present results using professional-quality graphs. Get started creating and distributing your own surveys in this workshop.

Gather eSignatures and Manage Document Workflow (DocuSign)
Learn how to send, sign, and manage documents electronically with the University's Digital Signature Service (DocuSign).

Lynda Online Learning: Professional Development On Demand
Make the most of a fantastic professional development resource—On-Demand Training (Lynda). Learn how to search thousands of courses in business, technology, and creative skills. Create and share playlists, bookmark your favorite courses, and earn certificates of completion.

Microsoft Excel 2019: Worksheet, Formula, and Chart Fundamentals
We'll cover building spreadsheets, worksheet fundamentals, working with basic formulas, and creating charts.

Microsoft Excel 2019: Unleash the Power of PivotTables
Explore how to use Microsoft Excel Charts and the PivotTables 2016 feature to concisely summarize and manage large amounts of data for easy reporting and analysis. Manage subtotals and grand totals, group data, apply conditional formatting for data subsets, and create macros.

Microsoft Office 2019: Word, Excel, and PowerPoint Quick Start
Three essential tools; one helpful class. Create, format, and edit Word documents. Format Excel spreadsheets and work with basic formulas. Craft dynamic PowerPoint slides with transitions and animation. You'll find it all here.

Microsoft Outlook 2019: Organize Your Inbox
Take advantage of quick tips to manage and organize your email. We'll also cover shortcuts that make it easier to navigate and perform common commands.

Microsoft PowerPoint 2019: Punch Up Your Presentation
A dynamic presentation begins with sound fundamentals. Learn how to format slides, use themes, insert and edit pictures, apply transitions, add animation, and more.

Microsoft Word 2019: Personalization and Graphics
Discover how to create a personalized Mail Merge for multiple recipients and get creative with your documents using Word's Illustrations feature.

Microsoft Word 2019: Word Wizardry Fundamentals
Learn how to format documents, work with tables, track changes, use templates, check grammar, format images, adjust page layouts, print documents, and create mail merges.

Pitt Video: Record and Share Your Own Videos (Panopto)
Pitt Video (Panopto) enables you to record lectures, meetings, and department training sessions. Get acquainted with Pitt Video's recording features, then learn how to upload and share your videos.