You are here
Good GAAD! Digital Accessibility Matters
Wednesday, May 17, 2023 - 17:34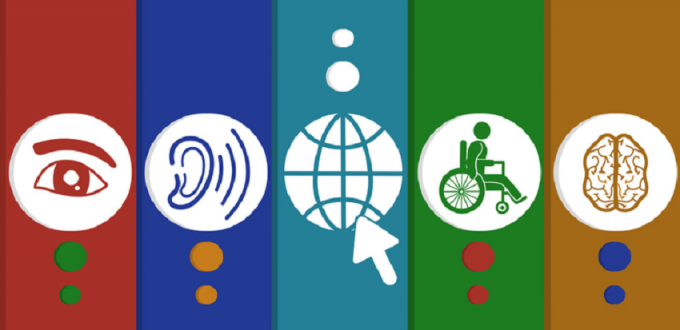 May 18, 2023 marks the 12th annual Global Accessibility Awareness Day (GAAD), when we focus on raising awareness about the importance of creating digital spaces that are more accessible and inclusive. We've all heard that word before — accessibility — but what does it really look like in regard to the challenges someone with a disability may encounter with technology? Read on to learn about digital accessibility, how you can participate in making Pitt more accessible, and the resources available at Pitt.
Digital Accessibility and Why It Matters
According to the GAAD Foundation, digital accessibility is the ability of someone with a disability to experience web-based content with the same successful outcome as those without disabilities. This can include people with visual, hearing, motor, and cognitive impairments, and include such needs as a screen reader, alternative keyboards and controls, captioning, and consistent navigation.
Angie Bedford-Jack, director of digital equity and special projects in the Office for Equity, Diversity, and Inclusion (OEDI), is responsible for the processes and resources needed to ensure that the University's digital spaces are accessible to people with disabilities. "At the end of the day, what it means to be accessible is that it's functional — everyone has the ability to freely and independently access, use, contribute to, or engage in Pitt's digital environment," she says.
According to Bedford-Jack, Pitt leadership has embraced the belief that everyone deserves equal access to education, including the digital tools and materials that support it. But she notes that there are more things that need to be done to ensure that digital spaces are available to everyone.
"One stigma we need to overcome is the idea that improving accessibility impacts only a tiny portion of people. That's fundamentally not true — 20% of people have a disability," Bedford-Jack points out. Moreover, she notes that improving accessibility benefits everyone. "Captions were initially designed for people who are deaf or hard of hearing. But they're helpful for anyone who doesn't want their sound on in public, when the environment is noisy, or if there is a language or accent barrier."
Accessibility Tools and Resources to Leap Over Accessibility Barriers
Pitt has numerous digital accessibility tools to make our digital spaces more accessible. Here are several resources that can help you identify and remediate accessibility barriers.
Student Computing Labs
All Pitt IT Student Computing Labs have ADA-compliant desks and feature devices with accessibility software. Apps include Kurzweil 3000 for those with learning disabilities (like dyslexia) and ESL students, with writing tools, an MP3 encoder to create audio files, bilingual dictionaries and translation support, and study skills support tools. Lab PCs also include JAWS screen reading software, Windows 10 Magnifier and Windows Narrator for blind and low-vision people.
UDOIT Advantage for Canvas
UDOIT (pronounced You-Do-It) Advantage is an interface within Canvas that helps faculty create a more inclusive learning space by scanning Canvas course pages to find areas for accessibility improvement. The University recently upgraded to UDOIT Advantage, which also scans files. That was a big missing piece from the basic version, which only scanned HTML pages, since most Canvas courses include many PDFs, images, and other types of content. UDOIT Advantage creates a list of issues that can be sorted and ranked so that faculty can address easier issues first and then work to fix more complicated issues. Watch this video to become informed about the benefits of UDOIT Advantage.
Siteimprove for Web Sites
Siteimprove is a cloud-based software that crawls websites and provides information on digital accessibility issues, as well as identify errors like broken links and misspellings. Once scans are performed, Siteimprove provides a report detailing each accessibility barrier. The person in charge of the website can then address each recommended change — whether it's changing the colors on the page, adding missing ALT text, or some other issue with the code. This app is available to all University websites. Learn more about Siteimprove.
Captioning and Transcription Services
Lecture Capture (Panopto) provides two different options for generating closed captions. Automated Speech Recognition (ASR) is generated by a speech-to-text engine when uploading a new video to Panopto, but is generally not accurate enough for ADA compliance. Therefore, Panopto offers a modestly-priced transcription service for instructors that provides a centralized captioning solution using trained professionals to produce more accurate, ADA-compliant captions.
In addition, both Zoom and Teams have live transcripts for meetings and webinars. These services also use an automated speech-to-text engine when creating captions that are not accurate enough for ADA compliance. But the transcript for a recorded meeting and webinar can be manually edited or the recording can be sent for professional transcription after the session.
Getting Started in Making Pitt More Accessible
Awareness, education, and commitment are cornerstones to creating digital accessibility. "The best way to increase accessibility is to teach faculty and staff how to recognize the barriers and fix them themselves," Bedford-Jack says. Digital accessibility can seem overwhelming at first, but Bedford-Jack has some tips on how you can begin to incorporate it into your work.
Identify one issue and get good at fixing it.
UDOIT or Siteimprove may show that an issue is present a lot in your course pages, materials, or web pages. For example, you may have a lot of PDFs that aren't readable or images without ALT tags and captions. Identify the most common issue across your work and fix it. Tackling low hanging fruit can fix a majority of problems with a minimum of effort for maximum impact.
Report it, don't ignore it.
Do you have a scanned document that can't be read by a screen reader? Does an online quiz require interactive keyboard or mouse responses? Running into content you can't easily access can be discouraging, but there are many people at Pitt who are happy to help you. OEDI has an online form that allows people to report accessibility barriers. If you are a content creator and need some help making your materials accessible, the Teaching Center has a wealth of help sheets and resources dedicated to digital accessibility. In addition, you can reach out to OEDI directly at accessibilty@pitt.edu.
Prevent more to fix less.
It's a lot easier to create accessible materials from the start, rather than to go back and fix inaccessible content. So keep digital accessibility in mind from the outset. For example, many Microsoft apps have the Accessibility Checker feature. Just go to Review > Check Accessibility. Run Check Accessibility and fix any identified issues before you post the document or save it as a PDF. Problem averted! Similarly, get in the habit of adding ALT text and captions to images.
Accessibility for the Future
According to Bedford-Jack, "The realm of digital accessibility brings new and unique problems all the time." Digital accessibility considerations have moved beyond web spaces to consider mobile apps, cloud services, smart devices, and other fundamental parts of our lives. There are constantly new tools being developed and Pitt is looking at them all. For example, Equidox, a PDF accessibility tool, will soon be piloted at the University. In the end, it will take the efforts and commitment of the entire Pitt community to make every day a Global Accessibility Awareness Day!