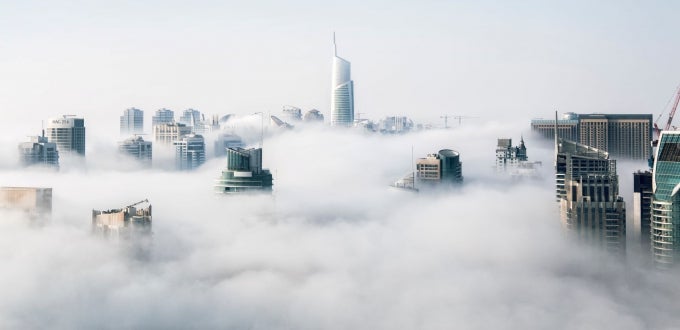 Any time, from anywhere, on any device, with anyone—that's the name of the game nowadays. Whether you're flying high on three cans of Red Bull trying to finish a group project in Hillman, uploading hours of B-roll for a film project, or working with a colleague who sits across campus, cloud computing is essential to the everyday work environment.
Shoot for the Stars, and Land on a Cloud
What exactly is the cloud? You could argue it's basically a synonym for the internet. Or more specifically, the array of services, software and even hardware that are accessed online.
The advantage of having technology available in the cloud is that you don't use up the hard drive of your own computer. Perhaps more importantly, since it's not tied to one computer, you can access the files and services from any device. Even better, other people can get to the same resources, making it an ideal collaboration tool. Cloud computing is a great solution when you need to:
Store large amounts of data, far more than your hard drive capacity
Organize all of your work in one place, no matter where you created it
Back up all your data for redundancy, in case a device is lost or damaged
Sync and access files across devices
Collaborate with team members on projects
Work on shared files
On top of all of this, using the cloud is safe and secure. Service providers encrypt your data so that hackers can't swoop in and steal it. This way, you can enjoy all the benefits of keeping your head in the clouds without tripping along the way.
Soaring on Two Clouds
To meet the needs of the flexible workplace of students, faculty, and staff, Pitt IT provides two options for collaboration on the cloud: Box and Microsoft OneDrive. Both are available at no cost, and they both allow you to upload files up to 15GB in size. You can use one or both, but there are a few differences that can help you decide which to use and when.
Sync Up with OneDrive
The easiest way to transfer files from one device to another used to be by email. If you're like me, your inbox is chock-full of "note to self" notifications. OneDrive eases your jump between devices by automatically syncing files across multiple locations. When you sign in to Microsoft Office 365 apps with your OneDrive account, you can just pull up your files to work on the go, in the office, in a lab, or at home. Office 365 saves files to your OneDrive space by default, up to 5TB of storage. You can also use Office 365 online to collaborate with co-authors in real time.
When It Rains, It Pours with Box
Box is a boundless atmosphere for your data. With Box, you have access to unlimited storage. For real—no limit. If you're working with lots of large files, this is ideal. There's also a Notes capability to keep classwork and project planning organized. Within the Notes function, you have access to templates like project management tables and meeting agendas. When you're ready to collaborate, you're just one click away from unlimited file sharing. Box also makes it easier to share files with those outside of Pitt, since it's not tied to Pitt's Office 365 service. If you hadn't already guessed it, Box is the Type A-er's personal organization heaven.
Gone, but Not Forgotten–Back Up Before Moving On
When you graduate or leave Pitt, make sure to save any personal documents to a thumb drive, your device's internal hard drive, an external hard drive, or another cloud service. Because when you leave, your access to your Box and OneDrive account will end. If there's anything that you'll want or need for the future (i.e. samples of your work, keepsake documents, or photos), make sure to save it before then.
If you'd rather keep your files where they are, you can transfer the account to your personal ownership using these instructions on Pitt IT's Cloud Collaboration page. Just remember—there may be costs associated with a private Box or OneDrive account.
As I like to say: When its free, what's stopping me? So get aboard and head into the cloud.
--By Tabitha Barnes, Pitt Student IT Blogger
You tell me: How do you keep all of your files organized? Are they in a secure location or are they soaring, freewheeling in the dark depths of your hard drive?