PittNet Wired: Manually Configuring Mac OS X 10.8 (Mountain Lion), & Mac OS X 10.9 (Mavericks) for Wired Publicly Accessible Network Ports
Overview
The 802.1x protocol is the protocol that is used for wired access to the University's network (PittNet) through publicly accessible network ports. These connections may be located in residence halls, classrooms, conference rooms, or other public areas. The simplest way to connect is to use our automated wizard. If the wizard does not work, you can use the steps in this document to manually configure your Mac to use network ports in public areas and residence halls.
Before you manually configure your computer, be sure to install the required InCommon certificates using the steps in the help sheet titled Installing the InCommon and UserTrust Certificates (Mac).
Connecting for the First Time to PittNet
1. Connect the network cable (Ethernet cable) to your computer.
2. Enter your University Computing Account username and password in the window that displays. Select the Remember this information box so it is checked, then click OK.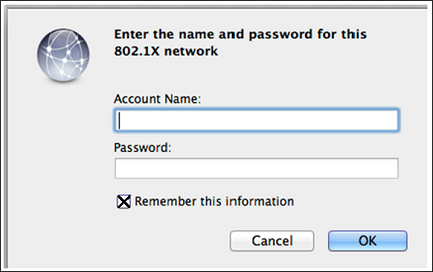 3. To verify your connection, open a webpage in Safari.
Note: When you put the computer to sleep, log out, or restart, it should automatically reconnect you to the PittNet network when you return to the desktop.
Get Help
The 24/7 Help Desk at 412-624-HELP (4357) is available 24 hours a day, seven days a week to answer your technology-related questions. Questions can also be submitted online.