You are here
It's Yammer Time!
Wednesday, May 13, 2020 - 09:40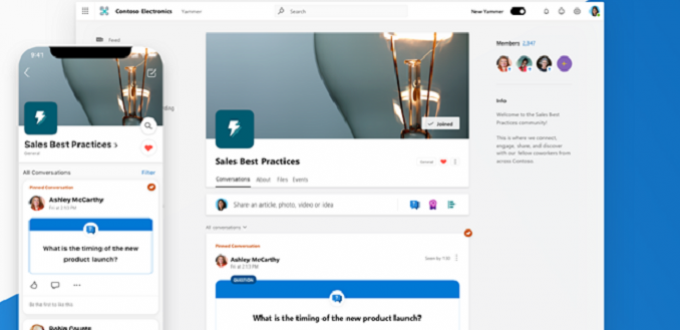 These days, social distancing has made it difficult to feel connected with the campus community. Of course, you can chat with Pitt friends and colleagues on Facebook and Twitter, but those public platforms are rife with annoying trolls, random posts and ads, and endless distractions. You could send messages through Outlook or Teams, but starting a chain email or spamming a Teams channel isn't ideal either. Introducing Yammer—an easy solution for connecting with Pitt friends and colleagues.
What's a Yammer?
Similar to Facebook or WhatsApp, Yammer is a private social networking service for use within an organization. Pitt's Yammer channels are accessible only to the Pitt community. It provides a platform for sharing ideas and joining conversations with people across the University who have similar interests as you.
You can also create closed Yammer groups, where participation must be approved by the channel administrator, to ensure that only appropriate people are members. These are ideal for departmental groups, groups that are geared to people with specific roles (admins, communications, researchers, students in a major), or for Yammer groups that support specific clubs or teams.
Yammer groups are organized into discussion threads that are easy to follow. You can respond to the main discussion, reply to specific comments, or start your own thread in a group. Participants can also share documents, photos, and videos.
Find Your People
Yammer provides the opportunity for the campus community to chat with others they might otherwise never have met. A Yammer group for those with children is already active, but the opportunities are endless. A recipe exchange group could cater to home cooks and bakers stuck in their quarantine kitchen, while a DIY group could share projects that they finally have time to tackle. Join or create groups for Pitt folks who share your interest in just about anything, from pets or sports, to books and movies.
Yammer is also ideal for just chatting with your coworkers. Bring the everyday "watercooler" talk to you with a Yammer group for your department, or even for a specific group or team within your department. Then, you can keep up with your Pitt colleagues while working from home.
Professional Yammering
Yammer isn't just for chatting about personal topics. It also facilitates discussion about work without cluttering other communication platforms. Your inbox is crazy enough during the pandemic, so it's best to avoid long email chains that are hard to follow. A Yammer thread is much easier, with its nested discussion board format. Teams is ideal for posting updates and discussions about work projects, but it's less ideal for general brainstorming or sharing.
Yammer is a great alternative. Create a departmental Yammer group, and use it as a virtual suggestion box or to share best practices. Post information about departmental events or to share news. Ask a question or seek help when you aren't sure where to go or who is responsible. Many organizations use a Yammer group in lieu of an internal newsletter, to provide a forum for real-time updates. Academic departments can set up Yammer channels for faculty and students, to foster networking, encourage dialogue and debate, and post departmental announcements.
Get Started Today
Start using Yammer to stay connected. Pitt's Yammer network is available to all active students, staff, and faculty—just log in with your @pitt.edu email address and Pitt Passport.
You can access Yammer via the Office 365 portal (click on All Apps and scroll down to the Yammer icon) or directly at https://yammer.com/pitt.edu. You can also stay connected using Yammer's iOS or Android mobile apps.
Search the Pitt Yammer network to join groups that interest you. Don't hesitate to create a group of your own—spread the word to your friends and colleagues to help the group gain members and get off the ground. Set notification preferences so you know when discussions are active in the groups you join.
Now—start Yammering, Pitt!
-- By Eliana Trotman, Pitt IT Student Blogger
With the A5 Microsoft 365 license, Pitt faculty, staff and students have access to a variety of programs that go way beyond Word, Excel, PowerPoint and Outlook. The Inside Microsoft 365 series from Pitt IT gives you a glance into some of the great productivity tools that are at your fingertips.