You are here
Combining Work and Travel
Wednesday, June 15, 2022 - 22:38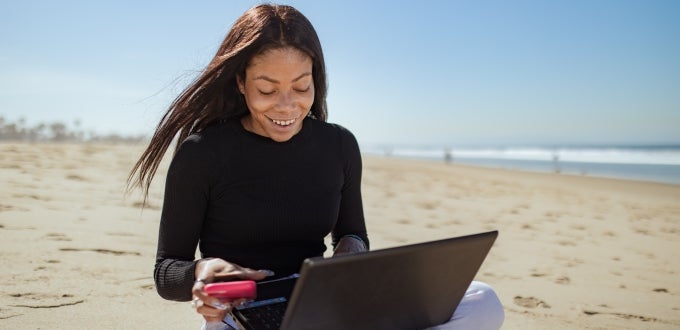 With the first day of summer just around the corner, you may be preparing to take a much-needed vacation. But completely disconnecting from work isn't easy. In a 2022 poll by Qualtrics, nearly 50% of workers reported working at least an hour a day while on vacation, with about a quarter of respondents working at least 3 hours daily. The University of Pittsburgh encourages faculty and staff to fully rest, relax, and recharge while on vacation. You shouldn't be working during PTO time … period.
However, there are times when you may choose to work while traveling. For example, working half days can let you extend the length of your trip, or you may just want to quickly check messages to stay on top of things and prevent a backlog. If you're traveling for professional reasons, it's not a vacation at all. Whatever the reason, here are some tips to make sure you can work effectively and efficiently away from home.
Set Limits and Expectations
After you get permission from your manager to work off-site while traveling, be sure to set some hard limits, both for your own well-being and work/life balance, as well as to set appropriate expectations with coworkers. Consider setting a specific time of day that you'll check and respond to emails, or setting a timer for working on your computer. Provide instructions to coworkers before you leave to handle the workload that you won't be attending to. Make sure teammates know where projects stand.
Create an Away Message
Even if you'll be checking your messages daily or partially working, make sure that your customers and coworkers know that your availability is limited and your hours may be irregular. Include the dates you will be away, who they should contact in your absence, and whether you'll be able to respond before your return. Be sure to include your vacation on your Outlook calendar and to set the time to display appropriately—display options include Free, Working Elsewhere, Tentative, Busy, and Out of Office.
Avoid Public Wi-Fi or Use a VPN
Free Wi-Fi abounds in tourist areas, from airports to cafés. Use PittNet VPN (Pulse Secure or GlobalProtect) if you are doing any work over unsecured Wi-Fi, so that a lurking hacker doesn't capture your logins and gain entry to Pitt systems. Be sure to turn off Wi-Fi and auto-Bluetooth pairing on your devices when not actively using them. Hackers can set up networks that ensnare the unsuspecting, waiting for their devices to automatically connect without them realizing it. Consider setting up a secure hotspot or staying someplace with secure Wi-Fi for each guest.
Protect Confidentiality and Data Security
Confidentiality and data security requirements aren't waived just because you're at the shore, but it does become more complicated. When you're working in a public place, be sure that you never leave your device or work materials unattended. Choose a position where others cannot see your screen while you work, and use earbuds for calls and video meetings. Do not have calls or meetings in which you discuss protected or confidential information in any place where others can overhear you. If you have important or confidential files, keep them in a safe or locked container when not actively using them. And of course, if you don't need something while you're away, don't bring it at all!
Report a Lost, Stolen, or Damaged Device Immediately
If your device has any University data, Pitt-specific apps, or saved login info for a Pitt system on it, always keep it with you or in a locked area. If it is lost or stolen, report it to the Pitt IT 24/7 Help Desk immediately. We can freeze or change your system credentials to keep Pitt systems and data safe. If the item is broken or damaged, keep all components and bring them back with you. Report the damage to your department immediately. Your IT support team or Pitt IT can help ensure that University data is wiped or secured, and that University-owned electronics are properly disposed of.
Protect Your Devices From the Elements
If you work on your device outdoors, keep it out of direct sunlight, which can damage the screen and drain your battery faster than you can drain a cold drink! Consider a waterproof, slash-proof backpack when traveling. It provides better protection from the elements … and from pickpockets. Keep small devices, like your phone or earbuds, in a zip lock bag to protect it from water, sand, dirt, or critters.
Modern technology makes it much easier to work from any place on any device. But working while traveling comes with some special considerations, risks, and needs. Make sure your mobile office is as secure as your permanent one.
-- By Karen Beaudway, Pitt IT Blogger