You are here
Transforming Your Laptop Into a Lab Computer
Wednesday, March 22, 2023 - 09:58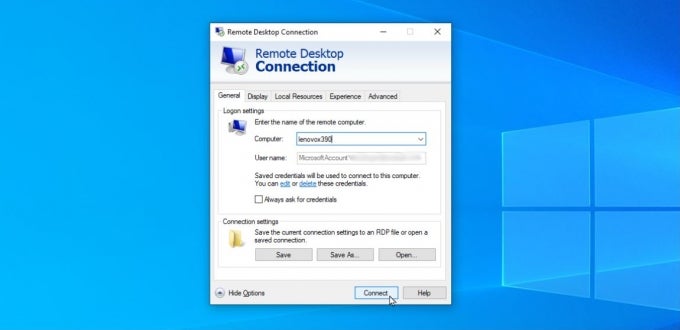 For college students, it's imperative to have a good device to take notes, complete and turn in assignments, and stay in contact with your peers and professors. But what do you do when your laptop is low on storage and you can't download the software you need for a new course? How about when your device is slow, and you have an assignment due at midnight? What if you need to pull an all-nighter and live off campus? Pitt IT's Virtual Student Computing Lab is here to make your tech life easier and more accessible – without taking up your device's precious storage space.
The Virtual Student Computing Lab turns your device into a temporary clone of a Student Computing Lab machine from wherever you are … whether that's your couch or on the bus. When connected to a virtual lab machine, you will be able to work in an environment that looks and functions just like an on-campus computing lab, with access to all the same software, speed, and compute power. Here are just some of the benefits of utilizing this remote lab.
Storage Galore
Have you ever taken a class and had to download software that you know you will never use again? You embark on the journey of deleting old documents and files to make space on your hard drive. The Virtual Student Computing Lab offers an alternative, by providing all the software you have access to as a Pitt student but may not have the storage space to download, including Adobe Creative Cloud, Microsoft 365, Audacity, and more.
On top of that, you can rest assured that all the work you complete while using the Virtual Student Computing Lab will be securely stored without clogging your devices. Once connected to the virtual lab, users are automatically logged into their Microsoft OneDrive account. Any files saved to their virtual lab desktop, documents and pictures folders will be saved and synced to their OneDrive. And of course, you can also save files directly to whatever OneDrive folder you select – it will appear as a file location option! This ensures that no matter what work you complete in the virtual lab, you can access it whenever you need it, regardless of whether you are working in the virtual lab or not.
Stable Connections and Device Relief
Does your device consistently overheat or slow down when asked to perform tasks that require more RAM? Or does your laptop die quickly if it's not plugged in when running software? Do you have an older device that just doesn't support the minimum requirements for beefier software? With the Virtual Student Computing Lab, you will never have to worry that the software you're running is killing your device.
By using a virtual lab, you establish a connection with a machine completely independent from yours. The virtual lab uses the RAM and processing power of Pitt IT's virtual lab environment, not your own device's resources. All your device needs to do is maintain an internet connection. The chances of your laptop getting overheated and overworked are reduced when you use the Virtual Student Computing Lab.
Wherever, Whenever
One of the biggest perks of the lab? It's in the name itself – it's virtual! You can access the Virtual Student Computing Lab whenever, whenever, and from whatever device, even a tablet. Feeling under the weather and can't make it to a Student Computing Lab? No problem, getting to the computing lab is as simple as grabbing your laptop. Need to make a last-minute edit to a project during your commute to class? No worries, whip out your tablet or smartphone. Need to pull an all-nighter and don't live anywhere near Sutherland Hall (home of Pitt IT's 24/7 lab)? The virtual lab never closes. If you're connected to public Wi-Fi while using the virtual lab, you are automatically protected by PittNet VPN, so privacy is never an issue.
Get Connected
Using the Virtual Student Computing Lab is easy. Just navigate to pi.tt/vlab and log in using your Pitt credentials. After that you can open "Pitt IT – Virtual Student Computing Labs" and voila … a Pitt IT lab computer within your own device.
Pitt IT is here to bring the resources you need to you, whether that's in a classroom, a computing lab, or the comfort of your own home.
-- By Vivian Zauhar, Pitt IT Student Blogger