You are here
Tech for the Finals Frenzy
Thursday, April 21, 2022 - 18:03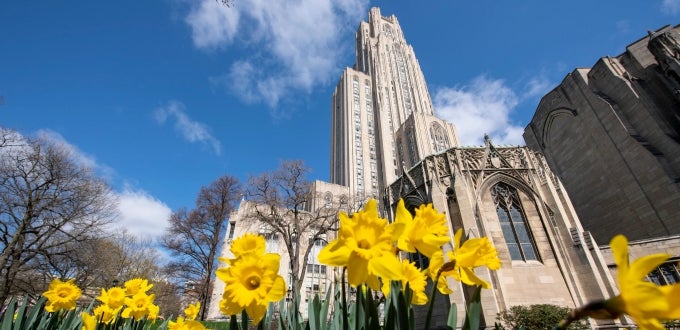 From studying for final exams to writing term papers and capstone projects, the last week of the term is always a whirlwind. Knowing how to use the technology tools available to you can help you power through the final push of the semester so you can finish strong. Here's what you need to know.
Know Where to Go to Study and Work
Many students find a Student Computing Lab to be a great place to focus and study. It's quiet, well-lit, and has all the tech you need in one place. Make sure you know where the labs are, as well as whether they are open and have any available workstations. Our interactive service locations map gives you all that, plus the locations of color printers, multipurpose print stations, mobile labs, and other IT facilities. Because with the stress of completing your final exams, term papers, and capstone projects, you don't want to be racing around campus looking for the equipment you need!
Go Virtual at pi.tt/vlab
You don't have to physically go to a computer lab to work in a computer lab. Just log in to the Virtual Computing Lab from anywhere, on any device with internet capability. There are tons of places on campus to work, including outdoor spaces … when Pittsburgh's rainy weather stays away. The Virtual Lab experience uses Azure Virtual Desktop to bring you the same experience, with all the same software, as a device in the physical lab.
Please note that Microsoft recently made a change to Azure that affects the Virtual Computing Lab web client. (The desktop client is unaffected.) Be sure to use the new URL to log in: https://client.wvd.microsoft.com/arm/webclient/index.html. If you access the Virtual Computing Lab using myPitt or via the short URL pi.tt/vlab, you're golden. Pitt IT automatically updated them! If you have the longer URL bookmarked, it will automatically redirect to the new address. However, you should update it when you get a chance.
Know Where You Stand
Use Canvas to see your current grades and how much the final exam or paper is worth, as well as other grading factors, such as whether the course is set up to drop your lowest test score. This will give you a good idea of what score you need to earn on a final test or assignment to get a particular grade in the course, and it can impact how you schedule and prioritize your time during this final crunch.
Trust but Verify Your Due Dates
You may already have an idea of when your final assignment is due, or the date and time of your final exam. Double-check in Canvas to be sure! We cannot stress this enough. If you miss the exam or turn in something late, you will have very little recourse. So make sure you know when everything is happening, not only so you show up on time, but also for wisely planning out your study and work schedule.
Get Group Savvy
Some classes have group projects that are due at the end of the term. Or you may be working with a group of classmates to study for the final exam. Pitt IT has several resources to make it easier to work together. The Alumni Hall and David Lawrence Hall labs have private collaborative team areas that allow you all to work using a shared display or dry erase board. Make sure to reserve these spaces in advance to ensure availability.
We also encourage you to share files in OneDrive and work together in Teams. We know that students often feel more familiar with Google Docs, but using OneDrive and Teams has some significant advantages. It lets you work directly on shared Word, PowerPoint or Excel files with the full capabilities of these Office apps, rather than downloading and uploading versions. And if you want to video chat or edit live as a group, using a Teams meeting and uploading files directly to a shared team makes it incredibly easy, without having to open multiple apps simultaneously. It's all in one integrated space!
Get Help
The 24/7 IT Help Desk is available … well, 24 hours a day, seven days a week. (Duh.) We remind of you this to be sure you don't pull out your hair trying to figure out how to do something or troubleshoot a technical problem on your own at the last minute. Not only will you waste time, but you'll be adding stress you don't need during finals week!
If you have a problem, do a quick search on our website at www.technology.pitt.edu. If you don't find your answer, just get in touch with the 24/7 IT Help Desk. You can use live chat, send an email to helpdesk@pitt.edu, fill out the online help form, or give us a ring at 412-624-HELP (4357). This is not the time to struggle with a technical issue on your own!
Good luck on your finals, Panthers ― you got this!