You are here
Merging Your Phones with Teams
Wednesday, November 9, 2022 - 08:55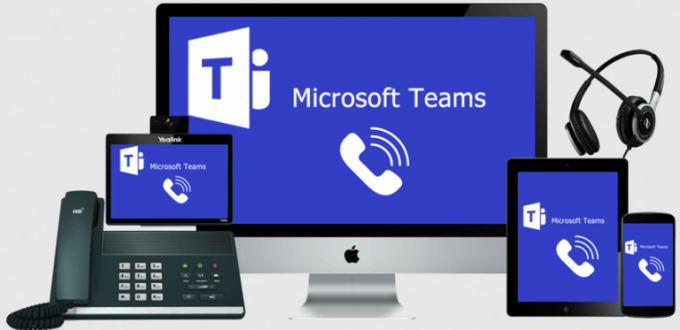 Back in the day, nearly all faculty and staff worked almost entirely in a campus office with a Pitt phone extension, while residence hall rooms had campus phones installed — until cell phones made residence halls phones obsolete and the pandemic introduced wide-spread remote work. Many faculty and staff still work one or more days a week from home … and away from their office phone. They now use their home or cell phone to make work calls or use the Teams app from their laptop to talk with coworkers.
It's not always desirable to give out your personal number for business purposes and using your laptop is often impractical when you're on the go. Fortunately, the Teams mobile app combines the best of all worlds, letting you make Teams calls from your cell phone. It doesn't use your cell minutes, doesn't display as your cell number, and easily lets you video chat or make group/conference calls. And if your office converted your campus extension to a Teams phone, you can do even more! Download the Teams app from the Pitt App Center today and get started with these user basics.
Minutes, Data, or Wi-Fi?
Teams calls are just like any other internet-connected service on your phone. If you are connected to Wi-Fi, it won't count against your mobile data. If you're using cell service, it will. We recommend connecting to Wi-Fi, if possible, when making Teams calls to avoid data overages. Like all online activities on a mobile device, you'll need to have access to Wi-Fi or cellular service for Teams calls to work.
Audio or Video Calls to Other Teams Users
The Teams app makes it easy to start an audio or video call with any other Teams user. Anywhere you can see or search for someone in the app, you can start a call. Here are just a few of the ways to do it:
Select Calls from the menu at the bottom of the screen. (If it doesn't appear, select More.)

If you have the person saved in Speed dial, just tap that person to start a call.
Toggle from Speed dial to History. A list of people you have called or who have called you recently will be listed. Tap the Call icon beside their listing to initiate a call.
Type in the name or username of the person you want to call in the Search bar. Select the correct person and then tap Audio call (phone icon) or Video call (video recorder icon).

From a Chat message, select Audio call or Video call to initiate a call.
Tap someone's profile photo anywhere in Teams and select Audio call.
In the search box, type in the name or username of the person you want to call. Select the correct person and then tap Audio call (phone icon) or Video call (video recorder icon).
Make a Group/Conference Call
Using the Teams app is hands-down the easiest way to start a conference call. You just need to create the group and then start the call.
Tap the Chat menu at the bottom of the home screen.
Tap to open a group chat that already exists.
If the group does not yet exist, start a new Group chat by tapping the New Chat icon and then typing in the names or usernames of each person you want to include in the To: field.
From the Group Chat, click the Call icon.
Change to a Video Call
If you want to be able to view other people on the call or share something on your screen, you can easily change the call from Audio to Video. From the toolbar at the bottom of the Call screen, just tap the Video icon to turn it on! It's that easy. You can also mute yourself (for example, if there is background noise wherever you are) or turn off the Speaker so others can't overhear your conversation so easily. Back at your desk and want to transfer the call from your smartphone to your PC? You can do that with a simple click too.
The Advantage of Teams Phones
Several departments have converted their campus phones/extensions into Teams phones. This has several advantages. First, calls to your campus phone number will ring in your Teams app on your laptop, tablet, or smartphone — no call forwarding necessary! Second, calls that you make from the Teams app will come up as your campus extension on the other person's caller ID, even if you're using the app on your cellphone. Third, and most importantly, with a phone number assigned to your Teams account, you can use Teams to make a call to anyone, whether or not they are in Pitt or are a Teams user. To dial an outside number:
Select Calls from the menu at the bottom of the screen. (If it doesn't appear, select More.)
Tap the New Call icon (a phone with a plus sign, in the lower corner of the screen).
The Dialpad will appear. Type in the number you want to call and tap the Call icon.
Many staff members have a cellphone or home phone number listed in their profile. If you have a Teams phone, you can look up those alternate numbers and dial them:
Tap someone's profile photo anywhere in Teams.
Click More Options (the three-dot icon).
Select View profile to see other numbers that are available.
Tap an alternate number to dial it.
Stay in Touch On-the-Go with Teams
Teams takes communication and collaboration to the next level. From persistent chat to ever-evolving meeting features, it's a complete workplace hub. Check out our previous blog on Teams features (see right) to get more out of the Teams environment. As for calling, there's no need to have a separate work and personal cell phone, be in close proximity to your office phone, or always have your laptop with you. You can make and receive calls with the Teams mobile app on your favorite device. Download the Teams app now and stay in touch on the go!
-- By Karen Beaudway, Pitt IT Blogger