You are here
Super Safe Winter Vacation
Tuesday, December 14, 2021 - 21:48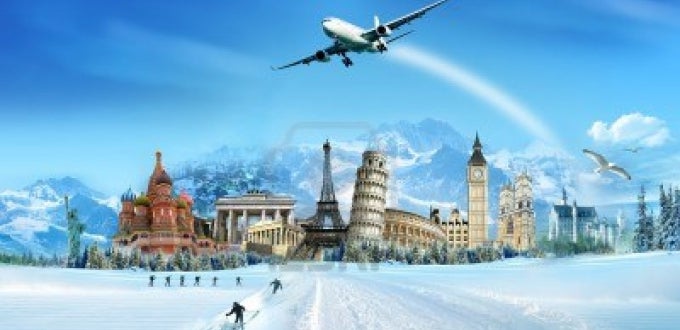 It's that time of year again, Panthers. The fall semester is coming to a close, and winter break is on the horizon! Students will be off from Dec. 19–Jan. 9, and the Winter break for faculty and staff has been expanded to encompass Dec. 20 – Jan. 3. While you're off relaxing and celebrating, make sure you're your tech, and your data stays secure. Here are some tips to help you have a cyber-safe winter break.
Safe Travel
Don't post your location or travel agenda. It can be oh-so-tempting to post your travel experiences on social media throughout each day of your trip, but it could jeopardize your safety. Posting where you are and where you're headed can make you a target for thieves and other bad actors. Delay posting until after you've left a location, or better yet, until you are back home.

Communication is key, so be sure to check in consistently with family and close friends. Schedule a daily check-in with loved ones back home, so they know where you are and that you are okay. Create a group chat with your fellow travelers to coordinate plans for the day and to help in case someone gets separated from the group. Use the Rave Guardian App Safety Timer if you do something separately from your travel mates, so they know when you're leaving someplace and when to expect you back at the hotel or meeting place.

Protect your devices from the elements. If you are headed to warm climate over winter break, be sure to keep your devices out of direct sunlight if you are using them outside. This can damage the screen and drain your battery. If you are headed to a colder climate, be sure to keep your devices warm and avoid using them outside. If your device does end up being left in a car overnight or in another cold location, bring it to room temperature before using in order to prolong battery life. Also be sure to have cases and other protectors for each of your devices, especially while traveling.
Safe Access & Browsing
Avoid public Wi-Fi, especially in tourist areas like airports, hotels, and museums. These networks are not secure and can be a hotbed for hackers. Use your cellular connection instead, especially when logging into online accounts. Use PittNet VPN (PulseSecure) if you are doing any work during your travels to keep your online activity and information safe.

Speaking of doing work, the Virtual Computing Lab is still at your service during winter break! Users can access all the software you would find in a physical Pitt computer lab from any location, using almost any computer or mobile device, at any time of day.

Passwords are still essential, even on vacation. Password-protect everything that you possibly can. If you are creating a special or temporary account or downloading a new app for shopping, traveling, or events, be sure the password is just as secure as any other. Use Pitt Password Manager (LastPass) to help secure your login information for your online accounts.
Safe Holiday Shopping
Buyer beware! 'Tis the season for online holiday shopping scams. Check each website's URL to make sure it's legit and secure, and make sure there are no typos. Even one wrong letter can lead you to a bogus website that is trying to take your money and potentially steal your information. Also beware of ads on social media, via text, or in emails.

Use a credit card or payment service like PayPal when shopping online—never wire money directly to a seller. Check your statement regularly and if you spot a suspicious charge, contact your credit card company immediately to dispute the charge.

Always get tracking numbers for items you buy online, so you can track shipping and delivery. But be on the lookout. Scammers often send phishing emails disguised as UPS, FedEx, or the US postal service that include scam tracking links infected with malware. If you are looking for a tracking update, visit the retailer or shipping agency's website directly to confirm its status.
Have a Happy and Safe Holiday Season
Follow these tips and you will be sure to have a fun, happy and cyber-safe winter break. Rest up and see you next year, Panthers!
-- By Mary Rose O'Donnell, Student IT Blogger