You are here
Go Digital: Skip the Printer, Help the Earth
Wednesday, July 22, 2020 - 09:48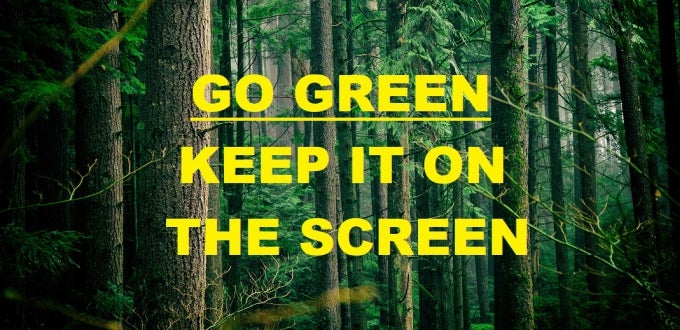 In 1975, a Business Week article quoted a tech expert who predicted that offices would be paperless in 20 years. Forty-five years later, we still haven't gotten there. We probably never will—but we can get a whole lot closer!
There are lots of great reasons to go digital. When you reduce unnecessary printing, you are supporting sustainability. Not only are you saving paper waste, but you're also reducing plastic and chemical waste from discarded printers and toner cartridges. Printing also gets expensive—and resources can be spent on better things than unneeded printing.
With some good digital habits, skipping the printer can boost your organization, productivity, and convenience.
The Digital Advantage:
Digital alternatives have a lot of advantages compared to their paper counterparts.
Back-up: When you use the cloud, your files are automatically backed up. You can't lose or spill on them. Even if your physical device is lost or damaged, you won't lose your documents.
Search: Find your digital files easily by searching by name, date, file type, or content so you can find the file you need without rifling through a pile of papers. Use the Find command (Ctrl/Cmnd + F) to find the exact content you need.
Access: Left your papers at home? In your bookbag? On the bus? Digital files saved in the cloud can be accessed at anytime, anywhere you are, from any device.
Declutter: Whether you live in a room, an apartment, or have a campus or home office, we all need to keep things tidy. Stay neat by storing your files digitally—no file cabinets needed.
Share: Skip making copies. With digital docs, just email it and you're done. If you create a shared folder or use a collaboration tool like Teams or Sharepoint, you don't even need to do that.
Save: Ink, printers, and paper cost you and/or your department lots of money. If you go digital, your print quota will be MORE than enough to handle whatever printing you still need to do.
Sustain: Approximately 1 billion trees worth of paper are thrown away every year in the U.S., plus the plastic, metal, and chemical waste from discarded print cartridges and printers.
Pitt IT Tips for Going Paperless
There are many tools offered by Pitt IT to help you go digital effectively and easily.
Use the cloud.
Saving documents locally ties the file to a particular device. With the cloud, you can access files from anywhere, at any time, from any device. So store files to your OneDrive account.
Create a digital file cabinet.
Your file structure is like the manilla folders and filing cabinets of the digital office. Create folders, subfolders, sub-subfolders, etc. in your account to organize your digital life.
Print to PDF.
Save a web page, email, image, or online form in PDF. You won't need to remember the URL, and the image/formatting is preserved. "Print to PDF" is native to Windows 10, and free PDF converter apps are available if it is not integrated with your device.
Use DocuSign.
Need to sign and submit a form? Use DocuSign. If the form can't be completed online before you upload it, DocuSign lets you add the information. Then, add an electronic signature and email it right from the app.
Take notes and highlight digitally.
Microsoft Word and Adobe Acrobat Reader both have highlighter tools and Comment/Note tools, so you can annotate a reading to your heart's content. You can edit or delete comments, create notes of any length, and avoid having to read small or messy handwriting later.
Create to-do lists.
Several Microsoft programs let you take notes and create To-Do lists. Find the one that works for you. To use Outlook's Task feature, just click on the Clipboard icon. Include a description and completion date to be sure you don't forget things.
Transfer PDF documents to an e-reader.
Tablets and e-readers provide the portability of a cell phone and the readability of a laptop. Just use a USB cord to transfer PDF documents to your Kindle, and read away.
Track changes.
If you're editing your own or someone else's work, use Track Changes so you can see what changes were made. View it in Simple Markup mode to see the revised copy along with an indication of where changes were made.
-- By Karen Beaudway, Pitt IT Blogger