You are here
Perfect Your Online Presentation
Wednesday, April 12, 2023 - 15:40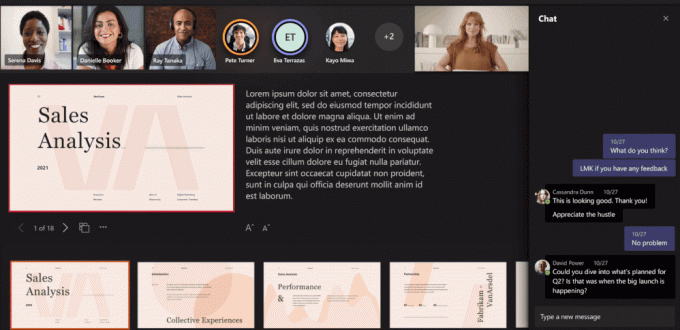 Online meetings, workshops, and events are here to stay. Your coworkers may be next door or across the country. You can meet with colleagues and customers from around the world without needing to travel. Instructors allow for online class presentations, while conferences are offered online as a cheaper and more convenient option. Even fundraisers and religious services are online today.
Fortunately, there has been rapid innovation in the world of online presentation tools, including Microsoft Teams. Presenting in an engaging, meaningful way is easier than ever. Here are a few tips for creating a polished, engaging presentation no matter where your audience is sitting.
Presenting Using Microsoft Teams
Microsoft Teams offers Presenter Mode, which lets the speaker better engage with their audience. Meeting participants can see the presenter not just as a speaker window, but within the presentation itself. This helps the presenter connect with the audience with visual cues and engaging body language.
Start the meeting before participants join so you can make your Presentation Mode settings. Be sure your camera is on and ensure that you're being broadcast at a good angle and with good lighting.
In the upper-right corner of the Teams meeting window, select Share content.
Under Presenter mode, choose the mode you'd like to present in.

| | |
| --- | --- |
| a. Reporter Mode: Your image is largest in this mode, making you the focal point of the presentation. When your slides contain mostly images or stylistic reinforcement of your message, this mode is ideal. | |
| b. Standout Mode: This mode will have your image overlay the bottom corner of your presentation. This mode is ideal when participants will need to read some of the content on the slides. | |
| c. Side-By-Side Mode: Your image will be completely separate from the slide content in this mode, which is ideal if the audience needs to focus intently on the slide material. If you are showing charts, data tables, or other detailed information, this is the preferred mode. | |

Click Add background. A neutral and non-distracting background in which you and your clothing stand out (e.g., not the same color as your clothing) is recommended.
If your presentation includes audio or a video with sound, be sure to select Include computer sound.
Select the file to share. If it is a PowerPoint presentation, select it from the PowerPoint Live section (see image, right). This is important! Rather than opening the presentation in PowerPoint and then sharing the window, select the file in PowerPoint Live mode. This will give you and your audience significant additional capabilities. (Note that there is also an Excel Live option, which is ideal for working on an Excel file together from a Teams meeting.)
Once your presentation begins, the presenter toolbar will briefly appear at the top of your screen. Using this toolbar, you can change presenter modes, give control to another person, and make other changes. To make the toolbar appear again, place your pointer at the top edge of the screen where it first appeared; click the Pin button to keep it in place permanently. (Note: only you can see this toolbar, not the audience.)
Teams has many other options, including setting up a live event so anyone with a link can join, conducting webinars, and recording meetings for people who can't attend or need a reminder of what you covered.
Once you're finished presenting, or if you'd like to share a different screen, select Stop presenting from the presenter toolbar.
PowerPoint Live vs PowerPoint
It's important to use PowerPoint Live during a Teams meeting. If you simply share a screen (from PowerPoint itself), your audience will see only what you see. Slideshow will have the most audience-friendly view, but then you can't see a preview of the other slides or your notes. PowerPoint Live gives you a unique view, while also giving your audience special features they may need.
Presenter Mode: This is similar to the presenter view within Microsoft PowerPoint when you are presenting from multiple displays.

It allows you to see upcoming slides, as well as any notes you have. (Neither are visible to attendees.) You can increase or decrease the font size of your notes using the buttons below them.
You can navigate through your slides either by clicking the arrows on the screen or using the arrow keys, or click on a slide in the preview carousel and press the enter key to display it to attendees.
You can also use the annotation tools to draw or highlight items on your slide as you present.

Audience View: PowerPoint Live also gives attendees some powerful capabilities.

Audience members can navigate back and forth through the slides at their own pace. This can help them review any information they missed, or direct you to a specific slide when asking questions.
PowerPoint Live includes several accessibility tools, including live transcripts and automatic translation into their native language. Slides can also be viewed in High Contrast mode, and participants can zoom in on slides or adjust the volume of the presenter or videos.
Participants can also click on live links in the presentation.
Tips for Presenting Online
In this new age of online presenting, people's focus and attention can be all over the place. You can help to avoid this newfound burnout with a few tips.
Look Good
Looking good online is about more than a nice shirt and combing your hair. There's nothing more distracting than watching someone's life behind them. Avoid clutter, keep pets away, and use a chair that can't be seen in frame (or stand). Zoom and Microsoft Teams both allow you to choose a virtual background. Use a professional image. Consider uploading a Pitt branded background. Also pay attention to your lighting – keep the light source behind your camera and be aware of glare from a window.
Practice, practice, practice!
Nothing kills a presentation quicker than watching someone fumble with the technology. Whether it's practicing how to switch slides, create breakout rooms, or check the Chat feature, do a practice run in the technology so you know how to use it. If you have a co-host who clicks through the presentation for you, be sure they're comfortable with your content so they know when to click to the next slide without you saying "Next slide please" a hundred times.
Interact with the audience
Make sure you know who you're presenting to and what they'll respond to, and tailor your presentation for them. Incorporate questions and discussion points, and try not to speak for more than ten minutes straight without giving participants an opportunity to interact. Periodically confirm that they understand what you're discussing and ask if anyone has any questions. Encourage people to turn on their cameras and/or microphones. This ensures the highest amount of focus and engagement.
Presentations: Make or Break
Online presentations aren't going away. Make sure you're prepared to present online when the moment comes. Be engaging, be prepared, and be knowledgeable about the technology. There are many resources to help you brush up on your presentation skills.
Keep calm and present on!
-- By Claudia Huggins, Pitt IT Blogger