You are here
Au Revoir to Tech Troubles Abroad
Wednesday, December 18, 2019 - 09:37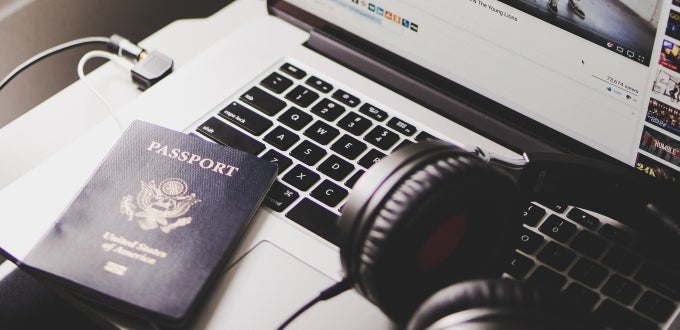 Will you be travelling internationally on university business during the spring term? Going overseas raises a lot of technology questions. What adapters will I need? What devices should I bring? What should I do if they get lost or stolen? How do I protect my data?
No one wants to worry about these issues while also making travel arrangements and preparing work materials. That's why Pitt IT and Pitt Global Operations created the Technology Loaner Program for International Travel. The program provides laptops, smart phones, and tablets to faculty and staff for international work trips, so you can do your work and stay connected while you're abroad.
Why You Shouldn't Take Your Own Stuff
There are many reasons why bringing your own devices on international trips can be tricky. The most obvious is compatibility issues, such as electrical requirements, the shape of plugs/outlets, and mobile network specifications. Then there's the fact that many mobile plans do not cover international network access, or they provide the option at extremely high rates. What's more, security risks abound during any travel—particularly international travel—from loss or theft of devices, to hacking attacks over unsecure Wi-Fi networks at the hotel, in public spaces, or at the airport.
Have One of Ours: Loaner Devices
The Technology Loaner Program provides laptops, tablets, and smartphones for international business trips. Each device can be borrowed for up to 90 days and comes with a travel kit, installed software, and a limited free data plan for hassle-free use. Here's what you can get:
Laptop: Apple or Dell
The travel kit includes power and video adapters, wireless mouse, chargers, and case. It comes installed with essential software, such as Microsoft Office and security software.
Tablet: iPad
In the iPad travel kit, you'll find a global power adapter, an iPad case, and a keyboard case.
Smartphone: iPhone or Samsung Galaxy
The smartphone travel kit includes a global power adapter, case, and charger.
Plan Ahead: Request a Device 2 Weeks in Advance
You need to request a device at least 10 days before you plan to leave. To start the process, register your trip on the International SOS My Trips portal. Then, fill out a Device Request Form. The form asks for your department account number, to be charged in case your equipment is lost/stolen or you exceed the free data limit. Once approved, Pitt IT will contact you to pick up your device(s).
Getting Connected Around the World
It can be difficult to find reliable, secure Internet connectivity in other countries. Pitt participates in Eduroam, a world-wide Wi-Fi service for the education and research community. Depending on your destination, it may prove the best connectivity option. If you can, avoid connecting to public Wi-Fi networks, which are dangerously susceptible to viruses and hackers.
Whatever Wi-Fi network you use during your trip, use PittNet VPN (Pulse Secure) to establish an encrypted connection to University resources. You can also use Juno Pulse, a VPN client that is installed on all borrowed devices, when connecting to other services and sites.
Homeward Bound
When you return from your trip, return your device to Pitt IT within a week of arriving back in Pittsburgh. Don't connect to PittNet to do work after you get back—instead, save any data you need on a thumb drive or in the cloud, and bring the device back to Pitt IT.
After you return to the U.S., we recommend that you change your University account password, in case your credentials were intercepted. Go to my.pitt.edu and click on Manage My Account, and then Password Change to change your password.
Get a secure, travel-ready device through the Technology Loaner Program. Bon voyage!

By Tabitha Barnes, Pitt IT Blogger