You are here
Safe in Any Place: Remote Cybersecurity
Tuesday, February 1, 2022 - 22:41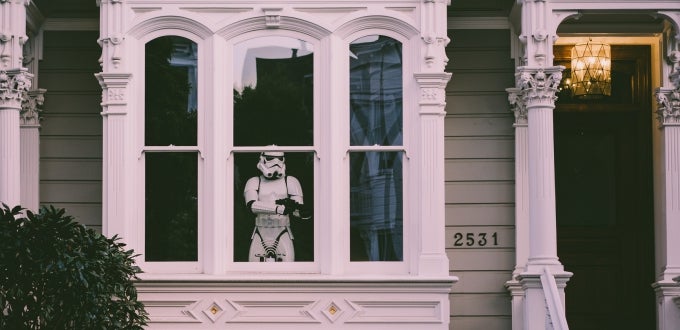 For many of us, working from home seems here to stay. In September 2021, 45% of full-time employees in the U.S. worked remotely, even though most workplaces had re-opened. At Pitt, many faculty and staff have transitioned to part-time or full-time remote work arrangements, and many students are prioritizing jobs that will allow them to work from home in some capacity.
You may have done some rearranging of your home, perhaps gone shopping for a new desk or chair, and even updated your router while settling in to this new normal. But how much effort have you put into IT security? Working off-site requires special planning and precautions that may not be obvious at first glance. Here are 5 things to consider:
1. Create a Private Space
It's important to find a comfortable, practical location in your home where you can work undisturbed and be productive. But don't forget about privacy. If you don't live alone, it's important to ensure that confidential work materials will not be seen by your roommates, partner, children, or visitors.
People tend to think that friends or family wouldn't do anything improper, so it doesn't matter if they could see their work materials. But people can accidentally share or misuse information, not to mention spill on, move, or lose your papers. Most importantly, it can violate the law to not secure the data or propriety work, regardless of whether it is improperly used.
It's best to have a dedicated work area with a door and a lockable filing cabinet or container, especially if you deal with information that needs to be kept confidential, such as identifiable personal information, study data, or financial records. Clearly identify things that others should not touch. Use headphones so others cannot overhear your private or confidential conversations. Be especially conscious of privacy when working in a public place or while people are in your home.
2. Segregate Your Devices
An important part of establishing your work-from-home routine is setting boundaries for what you use your work device for and what you use your personal device for. It may be tempting, but do not use a work device for personal computing, and don't use personal devices for work. Don't let others (e.g., your kids or roommates) use your work computer—they may connect to an unsafe site or accidentally delete or expose your files.
A whole host of security risks are introduced when casual personal computing mingles with work activities. Many social sites have security vulnerabilities that are easier to exploit than professional systems. But if a cybercriminal gets access to a personal device that then connects to the professional network, the entire system can be affected.
3. Treat Your Workspace Like Your Workplace
Beware of home hazards in your workspace. Keep food and drink away from your computer to avoid accidental spills or crumbs in your keyboard. Keep an eye on your pets around your tech. As much as our furry companions make working from home amazing, it's no fun when your cat walks across your keyboard and sends an accidental email or your puppy uses your mouse as a chew toy.
In addition, keep your desktop (physical and digital) clean and organized, so you can control who sees what. Keep confidential papers and files off your desk and home page.
4. Step Out, Log Out
When you step away from your device, it's important to secure your accounts and your device. This applies whether you're taking a Netflix lunch break, getting a refill at the Starbucks counter, making a snack in the kitchen, or just taking a bathroom break.
Lock your device whenever you step away from it, even if it's just for a minute. In Windows, press (Windows Logo)-L; on a Mac, press Ctrl-Cmd (⌘)-Q to lock your screen. This will bring up the login screen you get when you first power on or you've been inactive for several minutes.
Be sure to log out of any accounts or systems when you are done using them. At the end of the day, power down your device – many security updates are only applied when the system is shutting down or starting up.
5. Secure Your Connection
If you haven't bothered to put a password on your home internet service, time to create one. Not only will you stop neighbors from stealing your Wi-Fi and slowing down your service, it's also an important security measure.
When you are doing confidential work or accessing a restricted system from home, use a VPN to ensure extra security on your connection. PittNet VPN (GlobalProtect) lets students, faculty, and staff connect to restricted University resources while on and off campus, and is required to connect remotely to your office computer or for accessing departmental databases and servers that reside behind network firewalls. PittNet VPN (PulseSecure) is also available to use. If you are working in a public place with free Wi-Fi, use the VPN while doing anything on your work device, regardless of whether the work itself involves confidential or protected data.
And it goes without saying that if you are working in a public place, like a café or Hillman Library, never leave your device or work materials unattended, even just for a minute.
Stay Cybersafe
Working from home can be awesome, but it requires you to take charge of your digital security. So take a little time to learn about cyber-risks and what you can do to keep yourself safe online. Take a look at the Workstation Security Standards for Remote Work website. Then, browse other Panther Bytes blogs; there are articles on everything from phishing to password protection. If you have any trouble with your tech, just ask for help! Contact the 24/7 IT Help Desk via phone, live chat, online form, or email.