You are here
Microsoft Teams: The New Age of Group Projects
Tuesday, February 14, 2023 - 16:43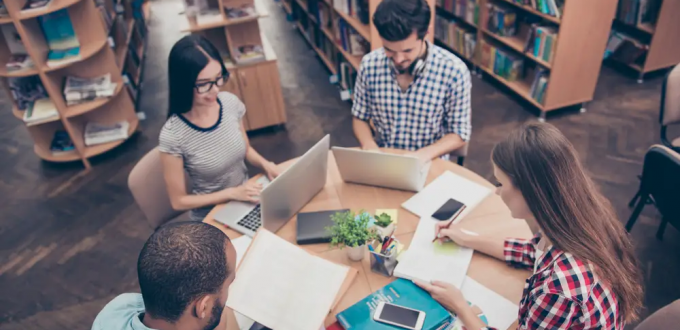 As students, we all know that dreaded feeling of hearing a professor announce a group project. If you're anything like me, that means more anxiety and stress added to your already-stressful workload. Usually, the dread isn't because I don't want to work with other people. The stress comes from having to coordinate with other people. Needing everyone's phone numbers, emails, and schedules for endless back-and-forths, sharing files with each other, and arranging times to meet (which is harder with people on campus, off campus, and commuting). Zoom, Google Docs and Google Slides, GroupMe and Whatsapp … the list of details that goes into a group project goes on and on.
But what if I told you that most of the headaches associated with group projects goes away with one simple app (even the stress of ever having to meet in person)? Microsoft Teams can solve all of these problems, and makes working in groups a whole lot easier. Here are the features that should make Teams your go-to group project app.
Microsoft Teams Features
Microsoft Teams is an online collaboration workspace that can seamlessly and easily bridge the gap between you and any group you're involved in, whether that be through a class, a club, or a job.
The Team – Your One-Stop Shop
Using Microsoft Teams, you can create your own Team with everyone from your group. Within a Team, you can create different channels for specialized tasks. For example, for a club, you might have a main club Team, and then have separate channels for different events or committees.
The best part of a Team is that it's one place where you can put and do everything. Store, share, and work on files. Send and review chats. Start meetings. Brainstorm on a whiteboard. Update a OneNote notebook. Anything that has to do with the Team is all there, without having to switch between apps. You can watch a quick introduction to Teams video here.
Chat – Searchable, Persistent, and Private
Chat is just what it sounds like: instant messaging. The most convenient part about Chat in Teams is that you don't need to exchange phone numbers, which you might not want to do with people you barely know. Just type in a Pitt person's name and Teams will find them. Chat privately with one person, create group Chats, or use the Posts tab to Chat within a Team. You can reply to existing messages or start new conversations.
The best part is that it's persistent and searchable, so you can go back through your Chats to easily find information. Not sure when you talked about something? Just use the Search bar. There's no extra hassle of starting up a GroupMe or Whatsapp. The best part is that you can access the Chats from any device with the mobile app, web app, and desktop app.
Meetings – Anytime, From Anywhere
Perhaps the most helpful feature of Teams is the ability to easily and virtually meet with your group. I'm sure we've all been in the situation where conflicting schedules make it impossible to find a time to all get together at Hillman. Somehow, there's only one 20-minute slot when you're all free.
With Teams, you can start ad hoc meetings or schedule a Teams meeting right from Teams or from within Outlook. Long gone are the days of having to know everyone's email, and then having to send them a Zoom link. Meetings are automatically added to your Teams and Outlook calendars. You can easily record meetings for people who couldn't make it or to review later.
Another really great feature in Teams meetings is the Whiteboard. It's super easy to use: from within a meeting, you just hit Share > Microsoft Whiteboard, and viola! You and all of your group members can all write and edit on the whiteboard at the same time for a brainstorming session.
Sharing Files – No Permissions, No Version Merging
Say goodbye to having to edit the permissions on your Google PowerPoints, Word docs, images, etc. and send people an invite. You can instantly share any file with your group by simply adding it to the Files tab. You can also just paste files right into the Chat, and boom, you're all done.
Once a document is in the Files tab, you can all work on it at the same time or separately. You'll all see the most recent version and make changes live, so you don't need to compare edits and merge all of your contributions. You can also open the document during a meeting for live collaboration!
Using Other Apps – Stay Right Where You Are
One of my favorite features of Teams is that I don't need to leave the app to work on Microsoft files that are in the Team. You can open and work on Word, PowerPoint, Excel, or any Microsoft app's files right in the Team. To access all the features of the app, just add a tab specifically for it.
The options go beyond Microsoft apps, too. You can add a tab for Adobe Creative Suite, or Acrobat, or websites, or any of dozens of apps integrated with Teams. It's so convenient! You don't have to open a billion windows at once and bounce back and forth between them!
Okay, But Why Do I Need to Know Teams if I'm Graduating?
I'm so glad you asked! Teams is quickly becoming one of the most widely-used business programs. As of 2022, Microsoft Teams had over 270 million users, and over 1 million companies use Teams as their default messaging and collaboration platform. One of the best things you can do for yourself is to hop on the Teams bandwagon now, so you aren't behind when you get into the professional world.
By using Teams now, you can add it to your resume as a technical proficiency. Believe it or not, skills as simple as Excel and Teams are important to showcase on your resume. Employers deciding between candidates often chose the one who already knows how to use the applications they utilize. Check out LinkedIn Learning for self-paced learning or request a presentation from a Tech Ambassador to get started using it today.
-- By Claudia Huggins, Pitt IT Student Blogger