You are here
Digital Inclusion: Turning the Moment into Movement
Wednesday, October 5, 2022 - 13:27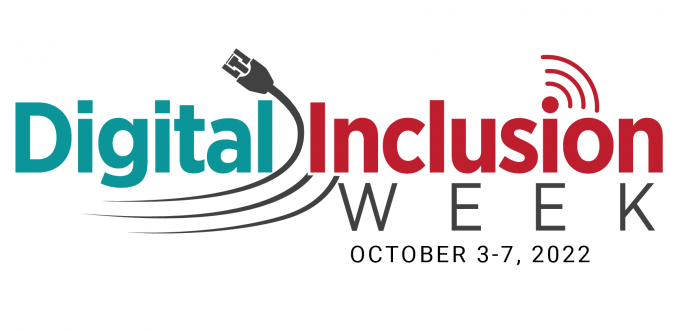 Digital Inclusion Week (October 3–7) is a week of education, awareness, and activism dedicated to addressing disparities in digital access. Digital inequity disproportionately impacts the lives and careers of people of color, older people, those with disabilities, the poor, and women. Digital inclusion goals include affordable internet, access to appropriate devices, and digital skills training. Pitt IT is a proud partner in engaging the University and community in making strides toward digital equity.
Policy and Advocacy
Digital inequity is a complex issue that no one person or organization can correct by itself. So Pitt IT places a priority on collaborating with partners to take positive steps toward bridging the gaps.
The department played a central role in organizing the inaugural Pennsylvania Broadband Symposium last April, in conjunction with Pitt's Institute of Politics, Office of Engagement and Community Affairs, Pitt Cyber, City of Pittsburgh, KINBER, Meta Mesh, CMU's Metro21, Pittsburgh Technology Council, and others. More than 200 participants representing over 70 organizations from across the Commonwealth participated. A working group is now developing a 5-Year Plan for PA to propose funding allocation for broadband equity efforts in PA.
Pitt IT also participates in the Steering Committee of the Greater Pittsburgh Digital Inclusion Alliance. Led by the Pittsburgh-based non-profit company Computer Reach, the Alliance focuses on cooperatively addressing equitable access to and use of technology in the region.
At the University, Pitt IT has worked with University Counsel and the Office for Equity, Diversity, and Inclusion (OEDI) to develope language for all new and renewed contracts to ensure technology vendors conform to the University's Electronic Information and Technology (EIT) Accessibility Policy.
Broadband and Device Access
Digital equity requires that affordable broadband internet and technology devices are available to communities who lack these critical tools. On campus, Pitt IT provides free high-speed internet, free software, free access to devices in the Student Computing Labs, and the ability to use minimally-configured devices through the Virtual Student Computing Lab and Virtual workstations.
Regionally, Pitt IT is a strategic partner with Meta Mesh Wireless Communities, a nonprofit Wireless Internet Service Provider, to connect homes to no-cost commercial-grade Wi-Fi through the Every1online program. Pitt installed equipment on the Cathedral of Learning and Thomas Boulevard to supply high-speed broadband to communities in need. To date, nearly 100 households in Coraopolis, Homewood, New Kensington, and Wilkinsburg are connected, with plans to expand to underserved neighborhoods in the Johnstown region.
The pandemic exacerbated the needs of families who already faced technology challenges. During remote operations, Pitt IT provided loaner devices and hotspots for students, faculty, and staff who were teaching, learning, and working virtually. Pitt IT also worked with community development organization Neighborhood Allies and computer-refurbishing company Computer Reach to launch the Beyond the Laptops Program, which provided 1,000 refurbished laptops. Pitt IT helped source and offset the cost of needed laptop chargers. In addition, the Community Technology Help Desk provided technical support to families and businesses thrust into utilizing new technology.
Hiring and Career Development
Pitt IT hired and trained two adults via Neurodiverse Solutions (formerly Autism2Work). These contract positions helped to automate the department's testing processes. The monthly Women in IT group was formed to address important topics in leadership, technology, and professional skills for women working or pursuing a career in technology, including monthly presentations and a discussion forum.
Pitt IT also assisted in the development of the United Way's Be STEMtacular Series, a virtual one-stop shop for teachers from Pittsburgh Public Schools to inspire, engage, and motivate their students in STEM-related fields. Their website includes group activities, online resources, and opportunities for after-school and post-secondary.
Youth Education and Training
Inspiring young people to learn computing skills and pursue technology careers is a lynchpin of long-term digital inclusion. Pitt IT works with Pitt Cyber to host a free week-long Air Force Association CyberCamp, open to 100 high school students from the Pittsburgh area—including spots reserved for students in underserved communities. Students learn cybersecurity principles for a range of skill levels and is focused on cyber ethics and systems security for future career opportunities.
In partnership with the School of Computing and Information, Pitt IT is helping to offer the Bridges to IT program at the Hill District Community Engagement Center to teach high school seniors the computer support skills needed for a position as a help desk professional. In addition, Pitt IT staff have assisted with procuring equipment at little-to-no cost the for newly renovated New Granada Theatre in the Hill District, which will include a Digital Inclusion Center with a computer lab/STEAM makerspace.
Support for Safe Computing
In partnership with Pitt Cyber, Pitt Greensburg, and the Hill District Community Engagement Center, Pitt IT was awarded a Pitt Seed Grant to create tools and first-of-its-kind curricula for educating communities on safely navigating the digital world and combating misinformation and cyberbullying, as well as protecting privacy on social media. This program aims to address issues of mental and physical wellness and use AI-based technology to make resources more accessible and personalized.
The Pitt Disinformation Lab at Pitt Cyber is creating a new, community-centered system for warning, understanding, and responding to disinformation's malign influence. PDL works with community organizations to co-create research, drive new learning, and serve our communities in understanding information ecosystems and building resilience to disinformation across Western Pennsylvania.
Turning Our Moment into Movement
This is a turning point and time of action for the digital inclusion movement. Pitt IT is actively promoting, advocating for, and creating programs to promote digital equity, but bridging the digital divide is everyone's job. Consider becoming involved and let your elected officials know that funding and policy that helps to achieve digital inclusion is important. Together, we can ensure that all communities and individuals have access to the technology tools needed to excel!
-- By Karen Beaudway, Pitt IT Blogger