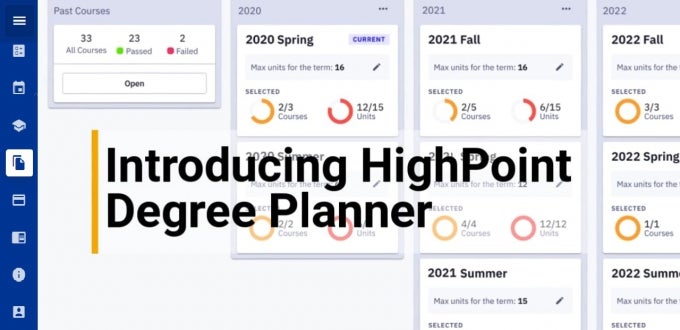 Imagine yourself walking on a path through Schenley Park. The earth is soft beneath your feet. With each step you take, your mind relaxes a little more. In the distance, you see a panther. He is gentle, beckoning you toward him. "You will be become part of my pride, a Panther for life," Roc tells you. Take a deep breath, as you imagine … graduation.
It's not always easy to see the path to graduation while focusing on your current courses. Between core requirements and those of your major, it can be challenging to make sure you take all the right courses in the right order. Add in a second major, a minor or certificate program, or choosing electives that focus on a specific interest, and it can feel overwhelming.
A new resource is now available to help you and your academic advisor chart a clear path to graduation. Degree Planner, part of PeopleSoft/HighPoint Campus Experience (CX), is an intuitive and powerful degree planning and tracking tool that makes it simple.
Create a Visual Map
What courses do you need to take to graduate? What does your declared major(s) and/or minor(s) require? Which classes have you already taken? Which do you still need? Do any required courses have pre-requisites you'll need to satisfy first? All those trees can make it hard to see the forest.
Degree Planner presents it all via a clear, visual map on a single dashboard screen. It enables you to efficiently manage your course planning. Easily view the courses you've taken, the classes you still need to take, and the recommended sequence in which to take them.
The best part is that Degree Planner does all the work. No PDF checklists. No manual data entry. Degree Planner automatically generates and updates your plan based on your personal academic progress, degree requirements, course prerequisites, and the semesters when certain classes are typically offered.
Imagine the Possibilities
Even the best laid plans for students can go awry and sometimes adjustments are needed. Perhaps you need to lighten your course load to accommodate a job or internship. Maybe you want to graduate a semester early. What happens if you change your major, or add a minor to your academic plan? How will a semester studying abroad affect your graduation timeline?
Understanding how all these pieces impact your graduation timeline and course load is critical as you adjust your academic plans. No course of study is set in stone, and you are encouraged to explore your options at Pitt.
Degree Planner offers flexible scenario modeling that shows you the impact of a wide variety of choices on graduation. You can explore what your graduation path would look like if you changed major/minor or spent a semester studying abroad. You can also adjust the maximum number of credits in a term to see how that impacts the graduation timeline, place a specific class into your planner to see what requirements it satisfies, or move recommended courses to another term to see if that has any ripple effects.
Find Your Path with Your Advisor
Degree Planner is not designed to replace the personal, one-on-one assistance your academic advisor provides. In fact, one of the best uses of Degree Planner is to plan for your advising appointment. It will help you pre-plan the kinds of courses you might choose for the next semester, or prepare you to discuss any changes you are thinking about making to your academic plan.
Academic Advisors have access to Degree Planner for all of the students they advise. It can help them prepare for their advising appointments and make sure their students are aware of how their choices will impact their path to graduation.
Degree Planner also enables advisors to identify students whose graduation path is off track, so they can proactively reach out to them to let them know that their ability to graduate on time is in jeopardy. Together, they can then ensure that the needed courses are taken in order to reach the finish line.
Start Using Degree Planner
The Office of the University Registrar has a user guide and other resources available for students and academic advisors to help you become familiar with the functionality. Then, explore Degree Planner yourself through PeopleSoft/Highpoint Campus Experience (CX):
Search for "CX" in myPitt and click on the PeopleSoft/Highpoint CX task.
Log in using your Pitt credentials.
From the left menu, select Academics > Degree Planner.
Leverage Degree Planner today to chart your path to graduation!
-- Karen Beaudway, Pitt IT Blogger