You are here
Two Weeks of Cybersecurity Awareness Events
Wednesday, October 20, 2021 - 09:09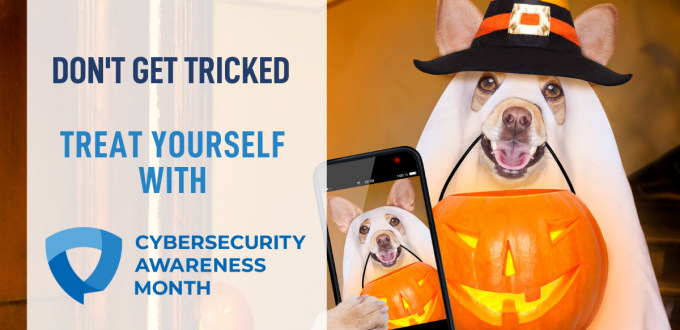 October is Cybersecurity Awareness Month and Pitt Information Technology is observing it by hosting three series of activities—providing students, faculty and staff an opportunity to earn $5 in Panther Funds, not to mention hands-on learning to become a seasoned cybercrime detector. Take some time to participate each day through Halloween.
10-Session Cybersecurity Speaker Series: #BeCyberSmart
These live webinars, lead by University, government, and industry cyber-experts, will cover a wide variety of topics related to online crime, cyber abuse, and online safety. Sessions are free and open to all. See the sidebar on the right for a list of offered webinars.
10-Day Cybersecurity Challenge: Cybersecurity Horror Story
Fun times and prizes abound with Pitt IT's cybersecurity-themed version of American Horror Story. A new Episode Challenge will be released each weekday featuring a short video or helpful infographic, followed by a few questions to test your cyber-smarts. It's quick and easy—each challenge takes less than 5 minutes.
Students earn raffle entries for each Episode Challenge they complete. There are 13 prizes with a total value of more than $1300—including a $500 Amazon gift card! The more you play, the more chances to win! Bonus footage: Complete a brief technology survey at the end to double your raffle entries.
Those who complete the entire Challenge also earn 20 Outside the Classroom Curriculum credits and the first 1,500 finishers get $5 in Panther Funds that can be redeemed at participating University or Community Merchant. (Don't worry – if you miss a few days, you can always go back to binge previous challenges you may have missed.)
Learn More and Start Challenges
Security Essentials Training Challenge
Faculty and staff are invited to participate in the Security Essentials Training Challenge by completing Pitt IT's cybersecurity training module. The training module takes less than an hour and can be paused and restarted anytime.
The first 500 employees who complete the training by 4 p.m. on Friday, Oct. 29 will receive $5 in Panther Funds to use at any participating University or Community Merchant you want. Think of it as a free coffee break on Pitt IT!
To participate, just log into pi.tt/securitytraining, go to the Content Library, and select the Security Essentials course.
Protect the University, Protect Yourself
Developing good cybersecurity habits not only protects University systems, accounts, and devices, they also protect YOU – your money, identity, and data. "Cyber-safety is everyone's responsibility," says Ollie Green, Chief Information Security Officer for Pitt IT. "No technology tool, antivirus app, monitoring system, or firewall configuration is as advanced and effective as a vigilant and knowledgeable person."
Learn even more with Pitt IT's special Cybersecurity Hot Topic blogs at pi.tt/blog.