You are here
Calling All Phone Users
Wednesday, October 21, 2020 - 09:35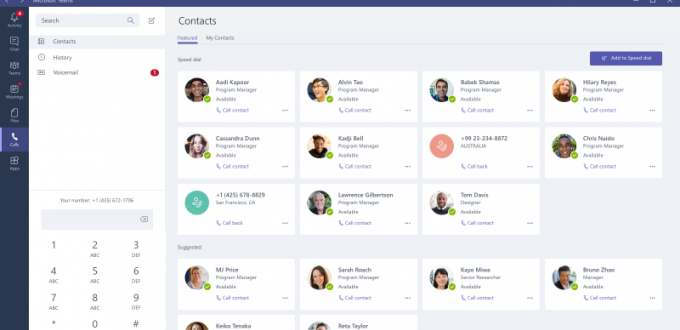 Microsoft Teams is the official unified communication platform for faculty and staff at the University. Here are some of my favorite features that Teams phone users will like.
No Number, No Handset, No Problem
Remember the limitations that phone cords placed on our movement—or lack thereof—while on a call in the office pre-COVID-19? Now that your kitchen table does double-duty as your home office, you'll really appreciate that Teams makes your office phone portable (and is one less thing cluttering up your workspace). In fact, any computing device with a speaker and mic or headphone jack is all you need to make and receive calls using your University phone number.
Speaking of numbers, I haven't looked one up for someone at Pitt since I started using Teams. If I need to call a colleague, I just click on the Calls tab and type their name into the search bar at the top. This feature is even available to those without a Teams-enabled phone!
Pro Tip: Check the availability of the person you're about to call before you call them. The other party needs to be logged in to Teams for the call to work, so calling when their status is green/available helps to increase your chances of connecting with them.
Dial It Up
When you need to call someone not affiliated with Pitt, you can just "dial" using the number pad. It's just like a real phone, but inside the Teams desktop, mobile, or web app. In the Calls tab, the number pad will be in the bottom of the left-hand column. If you don't see it, click the Dial a number button to bring it up. Then, just type the number (no need for the initial 9 for an off-campus number) and click Call.
At-a-Glance Settings
Phone setup menus can be a royal pain. Listening to all the options and following the prompts takes forever and is overly complicated. I love that I can set up all my calling and voicemail options using the settings menu in Teams. Just click on Profile icon > Settings > Calls.
From there, you can set up your call answering and forwarding options, select your ringtone (and even use different ringtones for different types of calls), or turn on TTY if you are hearing impaired. You can also configure your voicemail, including recording a standard or out-of-office greeting.
Pro tip: You can use text-to-speech to record your general or out of office greeting. It is ideal if you would like to use an automated voice, rather than recording a message in your own voice.
Your On-the-Go Phone
With the Teams mobile app, my office phone goes wherever I go. I can make and receive call from my University phone number using my smartphone, tablet, or laptop … without having to set up call forwarding or give out my personal number. Whether it's heading out to lunch while waiting for an important call to answering critical calls while I am out of the office, it's super convenient. Because of the pandemic, I haven't seen my office phone since March, but I haven't missed a beat.
Transferring Made Easy
Every once in a while, I need to transfer someone. I don't have a fancy phone with a transfer button. I'm not a delegate for someone or a super-user who transfers people dozens of times a day. I used to have to figure out how to transfer a call, look up the number, and then cross my fingers that it went through.
With Teams, all I need to know is the name of the person I want to transfer the call to! Just click More actions (…) > Transfer, type in the name of the person, and click Transfer. Seriously—how intuitive is that?! If you turn on "Ring back if there's no answer," the caller will come back to you if the recipient doesn't answer. You can also select More actions (…) > Consult then transfer to talk with the recipient before you transfer the call. That gives you a chance to quickly explain what the caller needs and make sure you're connecting them to the right person. The nicest part of this feature is that you can talk with the recipient by voice or using Chat. These days, many people screen calls, so a chat lets them know who's calling and why.
Don't wait for your department to transfer over to Teams-only mode. Take advantage of the convenience of Teams for University calls now.
-- By Karen Beaudway, Pitt IT Blogger