You are here
Top Tech Tasks to Do First
Tuesday, August 9, 2022 - 18:48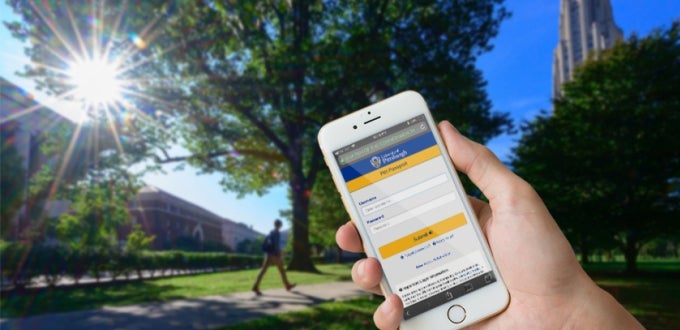 Many universities use the term "arrival survival" to describe the return to campus. Though with a little planning, there's no need for survival techniques to make your move-in seamless. Here are a few key IT tasks to complete before or shortly after you arrive to make sure you get connected and stay in the know.
7 Steps to Prepare for Pitt
1. Get a Laptop; Skip the Printer
Laptops are a necessity for working on and around campus. It doesn't need to have loads of storage or the fastest processor. By using the Virtual Computing Lab, your device just needs to connect to the internet to use the cloud-based platform's storage and compute resources. Check out Pitt IT's recommended configurations and get great Pitt discounts through Dell at pi.tt/buyacomputer.
If you're getting a new device, order it ASAP due to global shipping delays.
If you're using a device you already own, make sure your operating system, browser, and apps are current with latest updates and patches.
You won't need a printer. Pitt IT maintains dozens of Pitt Print Stations throughout each campus. Just send a document to be printed and pick it up at any print station using your ID or touchless printing.
2. Set Email and Account Settings
You and your friends may not use email much, but it's how the University and your instructors communicate with you about important topics, so you're going to need to check your Pitt email regularly. Go to accounts.pitt.edu > Email & Messaging to create an email alias and subscribe to alerts.
You can also update your Contact Information (including a nickname, preferred name, pronouns, and a recording of your name), adjust your Login & Security features (e.g., changing your password), and adjust other settings.
3. Download Software
Pitt IT provides loads of software at no cost for students. It can take a while to install them onto your laptop, so get it out of the way now. The must-have programs include:
Office 365: Download Word, Excel, PowerPoint, and Outlook by logging into portal.office.com with your Pitt credentials and clicking Install Office in the upper corner.
Zoom: Zoom is widely used for group work, virtual office hours, and online events. Log into pitt.zoom.us with your Pitt credentials and click Download Client from the home screen.
Adobe Creative Suite: You can access Adobe Creative Suite at no cost for your classwork and club needs. Just log into accounts.pitt.edu and click on the Adobe tab.
Go to the Technology site's Software section to see all the available titles; filter for Students so you only see relevant options. Short on hard drive space? You don't need to download most apps—you can access the desktop app via the Virtual Computing Lab or access many titles through the web.
4. Install Mobile Apps
You will use your phone to check all sorts of things, from academics and campus events to health and dining. The Pitt App Center has tons of free apps, but here are the ones you'll use all the time:
Pitt Mobile — your campus gateway, with quick access to the resources you use most
Duo — for multifactor authentication when connecting to services via Pitt Passport
Canvas Student — access your classes, including the calendar, assignments, and grades
Pitt CX Mobile — access/manage class, academic, financial, enrollment, and contact info
Microsoft apps — especially Outlook and OneDrive
Pharos Print — view your print queue and quota balance, and use for touchless printing
5. Become a Security Master
6. Set Up Your Wi-Fi
You'll find a few different Wi-Fi networks, depending on where you are on campus. PittNet Wi-Fi is available in all academic and administrative buildings, Pitt Shuttles, and select outdoor locations. MyResNet is available in residence halls (including the dining halls located there). Most devices detect PittNet_Wireless on their own, but you will need to create a MyResNet account.
Set up your MyResNet account now, so your devices will automatically connect the minute you set foot in your room. (Note: if you'll be living in a Carlow residence hall, you should follow the specific instructions you receive for this location.) If this is your first year in on-campus housing, you will need to create a new account to register your devices (phone, laptop, smart TV, gaming console). If you already have an account, be sure to update your room assignment and devices if they have changed.
7. Follow and Favorite
myPitt (my.pitt.edu) is your gateway for finding anything and everything on campus. Add the tasks you use most often to My Favorites by clicking the heart, including Pitt Email, PeopleSoft CX, Canvas, PittPay, Virtual Computing Lab, and Office 365. If you have a campus job, add PittWorx too for submitting your timecard and viewing your paystub.
Then, make sure you stay on top of important IT info by subscribing to the IT newsletter, Tech Talk, and following @UPittIT on Instagram, Twitter, or Facebook—at one post a day, it won't clog your feed.
Get It Done Early
Moving in and starting a new academic year is hectic enough. Complete each of the items above over the next couple weeks so you'll be able to hit the ground running. Have any questions or problems accessing your Pitt IT services? Hit up the 24/7 IT Help Desk at any time.
-- By Karen Beaudway, Pitt IT Blogger