You are here
Data-Driven Insights for Personal Guidance
Wednesday, May 6, 2020 - 09:05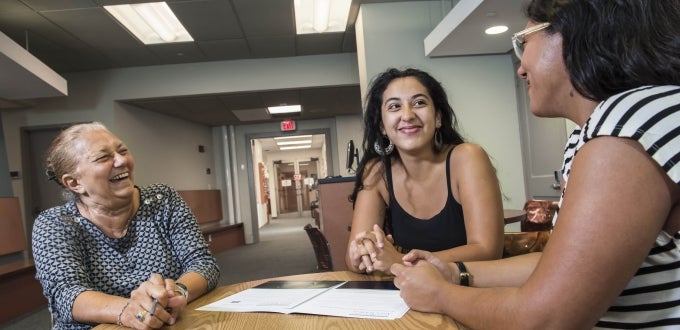 The Dietrich School Academic Advising Center provides one-on-one academic advising to help students pursue their educational and career goals, navigate University policies and procedures, and connect with helpful Pitt resources.
Timely Data Without Having to Ask
Accurate information on students is vital in order for advisors to identify situations that can interfere with academic progress or signs that a student may be struggling. They need access to a wide range of data: grades, credits, account holds, first-year course requirements, and full-/part-time status.
In the past, getting that data required frequent requests for reports from Cognos, processed through the Registrar's office. That was unsustainable for both Advising and the Registrar's office, so assistant director Maggie Schneider started looking for an alternative. "I kept saying, 'There has to be an easier way than asking for all these reports.' That's when I connected with Chad Burton's team in Pitt IT," Schneider said. "We talked through all the reports we were running on a regular basis, and how we could transform our process by having it all available in one place."
The Advising Hub Comes Online
Together, the Dietrich Academic Advising Center and Pitt IT created the Advising Hub management tool. This system provides a single dashboard that collects a wide range of information about the students the Academic Advising Center serves.
The impact has been immediate. "The Hub has been a godsend to us," Schneider says. "It has made our lives so much easier. It helps us keep track of our students so that no one falls through the cracks."
Immediate Data for Immediate Impact
The Academic Advising Center uses the Hub to help students stay in compliance with University policies and procedures and resolve complications in a timely way. The Academic Advising Center can do a variety of things using the Hub, including:
Identify unsatisfactory mid-term grades while there is still time to withdraw from a course
Adjust course planning when a poor grade prevents taking the next course in a series
Notify students of academic or financial holds so they will be able to enroll for the next semester
Identify when a student hasn't enrolled for the next semester after an advising appointment
Ensure that students have satisfied their first-year course requirements
Identify students that would benefit from additional support services
The Advising Hub also helps the Center administratively. It can easily track advising metrics—such as how many students an advisor has met with—to help monitor and balance the workload among advisors, so all students are served optimally. That's the power of immediate, on-demand data.
Word Is Spreading
It didn't take long for the successful collaboration between the Dietrich Academic Advising Center and Pitt IT to expand to other academic units across the University. The College of Business Administration, School of Computing and Information, the Greensburg regional campus, and more have all implemented an Advising Hub after seeing the benefits of the service. That's the power of teamwork!