You are here
Take the Leap into Microsoft 365
Wednesday, November 15, 2023 - 10:13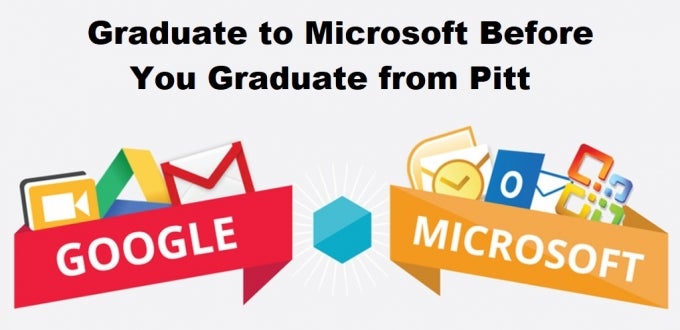 Hundreds of writing assignments, presentations, data sheets, and images to keep track of. Countless classmates and colleagues to communicate with. Not enough storage on your computer and your Google account is rapidly filling up. Now that we're settled into the fall semester, these worries may sound all too familiar. Yet have no fear — the solution to all these problems and more is easily accessible to you at Pitt at no additional cost.
If you haven't made the switch to Microsoft 365 yet, there has never been a better time to do so than today. In the past, you may have used Google products such as Drive, Docs, or Slides. I get it. They are easy and convenient. While these apps are popular among students or for casual users in their personal lives, using Microsoft allows you to work more efficiently, use more advanced features, and will better prepare you for your professional career following college. And that's the end goal of all these classes, after all — to get hired and succeed in a great career.
Store More for Free: As a Pitt student, you have up to five terabytes (5 TB) of available storage through OneDrive, plus access to all of its useful organizational tools. That's over 330 times the amount of storage (15 GB) you get from a free Google account … at no cost to you. The files you save on OneDrive are safe from any physical issues that may happen to your personal computer, and have many extra layers of security.
Ditch the Separate Apps — Do it All in Teams: If you haven't discovered just how convenient and easy it is to use Microsoft Teams yet, I highly recommend you check out some of what the product has to offer. The best way to describe it is like GroupMe, iMessages, Outlook, Zoom, Google Drive, and Canvas all in one. It's got chat, shared files, online meetings, a calendar, and more. You can also add tabs for the main Microsoft apps, like Excel, Word, PowerPoint, and OneNote, so you don't even have to open those apps to work on files. You and your teammates can just work on shared files (together or independently) right in Teams.
The Real Thing Offers More: The wealth of features in Excel, Word, and PowerPoint allows you to better display your abilities, whether you are studying philosophy or supply chain management. They have tools and functions that Google apps just don't have that make a big difference when engaging in more advanced work. That's why Microsoft is provided by the overwhelming majority of colleges and universities across the country.
Converting Back and Forth Is a Pain for Everyone: Many instructors and TAs provide blank assignments in an Office format (Word, Excel, PowerPoint). When you convert that assignment to a Google format (Docs, Sheets, Slides) to work on it, and then convert it back into a Microsoft to turn it in, the formatting will be seriously impacted. The end result will often look significantly different than the original, making the assignment harder for the instructor to review. This is annoying and frustrating for the people who are grading your work. Want to make a good impression on your instructors? Keep assignments in the format they were created in.
Employers Love It: Yet perhaps the most compelling reason to make the switch to Microsoft is the seamless transition you will experience following graduation. Microsoft Office is the standard productivity suite for countless industries and organizations, with over 83% of businesses using Microsoft 365 apps. Among businesses who use Google Workspace, a significant percentage of them still use Office apps because these programs have way more advanced capabilities and features. Having a strong background in Microsoft Office will surely make you stand out as a potential job candidate, as well as make your life easier as you begin a new role.
So, my task for you is this: Graduate to Microsoft before you graduate from Pitt.
Now is the time to make the leap — Microsoft 365 is the way to go! Not sure how to get started? We can help! Contact the Tech Ambassadors to do a training for you and your friends, club, or team.
More of a "do it yourself" kind of person? LinkedIn Learning has a great learning path called Getting Started with Microsoft 365, which has separate webinars for each of the major apps in the suite. Watch them all, and you'll even earn a certificate that you can add to your resume or LinkedIn profile!
-- By Jacob Sosinsky, Pitt IT Tech Ambassador guest blogger