You are here
Take a Campus IT Tour
Wednesday, August 24, 2022 - 16:28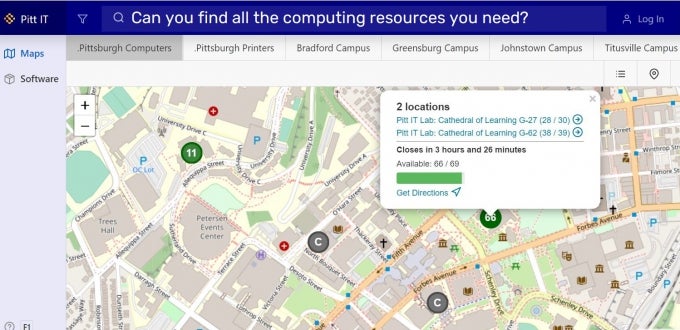 Welcome (back) to campus, Panthers! When you were considering Pitt, many of you took a guided tour of the campus. During Welcome Week, you'll be exploring your new home for the next four years, figuring out where to eat, where your classes are, and where the fun stuff takes place.
Technology is a huge part of your life and your education. Knowing where to find the technology resources you'll need should be an important step in your orientation. Here's a recommended tour of your on-campus technology resources.
First Stop: Drop-In Support
There are two Drop-In Support locations on campus when you need hands-on help setting up email or Wi-Fi on your device, installing software, repairing the operating system or removing viruses, or trouble-shooting a stubborn problem. They are located in the University Store on Fifth (where you get textbooks, office supplies, and Pitt swag) and on the ground floor of the Cathedral of Learning (CL, often called Cathy) in room G-62. You can even drop off your device and pick it up when it's ready. New students are welcome to come to Drop-In Support to get your device Pitt-ready: adjusting settings and loading Pitt-specific apps you'll need.
During Welcome Week, there are tables with Pitt IT help consultants to answer your quick questions, but note that these are not permanent, full-service Drop-In Support locations. You can also just call, email, or chat with the 24/7 IT Help Desk for quick help using a Pitt IT service.
Second Stop: Student Computing Labs
If you're in G-62 CL from the first stop, just pop to the other side of the space to find one of the seven Student Computing Labs on the Pittsburgh campus, and there's another one across the hall in room G-27! Now wander around campus to find the others in Alumni, Benedum, David Lawrence, Bellefield, and Sutherland Halls.
You can find all of the labs on the Interactive Lab Status Map, which not only displays the location of each lab, but also indicates if it is open (green) or closed (grey). Click on a location to see the number of workstations. Click the location's name in the pop-up to see a map that shows each workstation, the operating system it uses, and whether it is in use. This is super convenient to make sure you don't go to a lab only to find that it's closed or full.
While you're checking out each lab, pay attention to some of the special spaces many of them include:
Collaboration Rooms: Designed for group work, with bench seating, outlets, a privacy door, a large display screen, and dry erase boards. Located in: Alumni and David Lawrence—reserve them online.
Classroom Labs: Used for courses that require hands-on computer work. Located in: G-62 CL and Bellefield. Note: classroom labs are not available for general use when a class is in session.
Extra-Space Workstations: Give ample room to spread out your books, papers, and other materials. Located in: every lab except Bellefield.
Dual-Monitor Stations: Ideal for complex or detailed work that requires viewing multiple windows simultaneously. Located in: Alumni, Benedum, Sutherland, and G-27 CL.
If you'd rather work in your room, a common space, or anywhere else, just connect to the Virtual Computing Lab to turn your personal device with all of the software and computing power of a lab machine using Microsoft Remote Desktop.
Third Stop: Printers and Scanners
Pitt IT makes it easy to go digital; it's more efficient and environmentally friendly. But sometimes you just need a hard copy to refer to or to take notes on. The good news is there are black-and-white Pitt Print Stations all over the place. Visiting all 70+ printers on campus would take way too long. Just keep your eyes open, because there's a printer in nearly every residence hall, academic building, and administrative building.
For this tour, use the Pitt Print Stations Map to take note of where the color and multi-function printers are. There are color printers in the Alumni, G-27 CL, Benedum, David Lawrence, and Sutherland labs, plus Hillman and Falk Library and the Law School. Multi-function printers can copy, print from USB, scan, and print. They are located in the Alumni, G-27/G-62 CL, Bellefield, Benedum, David Lawrence, and Sutherland labs, plus Falk Library, Chevron, Langley, and Mervis Halls.
Fourth Stop: Mobile Support
Between smart phones, tablets, and laptops, many students don't need a lab computer to get work done. But sometimes you need a quiet and comfortable place to work, a reliable power source, or a bigger screen.
Pitt IT maintains Mobile Computing counters/labs in Alumni, G-25/G-27 CL, Benedum, and David Lawrence labs where you can plug in and work. Each station has USB and AC outlets and the G-27 CL and David Lawrence labs also have 27-inch monitor stations with HDMI cables when you need a bigger monitor than your laptop.
Phone or tablet battery flashing red? Mobile Charging Stations are located in all labs, William Pitt Union, Hillman Library, Towers lobby, and the University Store on Fifth. Charging stations have lightning, micro USB, and USB-C cables, plus each lab has USB and AC power at select workstations. Just note that these stations are not monitored, so you'll need to hang close by so no one pilfers your device.
Fifth Stop: Wi-Fi Service
Are you on campus? Then you found free Wi-Fi service. OK – it's not literally everywhere, but nearly so. Pittsburgh residence halls use MyResNet, while regional campus residence halls and all academic and administrative buildings use PittNet. PittNet is also available in many outdoor locations and on University shuttles. (Even your guests can get free wireless access through one of Pitt's guest Wi-Fi options.) So finding internet connectivity is easy.
Now that you have an overview of your on-campus IT facilities, get out there and start computing!
-- By Karen Beaudway, Pitt IT Blogger