You are here
4 Tech New Year's Resolutions
Thursday, January 20, 2022 - 16:24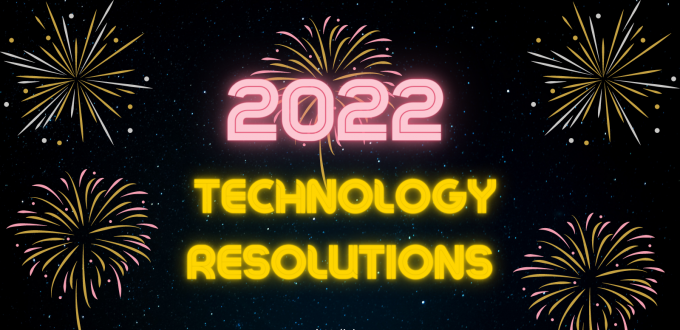 Happy New Year, Panthers! Well, happy belated new year. Even though we're about three weeks into 2022, it's not too late to set goals for the rest of the year. Here are our top four tech-related resolutions.
1. Prioritize Your Passwords
Secure passwords are probably the easiest and most effective way to stay cybersafe in the new year (and beyond). Make sure your passwords include a mix of upper- and lower-case letters, numbers, and special characters. Also, no repeats—use a different password for every site or service you use.
It can be hard to remember every single password when you use unique ones, so Pitt IT suggests using Pitt Password Manager (LastPass). LastPass saves your login credentials in a secure vault and is even able to generate new, strong, and unique passwords for you to use. But the only password you need to remember is the Master Password for the LastPass account. For extra protection, aim to update your most sensitive passwords every few months.
2. Stay on Top of Screen Time
In an ever-increasingly digital world, it can feel like most of your life is spent staring at a screen. As important as your online life is, there are some downsides, from eye strain, headaches, and neck or wrist pain, to becoming too sedentary and sleep problems. Fortunately, there are some tools to help you step away from the screen.
See if your device has a built-in use tracker (Apple iPhones have the ScreenTime app). At the end of a regular day or week, check it to see where you spend the most time and what you want to cut down on. Instead of spending two hours a day on TikTok, set a 45-minute limit. For the rest of the time you would have spent on TikTok, you can choose non-screen entertainment instead. For example, you could listen to a podcast, read a book, do some knitting, go for a walk, or hang out with a friend.
3. Care for Your Devices
Our smartphones, laptops, tablets, and other tech devices have become essential to everyday life—whether we like it or not—and they are not cheap. Protect your investment by taking extra care of your devices this year.
Rocking a smartphone without a case? Please reconsider. Phone cases and laptop protectors can make a world of difference when it comes to protection, especially for people on the go.
In the age of COVID-19, try to clean your devices and their accessories regularly. Be sure to use cleaners and wipes designed for electronics.
Be sure your chargers are in good shape and designed specifically for your device. It's best to not let your battery completely drain. When the battery is fully charged, disconnect the charger.
Pay attention to risky behaviors, like eating or drinking around your device, letting furry friends walk on your keyboard, or letting young children use your devices.
4. Focus on Work/Life Balance
As basements become board rooms and kitchens become cubicles, separating work-life from home-life can become increasingly difficult. Even if you may not physically be in an office, it is important to set boundaries for yourself to avoid burnout. Leave work/life imbalance back in 2021, and use some tech tools to help you do it.
Taking the day off? Don't be afraid to set an automatic "out of office" reply on your email to let people know how long you'll be gone and any other essential information for when you're out. On a lunch break or out running errands? Update your Slack or Microsoft Teams status. When the workday is over, adjust your notification settings so you aren't tempted to come back to the virtual office.
Then, download an app to help you focus on yourself. Find a new recipe for something tasty. Download a meditation app. Track your distance and routes with a walking app. Create a photo album of your digital pics. Connect with friends far and near on video calls. Or learn more about your favorite hobby using LinkedIn Learning.
Have a Happy, Healthy Relationship with Your Tech in 2022
These are just some suggestions for 2022 tech resolutions. No matter what goals you set for yourself this year, Pitt IT hopes you achieve them all! Here's to a new year!
-- By Mary Rose O'Donnell, Pitt IT Student Blogger