Monday, June 20, 2022 - 15:42
Pitt Information Technology has identified a new email phishing scam targeting University students, faculty, and staff. The scam claims the Benefits program will provide financial assistance through the nonexistent "COVID-19 Support Plan" to all employees and students experiencing financial hardship because of the pandemic. The phishing email contains a link to a malicious web form that requests personal information, such as your social security number, date of birth, and credit card number. The email may appear to originate from a Pitt email address or external address, and it may include Subject lines similar to "Support Program For Summer 2022" or "Support Program for Employees."
The following is a sample of the recent scam. If you receive this message (or any message similar to it), please report it as a phishing scam by forwarding the email message as an attachment to phish@pitt.edu. Detailed instructions on reporting scams are available at http://technology.pitt.edu/phishingscams.
******************************************************************************
Subject: Support Program For Summer 2022
The Employee Assistance Program has launched a Support Program to give financial assistance to all employees and students to get through the current community hardship caused by the COVID-19 pandemic.
Beginning today, on Monday, June 20, 2022, the Benefits program will provide up to $4,500 in financial assistance to all employees and students experiencing financial hardship as part of the COVID-19 Support Plan.
Applications are being processed and approved, visit the COVID-19 Benefits page and carefully follow all instructions, entering the most relevant information.
Sincerely,
<Name Removed>
Employee Assistance Program
University of Pittsburgh
******************************************************************************
Clicking the link displays a web form similar to the one below that attempts to collect personal information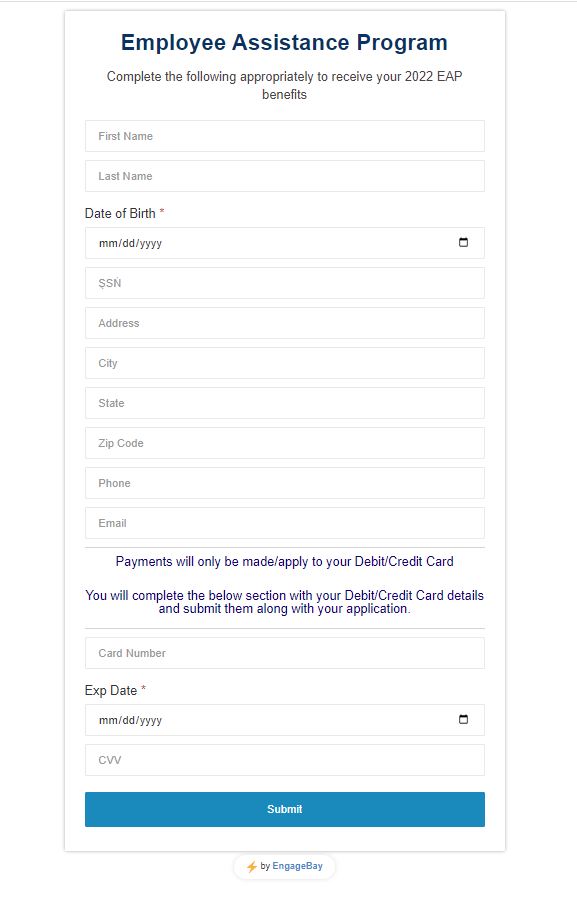 Pitt IT strongly recommends that you do not reply to unsolicited emails or emails from unverifiable sources. If you were not expecting to receive such an email, confirm with the sender prior to interacting with the message. If you must interact with the message, avoid clicking on links contained in such emails. These may lead to sites that contain malicious software, or sites that attempt to steal your credentials. If a link looks suspicious, you can hover over the link with your mouse to preview the URL without clicking on it.
In addition, Pitt IT recommends that all students, faculty, and staff install Antivirus and Anti-Malware (Malwarebytes) Protection. Departments can submit a help request to obtain Malwarebytes for multiple machines.
Please contact the 24/7 IT Help Desk at 412-624-HELP (4357) if you have any questions regarding this announcement.