You are here
Using Zoom to Keep Distance Learning Personal
Friday, March 20, 2020 - 09:07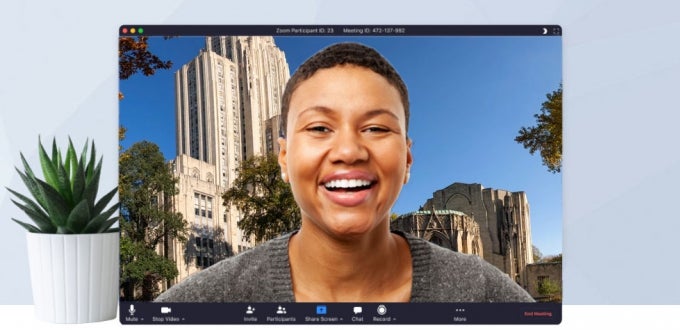 With classes moved to a remote learning format for the remainder of the semester, instructors and students are eager to maintain the academic rigor and intellectual vibrancy of the classroom. Live video with interactive participation is one of the best ways for instructors and students alike to replicate the classroom experience. Zoom—now available to all students, faculty, and staff—is just the tool to help you do it.
Zoom Out for the Big Picture
Zoom is a video collaboration tool that provides a click-and-connect conferencing solution. You can use it for classroom teaching and learning, group discussions, or even one-on-one office hour meetings.
Zoom is an easy-to-use tool to create a video meeting, invite students or colleagues, solicit participation, and share resources. It's as close to being in the same lecture hall or office as you can get while working and learning from home. And with the University's new enterprise license for Zoom, students, faculty, and staff can access it for no cost.
Zoom In on the Benefits
So what makes Zoom such a great classroom tool? Here are just some of the benefits:
Platform independent: participants can join the session from any device—no VPN needed
Scalable: one-on-one meetings, up to a class of 500 students or a staff meeting up to 300
Easy and intuitive: one-click connection for easy video and audio
Real-time interaction: chats, polls, breakout rooms, content sharing, whiteboarding, annotations
Closed captioning and keyboard shortcuts: ensures accessibility for all learners
LMS integration: integrated with Canvas and CourseWeb (Blackboard), plus an Outlook add-on
Zoom In on Groups
You may be an experienced hand at online meetings, but large-scale videoconferences are a different experience altogether. Here are some pro tips for hosting a large meeting or lecture with Zoom:
Mute participants by default by selecting "Manage Participants > Mute All". You'll be prompted about whether it will allow participants to unmute themselves. Muting participants reduces distractions caused by background noise.
Use poll questions periodically to engage your audience and keep them focused.
Monitor the chat function for questions as they come in, to see if people are expounding on something you covered, or to see if people are expressing poor understanding.
Enable video only for the presenter. You can only see a limited number of participants anyway, depending on your screen size, and enabling video gobbles up network resources. If you plan to lecture without feedback (e.g., for a large seminar), you can also disable participant audio.
Schedule one or more feedback breaks. In a physical classroom, you can see raised hands or observe confused looks. It's important to assess understanding and allow students to ask questions. An audio free-for-all can be a nightmare, but dedicated Q&A periods work really well.
Address Internet disruptions: At this time, many network providers are seeing massive increases in residential bandwidth use during the day, and many users are being throttled. If participants are experiencing lagging or skipping, suggest that they use their computer to access video, while simultaneously dialing in by phone for the audio.
Take a look at all that Zoom can do. Pitt IT has a great Zoom resource page with download and access instructions, plus a wide variety of detailed training documents and videos. Already using Zoom? Consider switching to a University account to take advantage of all the features available through the enterprise license.
-- By Karen Beaudway, Pitt IT Blogger