You are here
Break Out of Your Teams Routine
Tuesday, February 23, 2021 - 21:31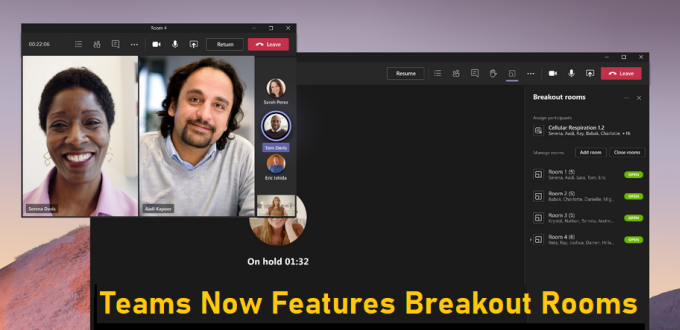 At Pitt, Microsoft Teams is the preferred videoconferencing solution for meetings, while Zoom is the recommended tool for remote teaching and learning. Each app has been making significant feature enhancements on a fairly regular basis to make them even better. Last week, the Panther Bytes blog was all about Zoom's new Live Transcripts functionality. This week, let's focus on Team's latest upgrade … Breakout Rooms.
Big Group Issues
Hosting a large meeting on Teams is no problem … a Teams Meeting can host up to 300 participants, after all. Using the Large Gallery view, you can see up to 49 people at once in the grid or you can use Together mode to make it really feel like you're all in a shared space. The Chat function allows you to submit comments or questions, and you can Raise Your Hand to respond to questions or let the host know that you'd like to speak.
Even with all these tools, bigger meetings are less interactive. Many people keep their microphone muted to prevent background noise and will turn their video off. (In very large meetings, that can be a best practice to avoid lag.) Open discussion and the free exchange of ideas becomes almost impossible. In the end, the bigger the meeting is, the more it feels like you're just watching a webinar—but there's a new feature for overcoming this challenge.
Breaking Out
Breakout Rooms bring participants into smaller groups to facilitate active conversation, creative brainstorming, and honest feedback. This feature has been available in Zoom and Teams for Education for some time to enable lively debate, discussion, and teamwork in a classroom setting. Now, Breakout Rooms are generally available in all Teams meetings, including channel meetings.
Participants can be divided into up to 50 Breakout Rooms, either randomly or by manually assigning people to each group. Participants can capture their ideas as they engage in discussion, and then share their insights with the main meeting when everyone reconvenes.
Moving In, Out, and Around Breakout Rooms
Breakout Rooms in Teams are extremely flexible. Meeting organizers can choose to allow participants to come back to the main meeting at any time, and then return to their assigned Breakout Rooms. This way participants can ask a clarifying question or check in with the meeting leaders without disturbing the Breakout Room discussion.
Throughout the meeting, the organizer can create, rename, and delete rooms as needed. Also, organizers can create Breakout Rooms multiple times in the same meeting, assigning participants to new room setups. For example, if several major themes arise in discussions, the meeting organizer can create new Breakout Rooms centered around those themes.
Once Breakout Rooms are open, meeting organizers can join any of the sessions. This allows them to monitor progress, check in, and facilitate the group's work. Should the need arise, they can quickly switch attendees between Breakout Rooms.
Lastly, organizers can send announcements to all the Breakout Rooms (for example, to let them know that there is five minutes left), without personally interrupting the session. When it's time for the whole group to reconvene, the meeting organizer can just call participants back to the main meeting.
Leverage Microsoft 365
All the innovations that make Teams meetings inclusive, interactive, and intelligent are available within Breakout Rooms. Attendees can discuss a topic in a traditional grid, or while in a virtual coffee shop in Together mode. Each Breakout Room has its own Chat channel, so participants can easily share with each other.
One of the biggest advantages of Teams is that it is fully integrated with the Microsoft 365 suite of apps. You can open, create, or work with Word, Excel, or PowerPoint files within the Breakout Room. Take notes using OneNote. Bring up a Whiteboard and draw out your ideas. With Teams, the whole Office suite is at your fingertips.
Anything you create in the Breakout Room can be then be shared in the main meeting once everyone is back together. It will also be available afterwards in the meeting chat.
Break Free with Breakout Rooms
Whether your meeting is 15 people or 50, see how Breakout Rooms can enhance your larger meetings. Use it for brainstorming, feedback, team building exercises, or any other purpose! See Microsoft's Using Breakout Rooms in Teams Meetings for more information.
-- By Karen Beaudway, Pitt IT Blogger