You are here
Get to Know the New IT Services Portal
Monday, November 6, 2023 - 21:12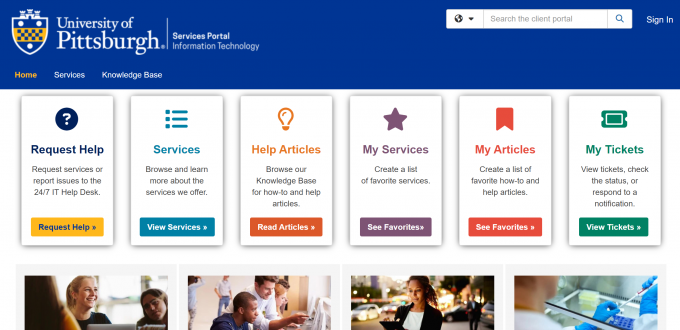 You may have heard that Pitt Information Technology just rolled out a brand-new IT Services Portal powered by TeamDynamix, and we couldn't be more thrilled to get you started.
So, what exactly is this IT Services Portal, and why should you be excited about it? Well, it's your one-stop shop for all services offered to students, faculty, and staff through Pitt IT. The portal is designed to make your life easier in three key areas: understanding tech services, accessing help articles, and submitting help tickets.
Services: Your Tech Directory
In the Services section, you'll discover a comprehensive directory of technology services available to the entire Pitt community. These services are neatly organized into 10 categories, making it a breeze to find what you're looking for. Whether you're curious about Canvas, probing into PeopleSoft, asking about A/V support, or something else entirely, you can search, learn about, and request these services without breaking a sweat.
Help Articles: The Knowledge Base
If you're more of a DYIer type when it comes to tech, the Help Articles section is your go-to knowledge base. It's filled with how-to guides, help articles, and self-service resources for all your IT support needs. Instead of picking up the phone or writing an email, find the help article you need and get answers quickly. Need to reset your University Computing Account password? There's an article for that!
Ticketing: Get Your Support
Submit requests for needed services, report technical issues, and get support in the Ticketing section. You can connect with the 24/7 IT Help Desk and other IT service teams, all while tracking the progress of your tickets and communicating directly with your support team. It's all about convenience and efficiency.
An important note for those of who currently have open tickets with our 24/7 IT Help Desk: Don't worry, those tickets aren't going anywhere. They'll remain in our previous system (Salesforce) until they are resolved and closed.
After Monday, Nov. 6, all new ticket submissions are managed through TeamDynamix and exist exclusively in the IT Services Portal. As we navigate this transition to the new ticketing system, there are a few things you should know:
New Notification Emails: When you submit new tickets after Nov. 6, be on the lookout for emails from notify@teamdynamixapp.com. While these notifications may look a bit different from what you're used to, they're designed to be more straightforward and informative.
Continue with Email Replies: Just like now, you can continue to communicate directly with your support analysts and add information to your ticket by replying via email.
View Ticket Status: To stay in the loop with your ticket's progress, simply log into the IT Services Portal using your University computing account. From there, you can view your ticket's status, add comments, and even upload files to your tickets.
Should you have any questions or concerns during this transition, our 24/7 IT Help Desk is ready to assist. Reach out to them via email at helpdesk@pitt.edu or give them a call at 412-624-HELP (4357).
Try the IT Services Portal Today
Accessing the IT Services Portal is a breeze. You'll find links throughout our website at technology.pitt.edu. Some content you're familiar with is moving over to the portal's help articles and service pages. But don't worry, everything will still be easily accessible from our trusty Pitt IT website.