You are here
Paperless and Pain-Free
Wednesday, January 15, 2020 - 00:00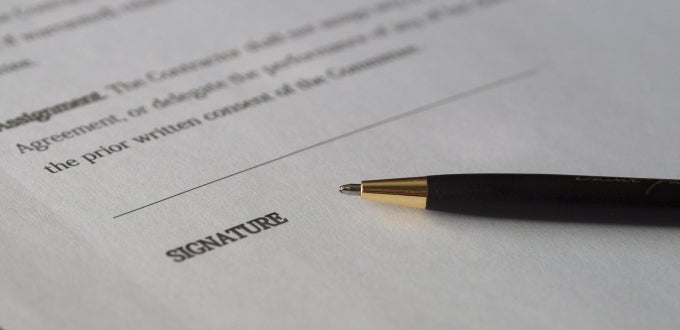 In November, I submitted a departmental request. I had to complete a form, sign it, and send it to my supervisor—who works on another floor. My supervisor had to complete a couple fields, sign it, and send it to the director—who works in a different building. The director had to sign it and send it to the administrator to process.
What a pain! … Actually, it was pretty easy. The form was in eSignature (DocuSign), so everything was electronic and automated. No walking across campus. No printing or copying. In just a few days, my request was approved. (Thanks, boss!) That's the beauty of eSignature.
More Than a Signature
You've probably provided a digital signature a million times with web-based services. Filled out a government form on the web? Completed a digital mortgage application? Applied for a job online? Then, you've provided your electronic John Hancock. For you, it was convenient. But there are many more benefits to electronic documents than you may have realized.
Pitt IT's eSignature (DocuSign) is a cloud-based digital transaction service that enables users to create, complete, sign, route, and track documents digitally. It incorporates intelligent logic to facilitate agreement and streamline the process.
What DocuSign Can Do:
Document Routing: Automatically forwards the document to the next person in the process, without needing to manually review the form
Status tracking: Provides real-time updates about the progress of the document in the chain
Bulk sends: Sends a document to a distribution list in one step
Field verification: Makes sure the right information is entered in the right format
Conditional logic: Displays or requires information based on a given response (if yes, then…)
Logic between recipients: Routes the document with appropriate fields based on a given response (e.g., requires dean approval only if expense is above a certain amount)
Go Digital with eSignature (DocuSign)
So, is it actually worth it to take the time to create electronic forms? It really is—it's easier, faster, and more efficient for you and the people completing them. Here's why:
It's simple: Create simple documents in minutes with the intuitive interface; a little training can help you learn the more advanced features.
It's quick: No need to mail or deliver it; send it with the push of a button—plus, it can't get lost or delayed along the way.
It's versatile: Thousands of uses, from interdepartmental access requests to performance reviews, and it works with Office, Box, and other apps.
It's in the cloud: People can complete forms from any device, at any time, so not being available onsite won't hold it up.
It's secure: Documents can be saved, downloaded, printed, and forwarded safely and securely.
It's appreciated: Provide your users with maximum convenience and usability.
It's free: Log in with your university credentials, without creating an account. Documents can be sent to individuals outside the University at no cost, as well.
It's legal: DocuSign is fully compliant with the ESIGN Act of 2000 and is approved by the Office of Legal Counsel for obtaining a signature for use in official University business.
Stop drowning in paper. Go electronic!
-- By Karen Beaudway, Pitt IT Blogger