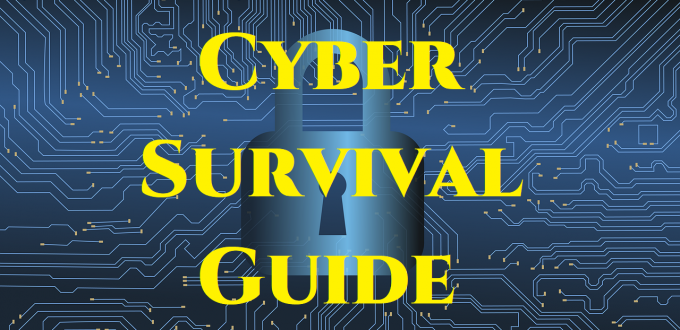 It's the Year of Engagement here at Pitt. With the pandemic, most is taking place online these days. That's a double-edged sword. On one hand, the internet makes it easier to connect to all kinds of people, all across the world. On the other hand, with online activity exponentially increased, cybersecurity risks have risen accordingly.
It's like we're in … A CYBER APOCALYPSE! Cyber zombies are trickier than ever. So I'm sharing my top tips for surviving Zombieburgh and staying safe! (BTW, be sure to complete the 13-Day Cybersecurity Challenge, because who doesn't want a chance to win $500 from Target, need OCC credits, and be able to earn a free movie streaming code? Plus, it doesn't actually take 13 days—most complete each challenge in just a few minutes, so you can do them all during Halloween weekend, and it'll only take you about half an hour.)
Be cautious about photos.
While it might be fun to share pics of your delicious pumpkin spice latte or the local apple orchard with your Instagram followers, you could be in a world of danger. Take it from me. I posted where I was while visiting a family member, and the cyber zombies knew I wasn't home! They are still chasing me. (Don't tell them where I am!)
Wait until you are home to post travel pics on social media and be careful about showing images that could give away where you live. Doing so could give cybercriminals the means to track your location or make you a burglary target.
Shop safe.
Now that we are in Zombieburgh, people are doing almost everything online to stay safe. That means a lot of online shopping. Before you order your Pumpkin Pecan Waffle candle from Bath & Body Works, be sure to use Pitt Password Manager (LastPass) to create and store ridiculously strong passwords for every online account. Then, you don't have to stuff your brain with weak passwords, because you know how much cyber zombies LOVE that! Remember, those ghouls want your passwords for their own vicious shopping sprees.
Also, the best way to let cyber bad guys in is to hand them your financial and account information over unsecured connections. The 's' in 'https' literally stands for secure! It means that the data is encrypted while being sent. Be sure the site you're checking out from is using https protocol. No S, no $!
Beware of phishing and vishing!
Cyber zombies have gotten more clever, but remember that legitimate organizations would NEVER send you an unsolicited communication that requires you to disclose sensitive information to proceed! You need to know who you're talking to!
Phishing emails attempt to trick you into downloading malicious software or disclosing sensitive information. These fraudulent emails often pose as a legitimate organization. Heck—a couple phishing scams have literally made their way around Pitt just in the last couple weeks (one posing as a fake DocuSign notification, and the other as a fake job opportunity.)
Do. Not. Take. The. Bait! Learn the signs of a phishing email (personal or improperly formatted email addresses or link addresses, urgent and emotional content, unsolicited communications requesting sensitive data). Forward suspicious emails as an attachment to phish@pitt.edu to report them.
But phishing is just half of the problem. Have you heard of voice phishing, aka vishing!? It's a horror that's on the rise in Zombieburgh! Vishing is when cyber creeps call you trying to steal your money, personal information, or control of your computer. They know you feel rushed and have less time to think it through when they have you on the phone. So look out for unsolicited urgent calls!
Stay off public Wi-Fi.
It's midterm season, and finals will be here before we know it. You might want a break from studying in your room, and take your laptop to a local cafe to get a different atmosphere. That's all fine and dandy, but remember that you are leaving the security of your private Wi-Fi service. Cyber Zombies love free connections in public settings because it's easier for them to steal your data. So if you're sending sensitive data or accessing Pitt resources when you venture out, use PittNet VPN (Pulse Secure) to keep your information safe.
Create cyber-safe habits.
If you have cyber-safe habits, your devices will easily survive Zombieburgh.
Start by clearing your cache once a month, including clearing your cookies and browsing history.
Make sure you download Malwarebytes and enable antivirus software. It matters.
Do not allow your browser to save and autofill your address, passwords, or credit card numbers. Is convenience worth letting hackers get access to all your sensitive information? No! Plus, you can use LastPass to fill it in for you. That's a no brainer!
Check your credit card and bank statements each month to spot fishy transactions.
VERIFY, VERIFY, VERIFY. Don't trust an ad or message on social media or email. Look up a company on your own to find their real URL. And if an online store doesn't have visible contact information where you can talk to a REAL person, don't trust it.
Sticking to these tips is the key to outlasting the Cyber Apocalypse. Stay safe, fellow Panthers.
-- By Eliana Trotman, Pitt IT Student Blogger