You are here
Upgrade Your Online Learning with LinkedIn Learning
Tuesday, July 9, 2019 - 13:38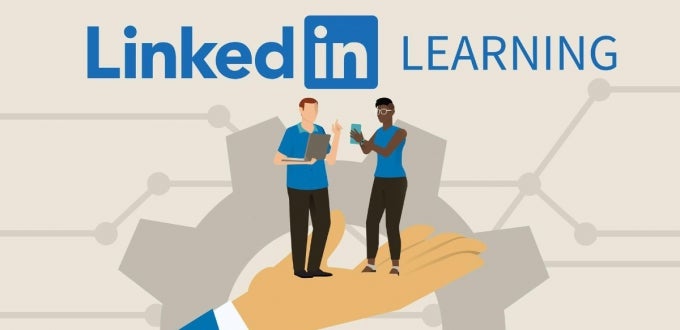 The great online course offerings from Lynda just got even better. In July, Pitt's On-Demand Training service transitioned to LinkedIn Learning. LinkedIn Learning combines the best of Lynda—expert content, convenient access, and personalized collections—with the advanced functionality of the LinkedIn professional networking service.
The result is a one-of-a-kind learning resource to help students, staff, and faculty take charge of their personal and professional development.
Learn Whatever, Wherever, Whenever
Online training makes it easy to learn new skills from leading experts at your own pace. With LinkedIn Learning, you can complete a certificate program or take individual courses on thousands of topics, from Microsoft Office or web design, to grant writing or interviewing. You can also take courses just for fun, such as photography or playing an instrument.
Leverage LinkedIn for Curated Collections
LinkedIn Learning makes personalized recommendations based on your job role, skills, and interests. So, if you're a webmaster, LinkedIn Learning may recommend taking "User Experience for Web Designers." The LinkedIn Learning environment also uses the "likes" and course history of LinkedIn members with similar professions to help surface the most relevant, trending content.
Bigger and Better
LinkedIn Learning provides over 11,000 courses and features an intuitive interface that makes it easy to find content, create playlists, share feedback, and track your progress. There are even tools to help teams take courses together.
When you connect your LinkedIn and LinkedIn Learning accounts, the system becomes even more interactive. It lets you add completed courses/certificates to your LinkedIn profile and helps you connect with other professionals in your field.
Get Started with LinkedIn Learning
The move to LinkedIn Learning is easy. Groups, course history, and playlists from Lynda were transitioned to LinkedIn Learning automatically. To get started:
Click on the Activation link from the LinkedIn Learning transition email (current Lynda users), or go directly to www.linkedin.com/learning
Create a LinkedIn Learning profile and connect it to your LinkedIn account (you can create a LinkedIn account at that point or activate a stand-alone LinkedIn Learning account)
Download the LinkedIn Learning mobile app from the Pitt App Center, Google Play Store or Apple Store (and delete the Lynda app, if you have it)
Pick as many courses as you want to take, add them to your playlist and start learning
Remember: Update any web browser bookmarks that point directly to Lynda URLs.
---
Learn more about LinkedIn Learning at pi.tt/linkedin to take your development to the next level.