You are here
The Ultimate Pitt Tech Gift Guide, 2022
Wednesday, December 14, 2022 - 11:38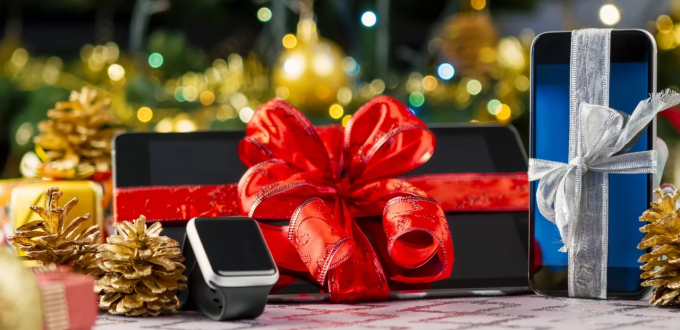 Just like the clockwork, the end of the year marks the beginning of the holiday season. We all get a little time off to enjoy with our loved ones and get some much-needed R&R. And, of course, giving and getting some fun gifts! Our Ultimate Tech Gift Guide has options for everyone on your list … including yourself! Even some that are free!
For the Cinephile
Kanopy
Price: Free
Kanopy is a video-streaming platform available to students, professors, and members of public libraries. Use your Pitt credentials or Carnegie Library membership to access a large database of films and documentaries.
Access Kanopy at: kanopy.com/en/pitt
For the Person On the Go
Dell XPS 13 Plus Laptop
Original Price: $2,246
Price with Pitt Discount: $1,610
The Dell XPS 13 Plus is ultra-portable, with a sleek design and improved keyboard. It features a great display and has superior performance for the power user. Pitt students, faculty, and staff are offered discounts through the University's Dell Member Purchase Program.
Find this and more great Dell deals at: dell.com/pitt
Rains Backpack
Price: $95 – $140
Backpacks aren't just for kids. If you're ready to graduate to a killer adult version, the Rains Backpack has a sleek, modern design that is engineered for carrying strength, durability, and comfort. It features a laptop pocket that can fit up to a 15-inch device, plus a concealed external phone pocket on the back panel. The backpack is also waterproof, perfect to protect your valuable laptop and other tech devices in the cold or wet weather that Pittsburgh experiences a lot. There is also a Mini version for those who don't need so much space or a reflective rucksack option for safety when walking in and around campus at night.
Find it at: us.rains.com/collections/bags
For the Serious Gamer
AOC C32G2 Curved Frameless 32" Gaming Monitor
Price: $230
Designed for gaming, this monitor can keep up with your games at night and help with your workload during the day. The curved screen and adjustable stand allow you to adjust the screen to any height and makes your screen time totally immersive from any angle. Rapid 1 ms SmartResponse time and 165Hz super-high refresh rate helps you hit moving targets and get you ahead of the game by milliseconds. Elite gaming rigs can cost a ton, but this monitor is surprisingly affordable for a great holiday gift.
Purchase it online at: Amazon.
For the Smarter Home
WeMo Mini Smart Plug
Price: $20
A smart plug so set up you won't even need to call Pitt IT! This device makes nearly any item in your home a smart item. Just plug in the WeMo Mini Smart Plug and attach the cord to whatever device you want. Then, control it by voice or through your smartphone over Wi-Fi with your Alexa, Google Assistant, or Apple Home Kit. With this gadget you can tell a lamp, coffee machine, or any other appliance to turn off or on, or schedule it using the free WeMo app. No need to buy all new smart appliances with this sucker. At just $20, it's also a really affordable gift!
Purchase it online at Amazon.
For the Student in Public
Urbanista Miami Wireless Headphones
Price: $149
Pitt's campus is filled with amazing Wi-Fi enabled places to study, from the computer labs to the libraries. But sometimes they can get noisy, and earbuds just won't cut it if you're watching a video, listening to music, or attending an online event or meeting. These noise-canceling headphones come in four sleek colors and offer up to 50 hours of playtime between recharges. These headphones feature on-ear detection, so you'll never have to fiddle with your device to turn off or on your music when you take them off.
Purchase it at Urbanista: urbanista.com/en-us/products/miami
For the Home Office Worker
Dell 24" USB-C Hub Monitor
Original Price: $345
Price with Pitt Discount: $280
Laptops make it possible to work anywhere, but viewing a complex document or toggling between files on a laptop screen can be a pain. This docking monitor with a USB hub makes it easy to use an external monitor, keyboard, and mouse. Just plug the monitor in and attach your laptop and other accessories to the monitor with basic USB cords. You can still use your laptop screen, and it will even charge compatible devices! A must for a home office! (Wanna go bigger? There's also a 27" option.)
Find this and more great Dell deals at: dell.com/pitt
Happy Holidays, Pitt!
We're big fans of tech gifts! Whatever is on your or your family's and friends' wish lists this holiday season, may you have a happy and health holiday this year.
-- By Vivian Zauhar, Pitt IT Student Blogger