You are here
CyberCamp Introduces Students to Cybersecurity
Wednesday, June 28, 2023 - 12:03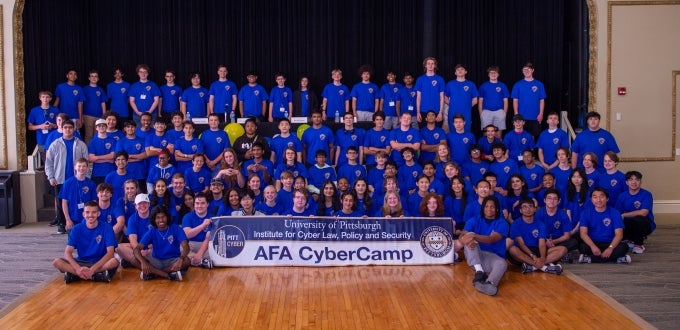 Last week, the Center for Cyber Law, Policy, and Security (Pitt Cyber) in partnership with Pitt Information Technology (Pitt IT) held the seventh annual Air Force Associate (AFA) CyberCamp. The week-long camp is supported by the EQT Foundation and Grable Foundation, as well as Pitt Community Engagement Centers and Pitt Engineering. It is free to Pittsburgh-area high school students interested in learning about cybersecurity principles, skills, and future career opportunities.
Throughout the week, students were taught a curriculum that covers cyber ethics and security basics, as well as security policies within Windows, Ubuntu, and Linux. While many people have the misconception that cybersecurity is all about the attack strategies that scammers and hackers use, the participants in CyberCamp are learning defensive tactics to stop bad actors at the front gate.
Cybersecurity Skills Are a Must
Michael Caglia is an Associate Professor of Computer Technology at Westmoreland Community College. He has worked with CyberCamp throughout its seven years, and he was excited to return as an instructor again this year. "I keep coming back partly because it's a lot of fun to share my experience with these eager kids, and partly because I believe it's critical to introduce the younger generation into the field of cybersecurity."
While technology use, app development, and programming skills are growing exponentially, expertise in cybersecurity isn't keeping pace. "Currently there are so many open and unfilled technology jobs; there are more positions than there are people," Caglia notes. "Schools and government programs are spending a lot of money to get our workforce trained, and we particularly need to step up on the cybersecurity end."
Youth Are the Future of Cybersecurity
Caglia believes it's critical to pique the interest of teens because technology is already second nature to them. "Our young students — and not just high school or college, but even younger — they grew up with technology. They're not afraid of it," he says. Caglia remembers teaching a class where he showed his students how to use a mouse. But for today's smart, technology-savvy generation, that's totally unnecessary. You can place a screen in front of a four-year-old and they can figure it out.
Although technology is always changing, today's younger generation is growing up right along with it, which makes them ideally suited to prepare for the future of cybersecurity. "That's one of the things I love about the students at CyberCamp: they're always eager to learn hands-on."
This year, 150 students registered to participate. The camp reaches out to students who are traditionally underrepresented in technology to help develop a diverse pipeline of young people who may pursue cyber-careers. This year's class comprises 58% non-white students and 24% female students.
From the Classroom to the Field
The best part of CyberCamp for most students and instructors is the competition on the last day, when students are split into teams of four to secure their virtual machines. Working as a team, they have two hours to "harden" their machines, making them as hacker-proof as possible. Students will often be making changes right up until the last minute, and the atmosphere can become intense! They all want to win an award at the ceremony at the end of the day. Gamifying the content makes it accessible and fun.
After the competition, the camp concludes with a Careers in Cybersecurity panel. This year's speakers included Brenna Ansbro, GSPIA student and Yahoo intern; Derek Brown, director of cybersecurity and infrastructure at EQT Corporation; Jeffrey Raymond, Pitt IT's HPC systems engineer; and Laurie Iacono, associate managing director of cyber risk practice at Kroll. The panelists shared their experiences of mitigating cyber risks in the real world. Students were able to ask questions and gain insight into what a future career in cybersecurity may look like for them.
Caglia also has some advice for young people interested in cybersecurity. "Learn everything you can. If you're going into it, you have to be someone who likes change, a desire to get into the unknown," he said. "Whatever you do it has to be a passion."
The Future Is in Their Hands
Cybersecurity isn't just important for individuals and businesses. The armed forces and government agencies are critically concerned with protecting our national infrastructure. Caglia sees our future protectors in the students at CyberCamp every year. Learn more about CyberCamp and how to get involved.