Cloud Storage (Box and OneDrive)
Quick Links: Key Benefits I Getting Started I More How-to I Videos
With unlimited storage on Box, you can store, access, edit, comment, and share files in real time, from any device--including your smartphone. What's more, you can also store files online using Microsoft OneDrive, configured as the default save destination for all of your Office 365 applications. Both services offer comparable features for online storage as well as web-based collaboration. Using either storage option is a more secure way to store your valuable files when compared to using flash drives or depending on the hard drive of a dedicated laptop or PC.
Box
Your Pitt Box account provides unlimited online storage. It also allows you to upload much larger individual files, up to 15 GB. You can search the full text of all the files you have on Box and view previous versions of files that you have stored. You can also password-protect the links that you use to share files.
Notes: Sponsored accounts do not have access to Box space. Sponsored accounts are intended to provide access to those individuals who are not eligible for a primary account but have legitimate business with the University that requires an account. If you want a sponsored account to have Box space, contact your Responsibility Center Administrator. Alumni are not eligible for Pitt Box accounts.
Take a quick tour to see how Box works.
OneDrive
Microsoft OneDrive for Business is a cloud storage solution where you can update, store, share, and sync your files from anywhere. These files are backed up regularly to the Microsoft cloud and your file space is conveniently configured as the default save destination for all of your Office 365 applications, including Word and Excel. As with Box, you can delegate access to other users for collaboration. Unlike Box, there is a set quota limit of five terabytes of online storage available to you. In terms of file size, OneDrive can accommodate files up to 10 gigabytes.
There is no cost for student, faculty, and staff to use OneDrive. However, you need an Office 365 subscription to use any web-based Office 365 applications with the OneDrive space. By default, all students have access to the standard "Office" suite of web applications (Word, Excel, PowerPoint) via their Office 365 subscription. These applications are available for download and installation to all teaching faculty free of charge. Non-teaching faculty and staff can download these applications if they are members of a department that has purchased the Microsoft Campus Agreement.
Note: Other types of accounts such as those for guest wireless, sponsored accounts, or alumni cannot access OneDrive.
Take a quick tour to see how OneDrive works.
Choose which Solution to Use Based on Your Needs
There are a number of criteria that you should consider when determining what type of cloud service you should use or use primarily.
Some reasons to use Box:
Collaborate easily with internal and external users
Track previous versions of files
Comment on files and assign tasks
Some reasons to use OneDrive:
Share Word, Excel, and PowerPoint files without needing to leave the application
Work with others using real-time co-authoring in Word, Excel, PowerPoint, and OneNote
Easy Steps to Get Started
Box From a Desktop (Windows or Mac)
Open a web browser to pitt.box.com.
Note: You can also log in to My Pitt and click Box Login on the right-hand side of the page.
Click Continue.
Enter your University Computing Account username and password. Click Submit.
Box From Mobile Devices (using the Box app) or From Mobile Phones or Tablets (using a web browser)
Go to pitt.box.com or open the app.
Enter only your University email address (username@pitt.edu, tap Use Single Sign-On (SSO), then tap Log In.
Enter your University Computing Account username and password, then tap Submit.
Note: Box uses multifactor authentication.
OneDrive
Note: You can access OneDrive from a mobile phone or tablet using a web browser. The OneDrive app is available for iOS, Android, and Windows devices.
Use a web browser to log into portal.office.com with your Pitt email address and password.
Click the Office 365 app launcher icon.

More ways to get the most from Cloud Storage (Box and OneDrive):
I'm leaving Pitt. What do I do with my Box folder? (Transferring Ownership)
I am leaving the University. What do I do with my Box folders?
If you are leaving the University and want to ensure that your colleagues continue to have access to the content you have shared after you leave, then you should transfer ownership of that content to a collaborator before you leave. If you have not shared the folder with anyone, you will need to share it before you can transfer ownership. You will also need to be the owner of the folder to complete these steps. Keep in mind that as soon as you transfer ownership of a folder, you will no longer be able to add collaborators to the folder or remove collaborators from the folder.
To transfer ownership of a folder:
1. Click on the folder. The people with whom you are sharing the folder will display as collaborators in the right-hand pane.
2. Click on the ellipsis beside a collaborator's name and select Owner from the drop-down list.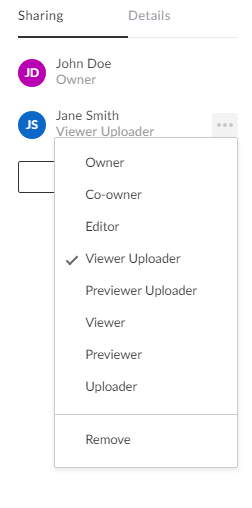 3. A pop-up message may display with information about the consequences of this action. Click Okay.
Note: If you are transferring ownership of a folder that contains a large number of subfolders, the transfer process may time out. You may need to try a few times before the transfer is successful.
I don't want to transfer ownership of my personal Box files. What happens to those files when I leave Pitt?
When you leave the University, you will receive an email message at your University email address informing you that your University Computing Account has been converted to a "sponsored account". From the day you receive this email, you will have 14 days to transfer the personal files on your Box account to another location (for example, to a personal Box account or another cloud storage location). After that time, you will no longer be able to access your Box account at Pitt.
Best Practices for Storing Data in the Cloud
General Information
All Pitt students, faculty, and staff can store files on both the Box and OneDrive services. Both services feature cloud-based file storage that is accessible anywhere on the internet and backed up regularly. Using either storage option is a more secure way to store your valuable files when compared to using flash drives or depending on the hard drive of a dedicated laptop or PC.
The decision on which service to primarily use will depend on how you work with files and whether or not you will need your cloud storage service to support collaboration.
For example, if you primarily use a dedicated PC or laptop and manage files with locally-installed versions of Word, Excel, and PowerPoint, then Box should work well for you.
If you exclusively use the Office 365 (web-based) versions of Word, Excel, and PowerPoint, then you will want to utilize your OneDrive storage space more.
If you will be collaborating with colleagues by annotating documents with comments, your better bet would be Box–especially if you need to work with participants outside the University.
However, if your collaboration involves working in SharePoint, then OneDrive has the advantage.
There is no restriction against using both services. However, if you choose to utilize both cloud services, you should establish a PC/laptop home base with both cloud apps installed and learn to use the sync functions. Otherwise, you risk storing different versions of documents on different services, which can be very confusing and time consuming.
Best Practices Based on Data Types
Box and OneDrive use state-of-the-art technology and industry best practices for data encryption during transit to and from the cloud, as well as while stored within each app. However, some types of data should not be stored on Box and OneDrive at all; refer to information specific to permissable data by type. For this reason, we recommend you use only the web interface (http://pitt.box.com or http://portal.office.com) or official apps to transfer data securely. If you use an app for Box or OneDrive that has been developed by a third party, you should take steps to ensure that the app transfers data using a secure method.
Box and One Drive provide robust security for the data you store. However, due to federal, state, and local laws and University policies and standards, it should not be used to store, collect, or share certain types of regulated and sensitive data. This includes data regulated by HIPAA and GLBA. Please keep in mind that you are responsible for safeguarding University of Pittsburgh data stored on the computers, devices, and online services you use.
| | | | |
| --- | --- | --- | --- |
| Data Type | Permitted | Not-Permitted | Examples |
| Non-confidential or general business | • | | |
| De-identified human subject research | • | | Data that does not include any information which could be used to identify the individuals involved in the research. |
| Sensitive identifiable human subject research | | • | Any individually identifiable research data containing sensitive information such as information about mental health, genetics, alcohol and drug abuse, or illegal behaviors. |
| Student educational records (FERPA) | • | | Grades, student transcripts, degree information, disciplinary records, and class schedules. |
| Protected health information (ePHI-HIPAA) | | • | Any unique identifying attribute, characteristic, code, or combination that allows identification of an individual, and that is combined with medical or health information. Examples include, but are not limited to, date of birth, date of death, email addresses, telephone numbers, and device ID numbers. |
| Social security numbers | | • | 123-45-6789 |
| Gramm Leach Bliley Act (GLBA) student loans application information | | • | Student loan information, payment history, and student financial aid data. |
| Payment card information (PCI) | | • | Cardholder name, account number, expiration date, verification number, and security code. |
| Export controlled research (ITAR, EAR) | | • | Data containing research on things such as chemical and biological agents, satellite communications, certain software or technical data, and work on formulas for explosives. |
| FISMA data | | • | Any government data that is regulated by the Federal Information Management and Security Act, including VA, FDA , and Medicare data. |
Moving Files
To and From OneDrive
If you are working from a PC or laptop, then you can use the Upload and Download links to move files to and from your computer. The Upload link appears at the top of the OneDrive webpage that displays your cloud file directory. In order to download a file that is on the shared drive, click once on the file name and then right click to bring up a secondary menu (for MacOS clients, this may require you to hold down the Command key first if you only have one button on your mouse) and select the Download option that should appear.
If you will be moving files to and from OneDrive and have admin rights on your system, consider downloading and installing the OneDrive for Business application. This application will create a local copy of your OneDrive cloud folder and then sync the files with the cloud when the system is connected to the network. You can work directly with these local copies of the files and the OneDrive for Business application will make sure that they are stored on the cloud. Macintosh and Windows versions of the OneDrive for Business application are available for download at https://onedrive.live.com/about/en-us/download.
Between Cloud Services (Box and OneDrive)
The easiest way to move files between the cloud services is to use a PC or laptop that has both the Box Sync and OneDrive for Business applications installed. Open both from the system tray to create windows for both. From the windows you can move files using cut/copy and paste. If you are on a system where both utilities are not available, you will have to open up the web interfaces for both OneDrive and Box and use the upload/download functions using the PC's drive as an intermediary.
Moving files back and forth from a mobile/tablet platform is possible but requires that both mobile app versions of Box Sync and OneDrive for Business are installed and running and configured to save files locally, in a location that both apps can access. In a case like this, it may be more efficient to use a PC system instead. Student Computing Lab PCs are accessible to anyone with a Pitt student, faculty, or staff account and have both apps installed.
Using FTP (Box)
The following is a summary of the steps to establish a secure connection to Pitt Box using an FTP client.
These instructions use FileZilla software as an example. All FTP clients will use the same server and port configurations.
Step One - Set up an External Box Password for Your Pitt Box Account
Single Sign-On (SSO) using Pitt Passport is not supported, so you will not be able to log in to the FTP client with Active Directory or LDAP credentials.
Before using FTP with Box, you need to set up an external Box password for your Pitt Box Account. Take the following steps:
Log in to My Pitt > Box.
Click your initials in the top right corner, then choose Account Settings.
On the Account tab, scroll down to the 'Authentication' section. Click Change Password.
Type the new password twice, then click Save.
Step Two - Download An FTP Client
Any FTP client can connect to Box's FTP server. The Box Team suggests using the FileZilla client.
Note: There is no need to try to use the Pitt Box App link (via My Pitt > Box > Your Name in the top right > Apps) to download 'Box FTP Server' because it says "Install the FTP client of your choice."
Step Three - Configure Your FTP Client to Use Box
To establish a secure connection to Box with your FTP client use the following settings:
File protocol: FTP
Host name: ftp.box.com
Encryption: TLS/SSL implicit encryption
Port number: Port 990 is for secure SSL connection.
User name: Your University of Pittsburgh Computing Account Username
Password: the External Password that you created via Box to use with your FTP client.
Here is what the FileZilla Quickconnect screen looks like:




Note: You can make a one-time connection to FileZilla.
Here is what the FileZilla screen with Saved Connection screen looks like: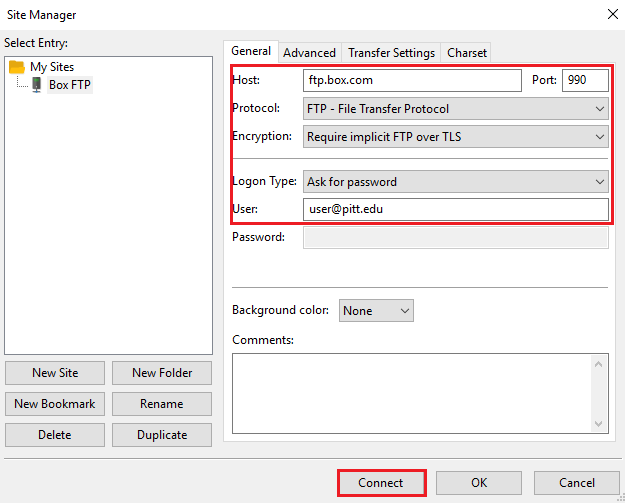 Note: Most settings are saved. You will have to provide your password before you can connect
Recommendations & Tips
FTP is a great option if you need to do a one-time migration of data into Box.
Box does not recommend using FTP as a two-way sync mechanism. You should use the Box Sync feature to sync files. Use the following method.
Box recommends that no more than 150,000 files or 250GB of total data should be included in each FTP batch.
Based on CSSD Customer and Application Support experience, sending smaller batches of files (approximately 50 GB) overnight provides an effective way for file transfers to be completed.
More Box Resources
Get Started
Managing Your Content
Share and Collaborate
Organize and Search Your Files
Sync Files Between Box and Your Computer
Adjust Your Preferences
Use Box with Mobile Devices
Useful Apps Developed by Box
More OneDrive Resources
General
Add and Manage Files
Share and Collaborate
Sync
Mobile Devices
Additional Box Information
Sharing Link Options
When you share a file with a link, you can choose from a number of different sharing options.
People with the link: People with the link can access and no Box account is required. For extra security, you can also set a password or expiration for the link, as well as restrict download and/or preview access for link viewers.
People in your company: Users with a Box account and who are currently managed users of your enterprise will be able to access content via the shared link. You can set an expiration date and restrict download and/or preview access for link viewers.

When accessing the link, users will be asked to log into Box to verify their identity. This option will be disabled if you are not using a legitimate, validated business domain to access Box, but can be enabled if you change your log in email address.
Collaborators in the folder can also access content if @Company is selected

People in this folder: Only users who have been invited to the folder can access the content in the folder.
Note: Collaborators already have access to their content, but can easily direct one another to a specific file or folder using the shared link.
Remove Link: This option removes and deletes the shared link assigned to that file or folder so it can no longer be accessed, even if someone has the old link.
Mobile Device Access Troubleshooting
If you are having trouble accessing Box for Pitt at m.pitt.edu from a web browser on your phone or tablet:
Enter your only your University email address (username@pitt.edu).
Tap Use Single Sign-On (SSO), then Login.
Enter your University Computing Account username and password, then tap Submit. You will enter the mobile site.
External Passwords
Certain apps available for Box do not support Single Sign-On, which means you cannot access them with your University Computing Account username. SimpleShare, an app that lets you upload and share files directly from your desktop, is one example.
To create an external password to use these apps.
Log in to My Pitt > Box.
Click your name in the top right corner, then choose Account Settings.
On the Account tab, scroll down to the Authentication section. Click Edit Password.
Type the new password twice, then click Save.
Sync Client for Box
The sync client for Box cannot sync:
Files to Linux computers (there is no Linux version).
Files types that include Temporary (.tmp) files, system and hidden files, Windows shortcuts or aliases on a Mac, Box Webdocs, Outlook PSTs (Personal Files), Google Docs documents, or Quickbooks files.
Files stored on a file server.