You are here
University Computing Accounts and Account Management
Overview
To maintain a safe computing environment at the University, every user must have an account with an associated username and password, along with corresponding user information. The Account Management System is the technical infrastructure that provides this functionality. Once users access the system with their University username and password, they are considered to be authenticated. The information collected by servers and network equipment can be used to determine who is responsible for computing activity and where it is taking place at the University.
Accounts are automatically created for students, faculty, and staff. New students activate their University Computing Accounts through an online account activation tool at My Pitt (my.pitt.edu). In addition to automatically created accounts, each responsibility center has a designated administrator with rights to create sponsored accounts for their specific area. The system follows approved rules for deletion of accounts; however, sponsored accounts expire annually. Graduating students are also entitled to Alumni accounts, permitting them to keep their Pitt Email (Outlook) mailbox for as long as they like.
Account usernames are used as University email addresses. A University username with the @pitt.edu designation is the official email address for University students and employees.
There are three types of accounts: Primary, Sponsored, and Resource.
Your Account
Your account consists of a unique username (for example, jdoe99) and a password. Your username will not change. You should change your password frequently and make sure to select a strong password. Review the Passwords page for details.
Manage Your Account
Manage your account through your profile page at My Pitt. You can update personal information associated with your account, change your password, and review your print quota in addition to other account-related tasks.
NOTE: Information from the Payroll system or Student Information System (PeopleSoft) cannot be changed in the Accounts systems.
How to Manage Your Account
Log in to My Pitt (my.pitt.edu)
Search Manage My Account (Accounts Management) and select the matching result
Click Start in the top right corner of the new window

Update your details in the resulting sections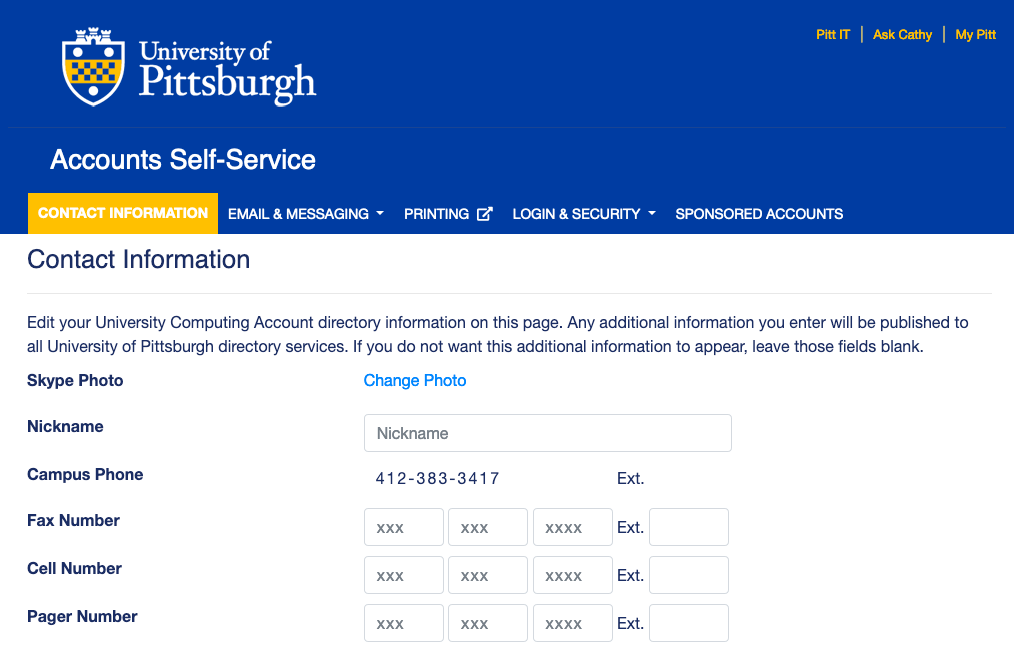 New Student Account Activation
Once you are eligible for a University Computing Account, you will receive an email with instructions for activating your account. The email will be sent to the personal email address you provided when applying to Pitt. The email will contain the information you need to activate your account online. Once the email arrives, visit the Self Service Account Activation page and complete the steps in the account activation wizard.
Account Administrators
Faculty and staff who have questions about their account should contact their Responsibility Center Account Administrator. Responsibility Center Account Administrators also have the ability to create specialized accounts for certain purposes. For more information about RC Account Administrators, including roles and responsibilities, a list of RC Account Administrators, and help resources, please visit the Responsibility Center Account Administrators Detail Page.
All members of the University community have an obligation to use technology services in a responsible manner. Please review the acceptable use guidelines. Students should also review the requirements for the use of information technology resources outlined in the Student Code of Conduct.
Primary Account
This type of account is automatically created for students, faculty and staff at the start of their affiliation with the University.
Primary accounts remain valid during the time a student is enrolled or throughout the period a faculty or staff member is employed by the University.
Sponsored Account
Sponsored accounts are intended to provide access to those individuals who are not eligible for a primary account but have legitimate business with the University that requires an account. RC Administrators are responsible for limiting the number of these accounts and ensuring they are only used for legitimate University purposes. Additionally, it is the RC Administrator's responsibility to:
Enter the information about the account owner correctly
Ensure there is a valid reason to create the account and a valid reason to maintain it
Ensure the account exists only as long as it needs to exist
A sponsored account requires the designation of both an account owner and an account sponsor. The account owner is the person that will be using the account. The account sponsor is an individual within the responsibility center who has a primary account and will take responsibility for the use of the account.
The account owner must exist within the Central Directory Service (CDS). If it is necessary to have an individual created in CDS, please contact the 24/7 IT Help Desk.
A sponsored account is only meant to exist for a limited period of time. An expiration date is set at the time the account is created. The expiration date should be set to the first date that the account is no longer needed. The expiration date should not be set beyond the end of the fiscal year.
Account sponsors should review the accounts they sponsor to determine whether an account needs to be renewed, the account sponsor needs to be changed, or the expiration date needs to be adjusted. Account sponsors can also review their accounts at any time by logging in to My Pitt (my.pitt.edu), clicking Manage My Account in the left-hand column, and clicking Sponsored Accounts.
Responsibility Center (RC) Account Administrators are responsible for reviewing and approving account renewals and other changes requested by the account sponsor. The Bulk Account Update webpage used to review and approve sponsored accounts indicates whether an account sponsor has recommended an account for renewal and what justification the sponsor has provided.
Resource Account
The Account Management System also allows for the provisioning of accounts that are not tied to an individual. These accounts, known as "Resource Accounts," are used to manage access to shared resources, which can include equipment, rooms or calendars. Resource Accounts are also used to manage system interactions so that requests are submitted under a shared Resource Account ID and are not tied to an individual person.
Resource Accounts are provisioned in the University Account Management System and then made available to Enterprise Active Directory (AD). Once in Enterprise Active Directory, Resource Account credentials can be used to access many services such as Office 365, PittNet Wi-Fi or systems authenticated by Active Directory.
Resource Accounts are provisioned and managed by Responsibility Center Administrators. These administrators determine what level of system access the Resource Account should receive as well as which users are able to use the shared resource.
Access can be delegated by clients such as Outlook Online in Office 365 or an Outlook PC client. Since access is usually delegated, logging in with the Resource Account username and password is rarely required.
There are basically four types of Resource Accounts:
Service Account without Email - This account is used for interactions with University systems for the submission of jobs and processes. These accounts can be used to run an application under a specific account, establish an LDAP connection for purposes of running an application, or submit and manage jobs and processes.
Room - A Microsoft Exchange resource that is used to manage scheduling of a shared room such as a departmental classroom or conference room. The "Room" resource account includes a mailbox.
Equipment - A Microsoft Exchange resource that is used to manage scheduling of a shared piece of equipment such as a laptop, a projector or a piece of specialized hardware.
Shared - A Microsoft Exchange resource that can be used to manage a shared inbox or calendar. Shared Resource Accounts could be used to collect responses for a survey, act as a departmental help desk mailbox, or as a shared-access calendar to track vacations for staff in a department.
If you are interested in using a Resource Account to manage a shared resource or task in your area, get in touch with your Responsibility Center Administrator to discuss the various options. In some cases, there may already be an account in place.