You are here
Directory Services
Overview
The University Computing Account is the key to accessing online resources at Pitt. These resources include access to Office 365, Pitt Email (Outlook), Student Computing Lab PCs, and many other technology services. This account acts as a single online identifier for students, faculty, staff members, and alumni.
The University uses multiple directory services to govern access to technology resources. These directory services require a University Computing Account username and password, check both for validity, and then provision access to services for the account holder. Access is granted based on different factors, such as the user's status with the University and his/her primary role. Granted privileges can be broad, such as online access to a cloud service like Office 365 or LabArchives. Access can also be granted in a very granular fashion, such as enabling read and write privileges for a department file share.
Accounts for individuals and some shared resources are managed by the University's Central Directory Service (CDS). User accounts are granted access to University resources via the Enterprise Active Directory service. The Enterprise Active Directory service manages access primarily through group membership. Individual users are granted access to resources based on their membership in groups that have been set up to manage a specific service, system, or family of services.
These directory services are managed primarily by Pitt Information Technology administrators. Some administrative privileges are also delegated to select department staff, who in turn can grant access to resources in their area of responsibility. User account privileges are managed at the responsibility-center level by Responsibility Center Account Administrators, often referred to as "RC" Administrators or the more shorthand "RC Admins." Department staff with privileges to manage their area's Active Directory resources are known as Active Directory Administrators. In most cases, staff with RC Administrator privileges are also Active Directory Administrators, for users and resources within their department's area of responsibility.
---
Central Directory Service
The Central Directory Service (CDS) is one of the most critical systems in place at the University today. It is a key part of the overall technical infrastructure. CDS provides a unified directory of all known individuals affiliated with the University and is the authoritative source for determining access to enterprise systems.
Enterprise Active Directory Service
Enterprise Active Directory (AD) is a tool used to authenticate and authorize users who connect to the University of Pittsburgh network with their University Computing Account username and password. It is available for all units, schools, and departments, most of whom already take advantage of its features
Benefits
Central Directory Service

Enterprise Active Directory Service

Provides single sign-on access. This means that with your University Computing Account username and password, you can access most University-wide systems. You can even access some resources outside the University using your University Computing Account username and password.

Provides a centralized authoritative repository of information about network-based resources (such as computers, printers, applications, and file shares). It simplifies the management of these resources while controlling access.

Its dependencies include: the HR/Payroll System, ID Center System, My Pitt, and University email.
Provides accountability to ensure a secure computing environment while providing the flexibility to meet the diverse technology demands across the University environment.
Functions as a central registry for individual identities within the University and to manage University Computing Accounts.

A key principle underlying the design of the system is that an individual affiliated with the University should have one and only one user account.
At the core of CDS is information about people and their affiliations with the University. This information is obtained from various source systems, such as the payroll system and student information systems.
Information about individuals can also be entered into CDS manually for individuals who participate in University programs but do not have a formal student, faculty, or staff affiliation.

Enables departments who use Enterprise AD to access all network-based resources using their University Computing Account username and password. You may have heard this referred to as "single sign-on access."
Enhances network security by centrally managing and standardizing a number of important security functions, including:

Account provisioning: determines who receives a University Computing Account.
Account lifecycle: determines when an account is activated and, more importantly, ensures it is deactivated when it is no longer needed.
Monitoring: helps to identify unusual or potentially harmful account activity.
Logging: provides important historical information about accounts and devices (often useful in investigating computers that have been compromised).
---
Find People
Find People is an online directory of Pitt students, faculty, and staff. Find a campus address, telephone number, email address, and more. Update your contact information using the Account Administration service. To update your campus phone number or mailing address, contact your department's payroll administrator.

The University of Pittsburgh Departmental Listings are available online at find.pitt.edu. Using the Departmental Listings link, the PDF file can also be searched, downloaded, or printed. The file contains a table of contents and bookmarks to enable you to quickly scroll through the alphabetized listings to find the information you seek.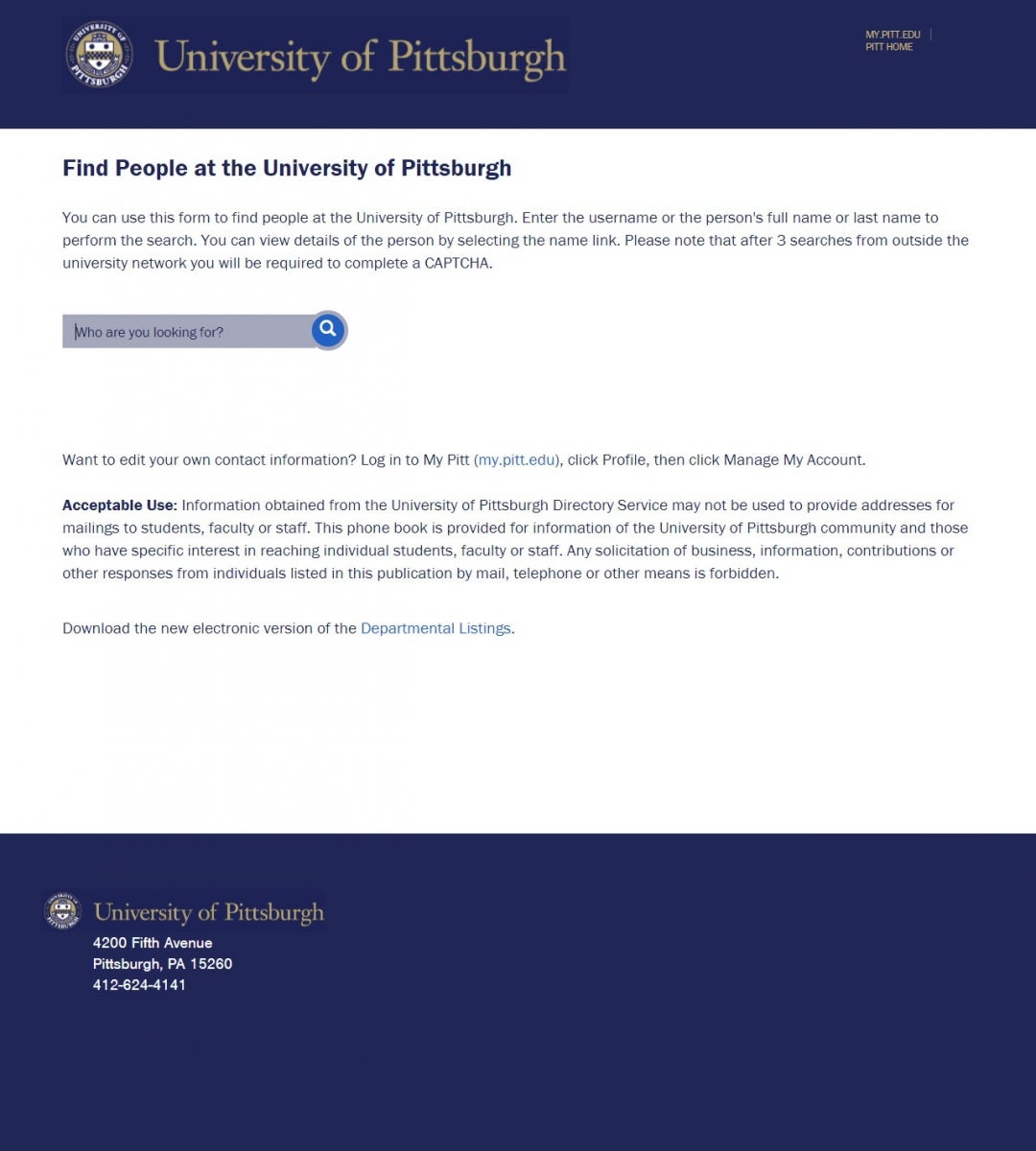 ---
Single Sign-On: Pitt Passport (InCommon Federation/Shibboleth)
Your University Computing Account not only provides you with access to information and resources at Pitt. It can also grant you access to valuable information at other institutions and government agencies. Using only your University Computing Account, you can currently access resources from the National Institutes of Health, Educause, and Gartner.
This is made possible by the University's membership in the InCommon Federation and Shibboleth, which is a behind-the-scenes authentication and authorization mechanism.
How It Works
Visit the external website whose resources you want to access (see list above).
If you are asked to identify your institution, select University of Pittsburgh.
If you are not asked, it likely means that either the service to which you are connecting has a means to identify University of Pittsburgh users, or you may have already visited the website.
The standard log in window will display. Log in with your University Computing Account username and password.
Print and Electronic Directories
Published every fall, the University of Pittsburgh Telephone Directory includes listings for individual faculty and staff members and departments on all five Pitt campuses. UPMC listings also are included. The directory is available online and is for internal use only.
If your contact information is incorrect in the directory, please ask your department administrator to update your employee payroll record.
Pitt IT coordinates updates to the listings in the Verizon print and electronic directories. Billing charges apply to inclusion or changes to telephone listing information in a directory. Departments and individual physicians/dentists may choose to be listed alphabetically under a specific category within the Yellow Page print editions.
NOTE: If telephone service is terminated following its inclusion in a directory, you must submit a request or your account may continue to be billed for these charges.
Print directory information is published annually. To view currently published yellow and white page business listings, please refer to the Dexpages.com website at: dexpages.com. All deliveries of yellow and white residential or business listing directories in paper format, are available upon request, and must be arranged by calling 1-800-888-8448.
NOTE: The University of Pittsburgh is unable to list UPMC phone numbers in the Verizon print directories. Those listings must be handled by UPMC staff. The University does not control the publishing of public telephone listing information in other print or electronic directories.